Photo 1/17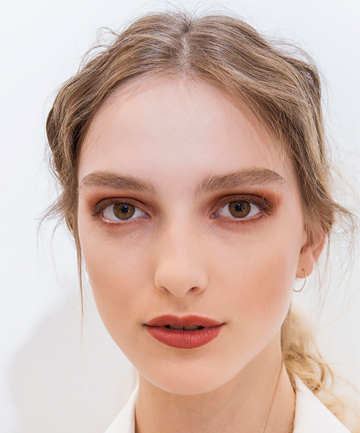 It's rare to find things that get better with age — designer vintage clothes and George Clooney being notable exceptions. Normally, things lose a little of their magic with every wear and/or use. Many would say that makeup is something that's the best when it is
just
applied because as time goes on, we have to contend with
shiny T-zones
, smudging, creasing, migrating, transferring, sweat
and
the outdoor elements.
Primers
, longwear formulas and
setting sprays
do a valiant effort to keep makeup fresh. But sometimes they're not enough. Instead of fighting to keep makeup "perfect," embrace wear with a lived-in makeup look.
You know how the old saying goes: If you can't beat 'em, join 'em. We doubt that they had makeup specifically in mind when they thought of it, but it rings true when people are fed up with trying to prevent their makeup from showing wear. It
always
will so we might as well work with it. Sultry, smudgy makeup stands the test of time and has an edgy, cool-girl vibe that looks like we put effort in without looking overdone.
Read on for 16 effortless beauty looks that prove makeup can get better with age.
Image via Imaxtree
Photo 2/17
Artfully Smudged Liner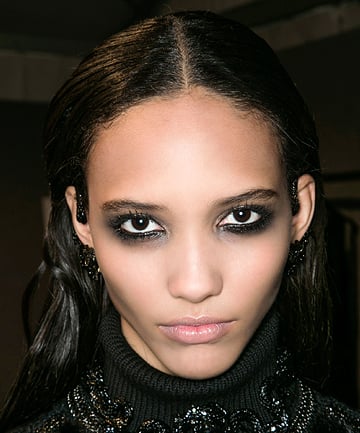 There are some people who swear by sleeping in their eyeliner to achieve the perfect insouciant smoky eye. But not only is sleeping in makeup no good for skin or pillowcases, it's also not necessary. In the morning, mix black eye pencil with a coordinating cream eyeshadow. After applying the product, blink a few times to smudge it slightly. Then add an
eye gloss
for a shiny finish. As the day goes on, the color will blur and become even more rocking.
Image via Imaxtree
Photo 3/17
Glossy Gaze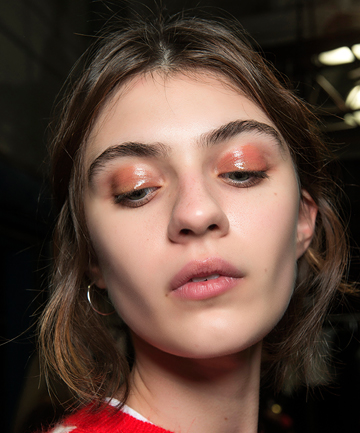 Got a serious case of oily lids? Sometimes, longwearing matte eyeshadows and a super strength primer can't prevent smudging. Go in a different direction with a glossy finish. Dab on a colorful eye gloss, like
M.A.C. Studio Eye Gloss
, $22, and it will work with shiny eyelids. Alternatively, apply a clear eye gloss on top of a powder or cream eyeshadow for the same effect.
Image via Imaxtree
Photo 4/17
Lived-in Liner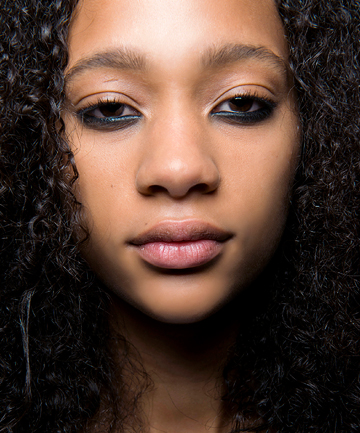 A smudged cat eye is tricky to pull off, but smudged eyeliner? The latter is like a fine wine because it gets better with age. Freshly applied eye pencil can be a bit harsh because of the crisp lines. Throughout the day, the edges will diffuse for a smudged finish. If the product drops down slightly, don't worry about it. The result is a sultry smoky effect without the hassle of actually creating a smoky eye.
Image via Imaxtree
Photo 5/17
Flushed Blush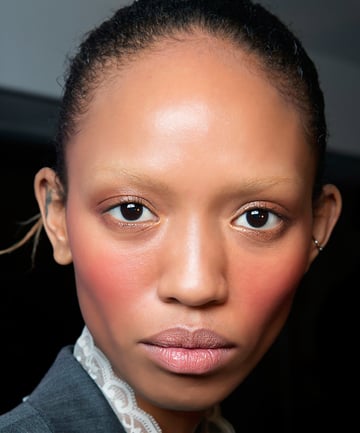 Let's not forget about blush. A rich cheek color gets better as time marches on because it blends into skin creating a more realistic blush. Powder blushes can sometimes look unnatural for the way they appear to sit on top of the skin. So, try a cream blush, like
Make Up For Ever HD Blush
, $26, to create a statement cheek color. Just take care to blend the lines thoroughly for a seamless finish.
Image via Imaxtree