Photo 1/17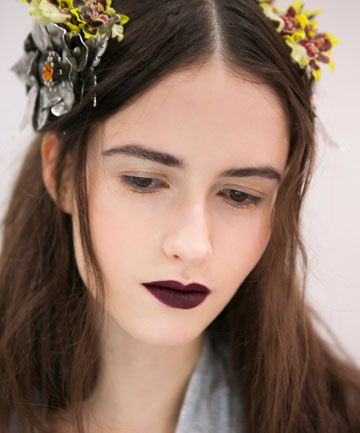 When the warmer weather finally arrives, we make a few changes. We pack up all our heavy knits and tall boots. We switch up our beauty routines in favor of
oil-free moisturizers
and
extra SPF
. And we brighten up our makeup, trading jewel tones and deep, dark shades for bright, colorful hues that pair effortlessly with floral dresses, off-the-shoulder tops and jean shorts. Changing with the seasons helps keep things fresh, but there's no rule that says you
have
to put away a product until next season. If you love something, like dark lipstick, for example, you can make it work any time of year.
It's a lot harder to make a thick wool sweater work on a scorching summer day than a dark lipstick. With makeup, pretty much anything goes any time of year. "I believe it is modern to be seasonless," celebrity makeup artist Sir John says. "With the nature of social media and traveling, you can experience all different seasons within a couple of hours. So your makeup doesn't need to be limited to seasons."
Sir John suggests that those wanting to try a dark lipstick go for a high matte or high gloss finish for big impact. And don't be afraid to add even more drama. "I like to pair dark lipstick with Kelly green eyeliner and mascara to make a bold statement," he says. "A merlot matte lip with a sky blue eyeliner is a very pretty combination."
Ami Mallon, global corporate educator for Osmosis Color Mineral Cosmetics, loves a deep lipstick with a barely-there eye for a sophisticated edge. If you're worried about your makeup looking over the top, she suggests pairing a dark lip with a simple brow and a hint of
mascara
. Her look of choice is
Osmosis Lip Gloss in Berry
, $19, paired with a coppery eye for an evening out. The gloss creates a just-ate-a-Popsicle finish after the shines goes away.
With those tips in mind and your dark lipstick in hand, read on for 16 ways to pull off dark lipstick in the summer. Remember, a devil-may-care attitude is what will really help you carry off the look.
Image via Imaxtree
Photo 2/17
Brown and Blue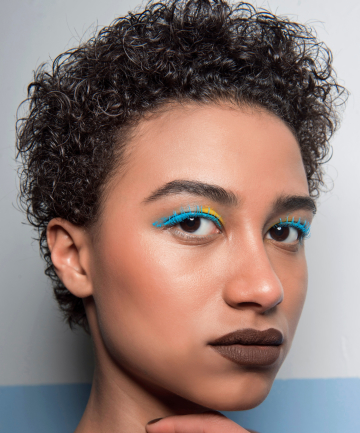 Brown and blue are sometimes thought of as basic colors, but these shades are anything but basic. The rich chocolate brown lipstick is brightened with the electric blue mascara and eyeliner. Then there's the pop of yellow in the inner corners for an extra shot.
Image via Imaxtree
Photo 3/17
Ombre Blue Eyeliner and Burgundy Lipstick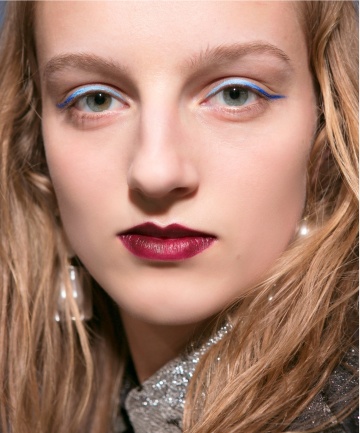 Lipstick isn't the only star of the show here — check out that ombre blue eyeliner. If your hand is too shaky to do the multicolored flick, stick with a solid blue eyeliner, like
NYX Colored Felt Tip Liner in Cobalt Blue
, $10, paired with burgundy lipstick.
Image via Imaxtree
Photo 4/17
Effortless Eggplant Lipstick
Here's proof that dark lipstick can be low key. It's all down to the application. Dab on a plum lipstick, like
Pretty Vulgar Bury Them With A Smile Matte Lipstick in Honest Truth
, $24, for a soft-focus finish around the edges. Tap a clear lip balm on for a little extra shine and hydration. There's no need to do anything to the rest of the face — apart from
sunscreen
, of course.
Image via Imaxtree
Photo 5/17
Wine Pout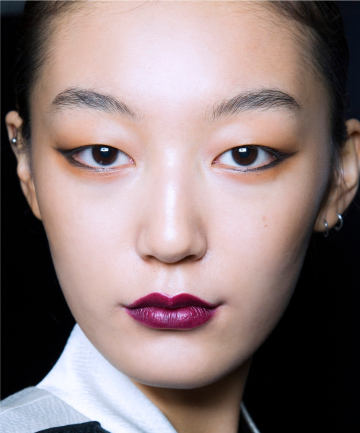 It's not necessary to choose the blackest black lipstick of them all. (Although if you want to, be our guest.) Subtly nod to the brighter colors of the season with a satin wine lipstick. Winged black eyeliner ups the drama for evening, while copper eyeshadow prevents it from becoming too serious.
Image via Imaxtree