Photo 1/9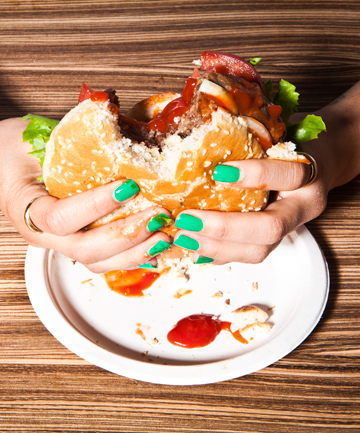 Fast food has really stepped up its game in the last decade, serving lighter, leaner options that are more nutritious than their standard deep-fried and highly processed counterparts (although still pretty processed). "Food companies are constantly trying to keep up with their increasingly health-minded customers because they don't want to miss out on sales," says Frances Largeman-Roth, registered dietitian nutritionist, nutrition expert and author of "
Eating in Color
." "That's why we're seeing plenty of quinoa and other whole grains available, as well as more customization, like the ability to choose your own sauces and dressings and small and large versions of items so that customers can control the portion size."
This not only makes things easier for health-minded people but also those with dietary restrictions, whether it's gluten- or dairy-free or plant-based eaters. "Long gone are the days of having only a choice of medium or large on your fries — now many places offer small side salads, fresh fruit, baked fries, baked potato (make sure you don't drown it) and small cups of broth-based soups," says Roger E. Adams, Ph.D., Houston-based dietitian, nutritionist and founder of
eatrightfitness.com
. "The number one tip is to know the menu going in, so you aren't tempted when you smell those fries and other wonderfully smelling temptations." Having a plan is a great start, but actually choosing those healthy gems on the menu is key. Here, registered dietitians and nutritionists share the healthy fast food options they order when they're in a pinch.
Image via Getty
Photo 2/9
Chicken Garden Salad at Burger King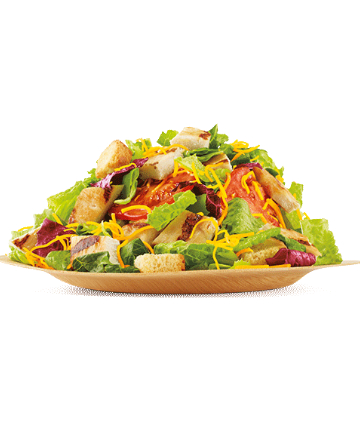 Believe it or not, this exists on the menus of plenty of fast food restaurants — even Burger King — and it's the go-to order of Christen Cupples Cooper, Ed.D., R.D.N., founding director of the Nutrition and Dietetics Program at the College of Health Professions at Pace University. However, she stresses that just because something contains lettuce, doesn't necessarily mean it's low-calorie. "Beware of salads loaded with 'crispy' (code for battered and fried) chicken, noodles and added goodies," she says. "Some of these, especially with dressings, can clock in nearly 500 calories!"
Image via Burger King
Photo 3/9
Southwest Grilled Chicken Salad at McDonald's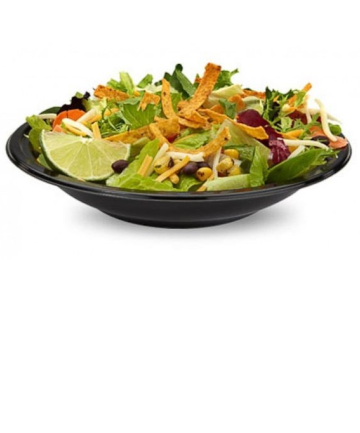 Good old Micky D's doesn't only serve up greasy, fried food. In fact, its salad menu has seriously stepped it up in recent years. So much so that Becky Kerkenbush, registered dietitian and media representative for the
Wisconsin Academy of Nutrition and Dietetics
, occasionally orders from it. "McDonald's Southwest Grilled Chicken Salad has 350 calories, 11 grams total fat, 37 grams protein, 200 milligrams calcium (20 percent daily value), 6 grams fiber and 0 grams trans fat," she says. "The chicken (lean protein, iron) with salad blend and vegetable blend (fiber, vitamins, minerals, flavor), plus cilantro lime glaze (flavor) and shredded cheese (protein, calcium) is a satisfying combination." She sometimes adds a container of nonfat milk and apple slices to round out the meal.
Image via McDonald's
Photo 4/9
Oatmeal at Starbucks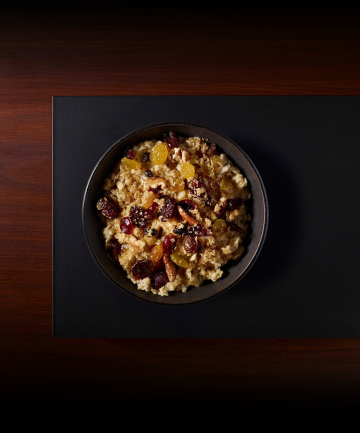 For a quick, easy and filling breakfast that doesn't break healthy diet rules, Sharon Palmer, registered dietitian and founder of
The Plant-Powered Dietitian
, opts for Starbucks oatmeal. "It is such a great choice, compared to greasy breakfast skillets and sandwiches, since it's whole grain and it comes with berries and nuts. For lunch, she also loves the Taco Power Bowl at Taco Bell, done vegan — that is the vegetarian refried beans with rice and vegetable toppings. "I also love Chipotle's Sofritas, which is a plant-based protein option," she adds. "I like it topped on a salad with veggies and guacamole."
Image via Starbucks
Photo 5/9
Black Bean Soup at Panera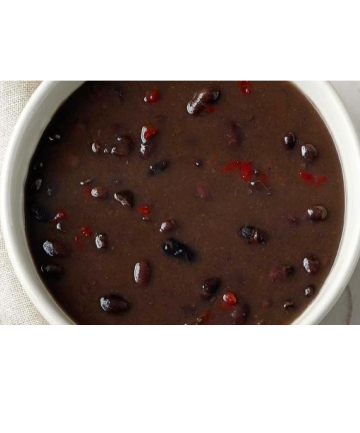 Black beans are not only tasty and filling, but they're also extremely nutritious. They're a great source of plant-based protein, fiber, folate, iron and zinc, says Elizabeth Ward, registered dietitian and author of "
Expect the Best: Your Guide to Healthy Eating Before, During, and After Pregnancy
." She's a big fan of Panera's black bean soup, as well as some of its other healthy-but-fast menu items, including steel cut oats, which have a good amount of fiber, Greek yogurt, which has protein, calcium and fiber, and avocado, egg white and spinach on a bagel, which has protein, healthy fats and a moderate calorie count.
Image via Panera