Photo 1/5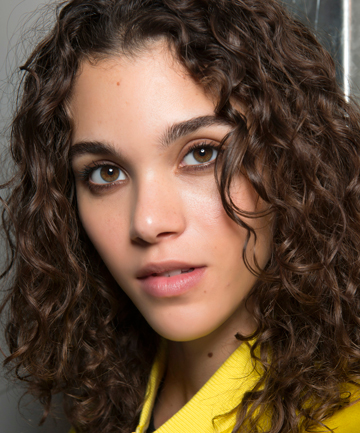 It's been commonly said that you always want what you don't have: girls with curls want smooth, straight hair; people with iron-straight hair envy curls and waves; limp hair wants volume; people with volume might want, well, less. Although so many of us are rocking what we've got, we still have moments of frustration when it comes to our hair type and texture.
"I think right now, the bigger conversation is someone not liking what their hair does naturally," explains celebrity hairstylist David Lopez, who says at least 90 percent of the models and stars he works with experience the same stress as the rest of us when it comes to their hair texture. "I don't even know if most clients have the words to say that it's the texture that frustrates them, they just say they don't like their hair, that it's got a 'weird wave' or it's too thick or the curls are too tight. All these things make your hair so beautiful."
Friends, let's make this the year we embrace our hair types once and for all. We've asked Lopez to give us some tips and tricks on how to handle some of the most common texture issues and he was more than happy to help.
Image via Imaxtree
Photo 2/5
Fine or thin hair types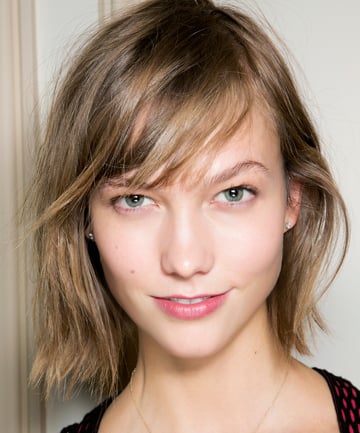 Lopez says the issue with flat hair is two-fold: most women with flat hair tend to have roots that grow straight down instead of up and they attempt to style hair soaking wet by pulling on it with a round brush, which yanks all the elasticity, volume and bounce out of the hair. Lopez recommends applying a mousse to lift your roots, like
Kenra Volume Mousse Extra
, $11.19. "I love a good mousse for lift and hold. Apply it to damp hair and comb or brush it through, then brush your roots upward like you were giving yourself a unicorn pony. Flip your hair upside-down and use your dryer to rough dry your hair using just your hands until it's at least 95 percent dry. When it's 95 to 100 percent dry, flip your head back over and use your paddle brush to smooth and style."
Lopez recommends using medium heat and the low speed level on your dryer and recommends the
T3 Cura Luxe Hair Dryer
, $250, a new, lightweight pro-choice dryer with digital ionic technology and multiple heat and speed settings. Also, the haircut counts. "If someone with fine hair is in the stylist chair and the stylist reaches for a razor or texturizing shears, run! Finer hair has to be cut a bit more blunt and heavier because there's not as much hair to play with."
Image via Imaxtree
Photo 3/5
Thick hair types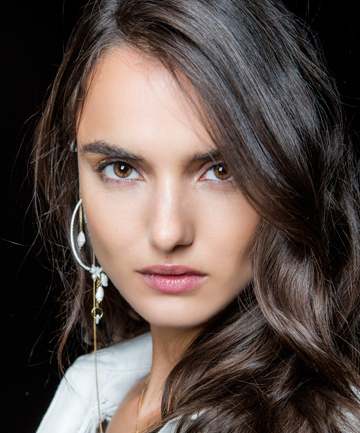 Endless amounts of hair that takes forever to dry can be overwhelming. Lopez has a couple of tricks. "Same principles apply as fine hair: gently detangle your hair, rough dry it with your hands and then smooth it out. Section your hair into two ponytails, then split each ponytail into two so it creates quadrants and secure these sections. Using a smaller barrel curling iron — 1 to 1 1/4 inch (or a larger barrel if you want bigger, looser bend) — split each quadrant into three sections and work on each smaller section at a time starting at the front on one side. Just flip the ends in, give it some bend and it will look like you gave yourself a blowout. Sectioning is key so you don't get overwhelmed." Also, when it comes to haircuts, Lopez says that thick hair needs some kind of movement to it. "Even if you want one-length hair, just go for some soft, face-framing layers near the ends so it doesn't feel too blocky and heavy."
Image via Imaxtree
Photo 4/5
Wavy hair types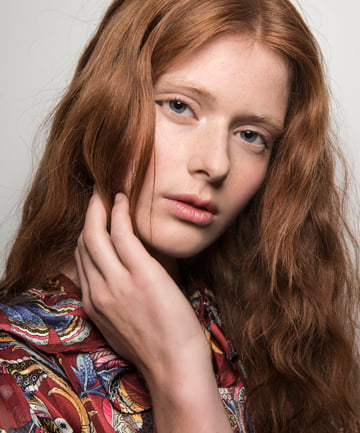 Ready to ride the wave for good? "The number one tip is to give up harsh detergent shampoos and hot tools," cautions Lopez. "It's akin to a shirt that's been washed and dried every single day: it's damaged and probably faded. You need to repair it, especially if you've been addicted to flatironing and getting blowouts." He recommends giving yourself a 14-day challenge to give up harsher shampoos, going longer between washes and using a deep conditioning hair mask because once that moisture level is back, you can really see definition and what you're working with.
Styling tips: "When you're in the shower, comb conditioner through your hair with a wide-tooth comb, detangle with a comb or fingers for better definition and rinse your hair in the style you want your hair to fall, rinsing each side separately. Get out of the shower, give your hair a shake, squeeze out the excess with a microfiber towel and scrunch in a product like
DevaCurl Wave Maker
, $18.29. Don't rake it through." Lopez says wavy hair can get away with most haircuts; it just depends on the density of the hair and getting a haircut that suits your particular wave pattern. "I'd still stay away from texturizing shears with longer, wavy hair, and razors should never touch wavy hair - never ever."
Image via Imaxtree
Photo 5/5
Kinky hair and tight curls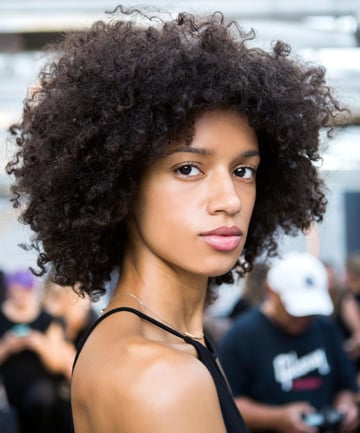 For kinky and very curly hair, Lopez says the key is patience and styling technique. "Shrinkage factor is higher in tighter curls than someone with a looser curl, so people who have tighter curls will feel like they're in the in-between phase longer than someone with a looser curl pattern. Give yourself the patience and time to get to a length where you get to see the full rotation of the curl." He also says that, similar to wavy hair, it's best to stop heat styling if you really want to see the full potential of your curls. If it's length and definition you're craving, Lopez is a fan of the double-strand twist. "They stretch out your curls and give them definition without disturbing the curl. Remember: the bigger the double-strand twist, the looser the curled style will be."
From a styling perspective, Lopez favors mixing the hold of a gel with the moisture of a cream together for hydration, curl hold and a bit of weight, and recommends girls with tight curls avoid brushing. "I see a lot of brushing tutorials on Instagram where they take the Denman and brush through their hair. Disrupting those curl families doesn't work for those tighter curl patterns where they're looking for more definition and stretch out of their hair."
Lopez says another way to get definition is to let the curls just do what they do by leaving a little conditioner behind when you rinse, putting product into soaking wet hair with your head upside-down, flip your head back up and then leave as much moisture in it as possible. "You don't want to leave the house with your hair dripping wet but try to leave just enough so it's not dripping into your eyes and then leave it alone so it leaves as much weight as possible in it and it dries stretched out."
When it comes to haircuts, always have curls cut dry and show up to your styling appointment with your hair dry and down so your hair falls naturally. "Help your stylist by coming to your appointment with your hair down and loose, not in a ponytail, braid or a bun. Get your hair cut with your hair down with your curls in their natural state the way they would normally fall on their own."
Image via Imaxtree