Photo 1/9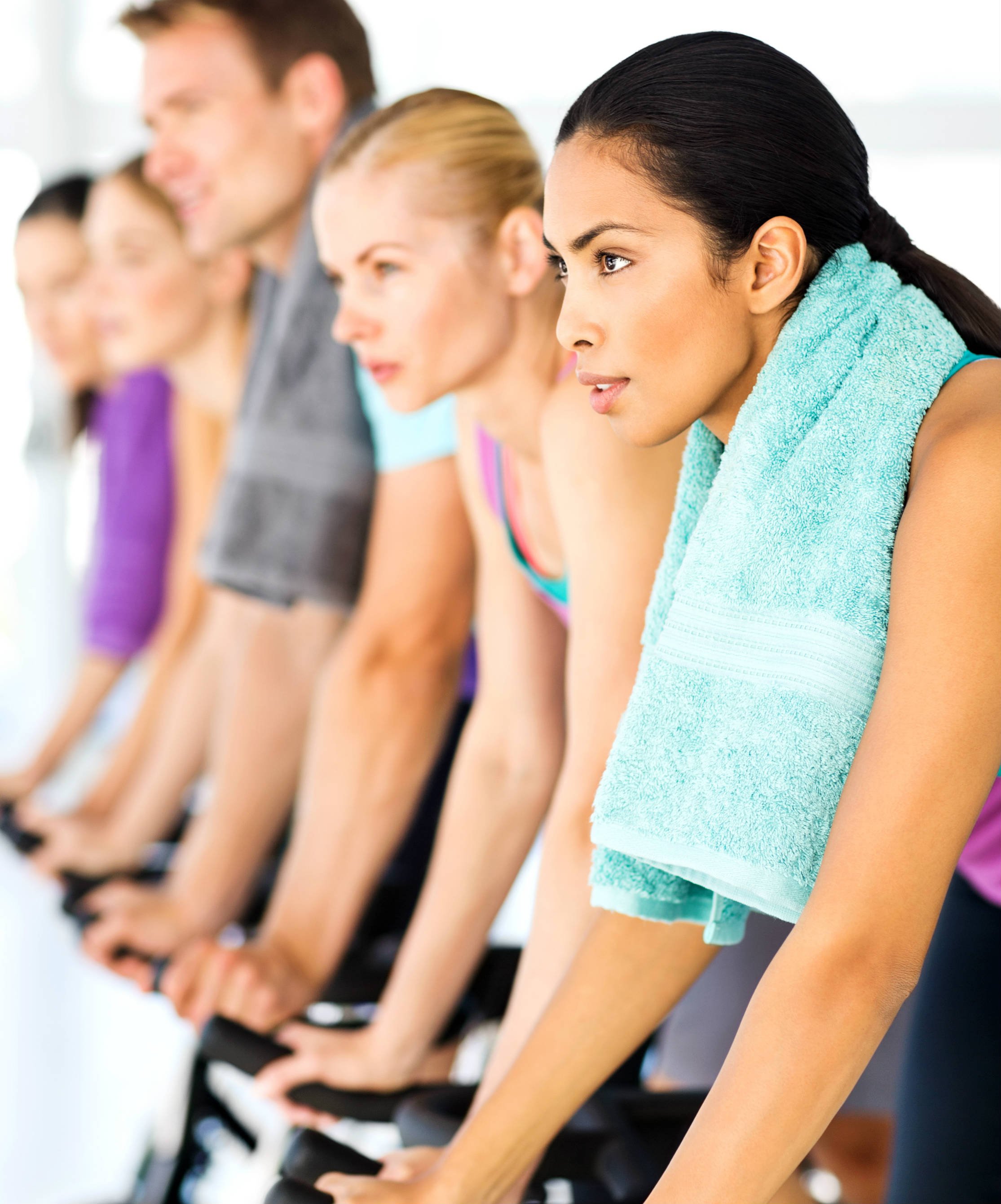 Working out used to mean throwing on an old t-shirt and shorts and heading to a globo gym where you could anonymously sit on a recumbent bike for an hour. But times they are a-changin'. Ratty t-shirts are being replaced by stylish athleisure wear, and boutique fitness classes are giving regular gyms a run for their money. People want the close-knit community boutique gyms provide, and they're willing to pay triple the price of a regular gym to get it. But, calorie-burning-wise, are these trendy classes actually worth it?
Studies show we're likely to overestimate the number of calories we burn during a workout -- and underestimate the calories we consume. Clearly, this can be an issue if you're exercising for weight loss. So we got the scoop on the workouts
du jour
, like SoulCycle, CrossFit and Pilates, and ranked them from the most expensive cost per calorie to the least. Keep clicking to learn which workout is serving up the cheapest calorie burn.
Image via Getty
Photo 2/9
Eighth Cheapest Calorie: Pilates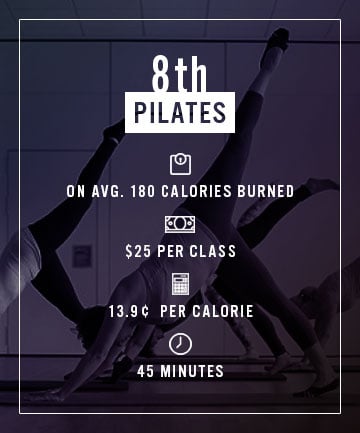 Average calories burned: 180
Cost per class: $25
Cost per calorie: 13.9 cents
Class time: 45 minutes
Pilates focuses on small, controlled movements that tone muscles you didn't even know you had. The calorie burn is relatively low -- Pilates isn't an aerobic exercise -- but you will become stronger and more flexible.
Photo 3/9
Seventh Cheapest Calorie: Crossfit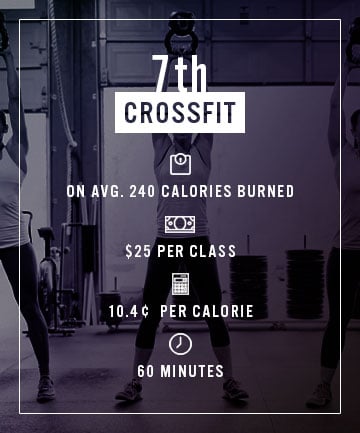 Average calories burned: 240
Cost per class: $25
Cost per calorie: 10.4 cents
Class time: 1 hour
The average calories burned may seem a little low, but keep in mind that you burn most of the calories in the short-but-intense WOD (workout of the day). Before the WOD, the class will typically consist of mobility, a warm up and a strength portion. This means you're building muscle -- and muscle tissue burns more calories than fat in the long term -- even when you're not working out.
Photo 4/9
Sixth Cheapest Calorie: The Bar Method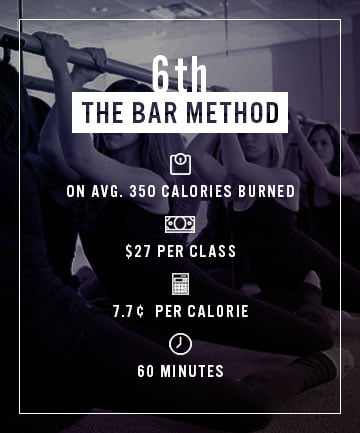 Average calories burned: 350
Cost per class: $27
Cost per calorie: 7.7 cents
Class time: 1 hour
Because the class moves quickly, you'll find your heart rate slightly elevated -- certainly not as much as a high intensity or cardio workout, but enough to burn a fair amount of calories in an hour. Expect to work your entire body during every workout (no "leg days" here), and know that if your muscles start quivering uncontrollably, you're doing it right.
A word of caution: Bring your own socks, or you'll have to buy a pair for $10.
Image Source
Photo 5/9
Fifth Cheapest Calorie: Orangetheory Fitness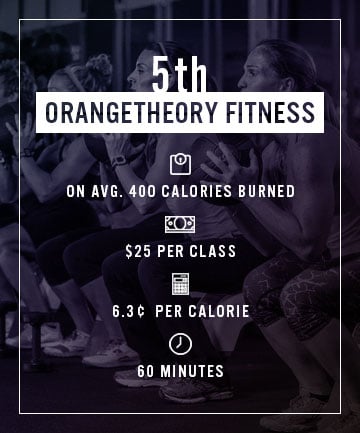 Average calories burned: 400
Cost per class: $25
Cost per calorie: 6.3 cents
Class time: 1 hour
This workout consists of three stations: the treadmill, the rower and strength training. The goal: to spend 12 to 20 minutes in the orange zone, aka at least 84 percent of your maximum heart rate. This helps your body continue to expend energy once you're done working out -- resulting in extra calories burned.
Upon entering the studio, you'll be hooked up to a heart rate monitor, and your numbers will be projected onto a screen in the studio (the fact that everyone can see your numbers -- even if they're likely focused on their own -- is surprisingly motivating). When the class is over, they email you a printout of your workout performance.
Image Source