Photo 1/21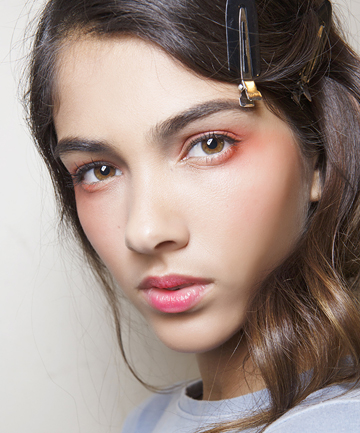 When we hear draping, one of the first things that likely comes to mind is
a fabulous red carpet gown
. You're probably envisioning some Grecian-inspired dress with flowing folds, right? What you're probably not thinking about is makeup. Don't worry, we're not about to present a wild
eyebrow trend
, draping is a wearable under-the-radar makeup technique that uses blush to sculpt and contour cheekbones.
Per celebrity makeup artist
Bethany Brill
, draping is a technique where different shades and textures of blush are used to bring out bone structure, plump and/or sculpt cheeks.
Stila
Global Executive Director of Creative Artistry Sarah Lucero likens it to fabric draping in terms of the smooth and sheer textures that "move comfortably" on top of one another. Starting to get the picture?
If this sounds a lot like
contouring
, the overlap is natural. Brill points out that all makeup involves some sort of contouring. Consider how we apply makeup to make different parts of the face appear bigger, smaller, fuller, wider, higher or lower than they really are. The difference is, draping focuses on the often neglected cheeks and uses color. If you need a break from the alien-esque glow of
strobing
and chiseled cheekbones, draping is it.
To become a master makeup draper, having the right technique is essential. Overdo it and risk looking like a clown or an extra in an 80s music video. Brill's personal technique begins with coloring the entire cheek with a barely-there colored powder blush. She says that this helps to round out the face and "lift" the cheek off of the contour of the cheekbone. Next, she takes a gel or
cream blush
in a brighter shade and dabs it between the fullest part of the cheek and the highest part of the cheekbone. This focuses the attention on the prettiest and roundest part of the cheek giving a youthful glow. She finishes the look by dabbing a touch of the leftover gel/cream blush on the tip of the nose and on brow bones. This ensures the flush looks natural and not contrived.
Brill stresses subtlety is key in draping. To make a fashion-makeup analogy, we want soft folds. We don't want sharp pleats. So, apply blush with a light touch and gradually build up the color so there are no hard edges. Accidentally overdid it? Take some off. Brill says that she often takes product off. "Many times I will do the technique, then rub the tiniest bit [of product] off at the end with my fingers or a dry tissue," she explains. "It's less fussy and keeps it cool and young and not overly manicured."
Lucero adds that having clean beauty tools is key. Regularly
washing makeup brushes
prevents buildup and allows the product to move effortlessly across the face.
Ready to practice the draping technique? Click through the gallery to see pretty beauty looks that make cheeks the focal point.
Image via Imaxtree
This article originally appeared on TheFashionSpot.com
Photo 2/21
Flushed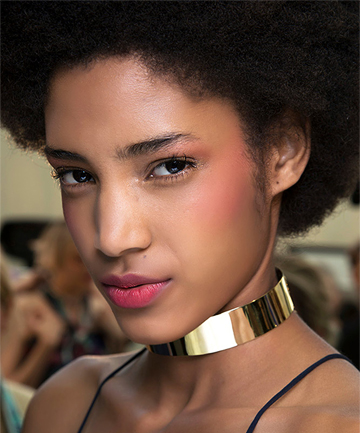 A rosy blush swept across the cheeks and a coordinating lip stain is a gorgeous everyday beauty look. The draped cheeks also take considerably less time than fussy contouring.
Image via Imaxtree
Photo 3/21
Switch It Up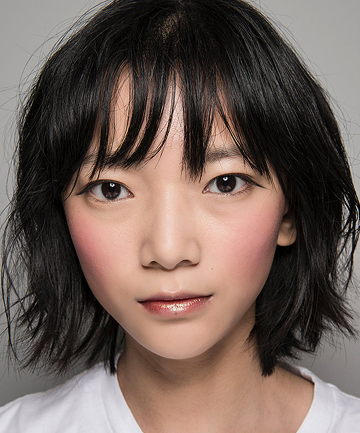 Coordinating colors are always pretty, but sometimes a contrasting look can be good. See this glossy neutral lipstick with pale pink blush. The different tones and textures are striking.
Image via Imaxtree
Photo 4/21
Blushing Beauty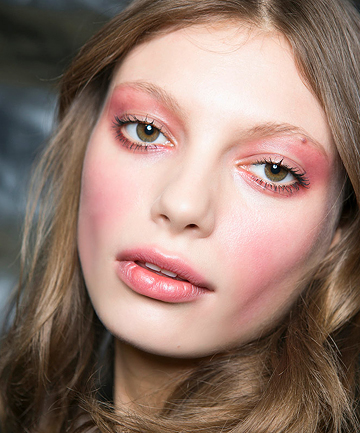 With celebrity makeup artist Bethany Brill's technique in mind, swipe a peachy pink blush over cheeks and on brow bones. For a twist, carry the color around the entire eye. Finish the look with a matching lip color for complete coordination.
Image via Imaxtree
Photo 5/21
Into Evening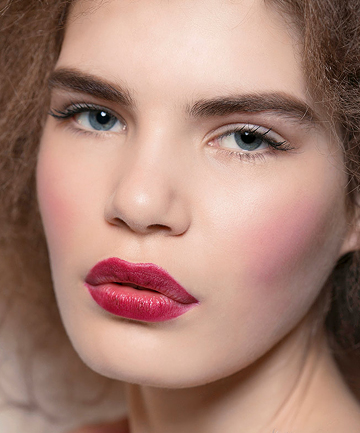 Evening makeup looks often focus on the eyes. Switch things up by making cheeks and lips the focal features. A peony pink blush draped across skin will add a healthy wash of color. Tie in the pink tone with a muted red lipstick.
Image via Imaxtree