Photo 1/8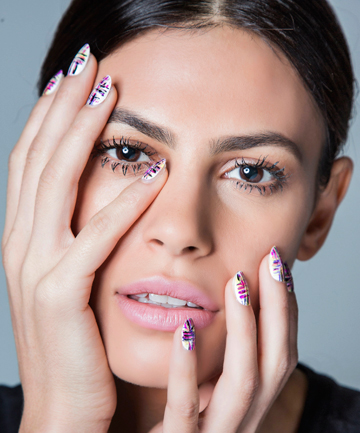 If you've lived through the '90s, chances are, you've dealt with your fair share of
brow blunders
. Years of over-plucking and over-tweezing to achieve the thinnest brows possible may have impaired your ability to grow those hairs back, leaving you scrambling to keep up with the big and bushy eyebrow trend of today. Not to worry. There's hope for owners of even the skinniest and most pencil thin brows thanks to experts who dedicate their career to shaping, tinting and redefining eyebrows. Here are some of their best-kept secrets to achieving the perfect brow.
Image via Imaxtree
Photo 2/8
Symmetry is everything (forget the whole 'sisters' thing)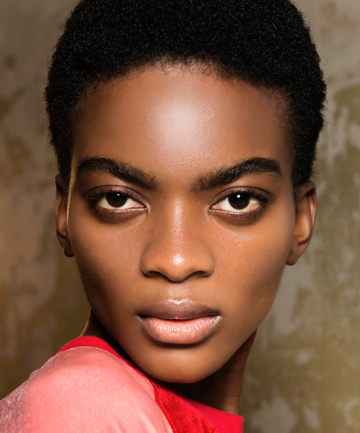 You may have heard that your brows should be sisters and not twins. While it's true that your natural arches may look different from each other, it's your brow specialist's job to make them look identical. Tammy Fisher, brow specialist and founder of
Browtiste
, says to make sure your specialist measures your brows so they align with your eyes. "If your eyebrows are too far apart, they tend to offset the eyes making them appear further apart," she says. "This will also cause them to enhance the appearance of your nose which we don't want to do."
Instead, your eyebrows should begin at the bridge of your nose and align with the outer part of your nose to the corner of your eye. "This will also help to ensure the length of your brows is exactly where it needs to be," adds Fisher.
Image via Imaxtree
Photo 3/8
Always take a conservative approach when shaping your brows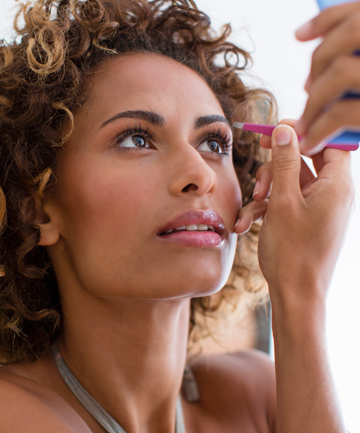 It's better to err on the side of not doing enough than overdoing it when you're DIYing your brows. "You can always remove more hair later on when you look at your brows again with a fresh eye," says Ramy Gafni, brow expert and founder of
Ramy Cosmetics
. "As a rule, it's better to keep your brows too close together than too far apart, the tail too long as opposed to too short, and the body of the eyebrow too thick as opposed to too thin."
Image via Getty
Photo 4/8
Tinting your brows a shade or two darker will help enhance your natural shape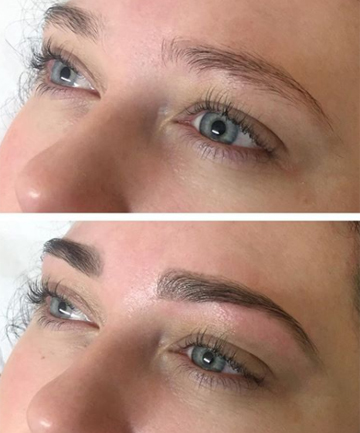 Eyebrow tinting might seem a little scary to some people — after all, your brows are smack-dab in the middle of your face. What if you don't like the color or if it's too dark? Experts swear by the semi-permanent procedure because, unlike tweezing, waxing or threading, tinting doesn't involve hair removal at all. In fact, its main purpose is to give you an even fuller brow. "Since texture naturally changes throughout eyebrows, the tint picks up and adds definition to the finer hairs," explains Fisher.
And don't worry — it's not permanent. "Eyebrow tint should gradually fade over the course of three weeks," says Fisher. If you're looking to make your tinting last even longer, avoid harsh cleansers or swimming, which can lessen the pigment.
Image via @themakeupstudioliverpool
Photo 5/8
You should avoid tweezing in-between visits
If you're seeing an eyebrow specialist regularly, let them work their magic. Tweezing and plucking intermittently in between appointments will prevent them from being able to do your eyebrows justice. This is because eyebrow hair, much like the hair on your scalp and other areas of your body, grows on a 28-day growth cycle. If you remove certain hairs during the time your brow specialist is expecting them to grow, your hair is no longer on the same growth cycle. "If you both are doing your brows, chances are, you will never end up getting the shape you are looking to achieve," says Fisher. She recommends using a clear brow finish to help hold unruly hairs in place while you allow them to grow out in between visits.
Image via Imaxtree