Photo 1/7
If you're plagued by pimples, you already know there is not one single answer to the question of how to get rid of acne fast. You know there may be a period of trial and error to effectively eliminate blemishes. You know that it takes time. But there is good news too: Even while scientists still struggle to understand exactly what causes acne, today's products and treatments for acne are more effective than ever. It
is
possible to get rid of acne fast, no matter how bad it may seem.
It starts with assessing your acne, says Doris Day, MD, clinical associate professor of dermatology at New York University Langone Medical Center and the author of "Forget the Facelift." If your pimples are leaving scars, make an appointment for a dermatologist right away. Otherwise you can begin to get rid of acne by selecting an over-the-counter product from your local drugstore.
So how do you find the best acne products? Start by remembering that they work in different ways, depending on their active ingredient, says Day. Some work by killing bacteria that causes acne flare-ups, others remove excess oil and dead skin cells that create pimples when trapped in hair follicles. Some are decidedly gentler than others -- and better for sensitive skin.
(
Skip ahead now to see the best products for getting rid of acne
.)
For Day, benzoyl peroxide and salicylic acid are acne-treatment winners. "Most of the time you can get great results with over-the-counter products that contain salicylic acid or benzoyl peroxide," says Day. "Because they are over-the-counter, they aren't as harsh. Salicylic acid is great for acne because it helps gently exfoliate the skin; and it gets down into the follicle and helps exfoliate deeper than glycolic acid." To get rid of acne, she suggests patients alternate a salicylic acid cleanser or cream with acne products that contain bacteria-killing benzoyl peroxide for maximum efficacy.
Two things that don't help when treating acne, she cautions: rubbing alcohol or hydrogen peroxide. "These clean wounds, but they do not affect the bacteria that causes acne," she says. "Also alcohol is very drying and hydrogen peroxide is actually toxic when applied directly to the skin."
What causes acne? "We know that acne is caused by excess oil getting trapped in the hair follicle, but we still don't know exactly why," Day says. "We know that stress triggers it, hormones impact it, metabolism and gut flora could be a factor." But even though all research points to an immune system response versus a skin disorder, luckily there are acne treatments that work at the skin level until we figure the rest out. Check out the ingredients and products that get rid of acne now.
Image via Imaxtree
Photo 2/7
Acne Treatment No. 1: Benzoyl Peroxide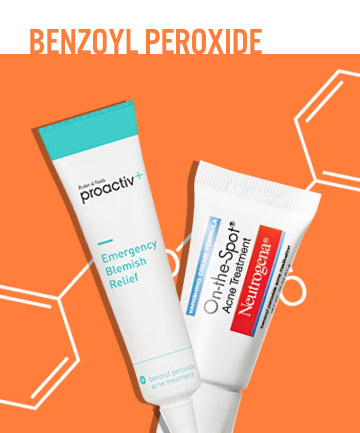 Consider benzoyl peroxide the How To Treat Acne 101 ingredient; your first line of defense. It works by reducing the amount of pimple-causing bacteria and excess oil from your skin.
Used with salicylic acid, it's usually so effective Day recommends beginning with over-the-counter doses of each. Only then -- if you don't see a difference in a couple of weeks -- it may be a sign that you should see a dermatologist for a more intensive acne treatment regimen.
Benzoyl peroxide is widely available in a number of gels, creams and lotions, in concentrations between 2.5 percent and 10 percent. Since it can cause red and scaly skin irritation if you have sensitive skin you may want to start with the lowest concentration and work upwards. Some research actually suggests that lower doses of benzoyl peroxide are just as effective as the higher ones. Adult acne sufferers take heed: your skin becomes thinner as you age so you want to treat it as gently as possible.
Try:
Neutrogena On the Spot Acne Treatment
, $5.99. Another great option:
Proactiv Emergency Blemish Relief
, $46.
Photo 3/7
Acne Treatment No. 2: Salicylic Acid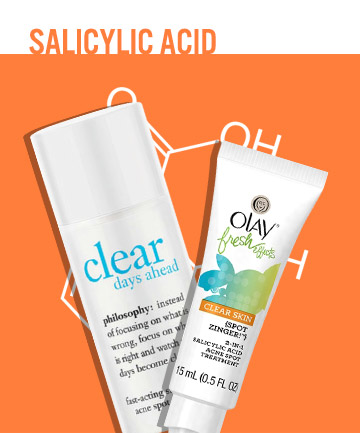 Salicylic acid, also known as beta hydroxy acid (BHA), is one of those multitasking skin care ingredients that can seem like magic. It opens clogged pores, neutralizes bacteria within and helps constrict pore diameter, which keeps pores from clogging up again. For an over-the-counter blemish buster, look for a concentration of 2 percent salicylic acid. "For many patients, if your breakouts are not causing scarring, this may be all the treatment that's needed," says Day.
Try:
Philosophy Clear Days Ahead Fast-Acting Salicylic Acid Spot Treatment
, $18. Or try
Olay Fresh Effects Clear Skin Spot Zinger
, $7.99.
Photo 4/7
Acne Treatment No. 3: Over-the-Counter Retinols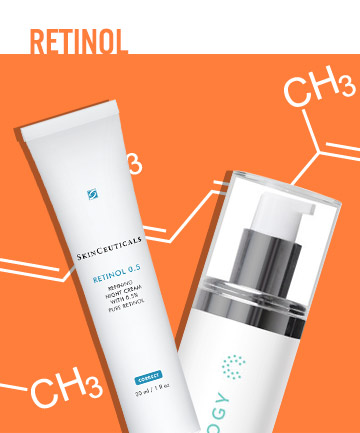 Often avoided for causing red, flaky, burning skin, retinol, a derivative of vitamin A, is one of the most powerful acne eradicators -- and skin care ingredients -- on the market. That's because it not only unclogs blocked pores and removes dead cells that cause pimples, it also promotes the growth of healthy skin, reducing wrinkles and age spots. It's available for acne in over-the-counter concentrations, or you can get super-strength trentinoin from your dermatologist in the form of Retin-A. (For anti-aging, ask your dermatologist about Renova.)
Topical retinoids come in cream, gel and liquid forms, usually applied in the evening to help your body deal with any irritation. If you do get redness, doctors advise starting out by applying it every other night.
Try:
Skinceuticals Retinol 0.5
, $57. Or,
Curology
, which lets you get a prescription strength retinol through a dermatologist online.
Photo 5/7
Acne Treatment No. 4: Coconut Oil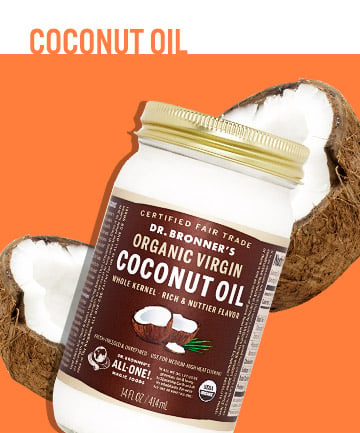 Plant-based oils have come out of the closet for oily skin. "There is a world of oils that are great for facial skin," says Dr. Day. "You don't have to look for 'oil-free' anymore." Plant-based oils can not only provide soothing, hydrating and calming benefits to acne-prone skin, they can also be antibacterial, she says. The key is to make sure you are using oils that are non-occlusive (do not clog pores) and non-greasy. (In other words, avoid petrolatum and mineral oils!) One of the best oils for blemished skin is the humble and inexpensive coconut oil, says Day, which is both hydrating and anti-inflammatory.
Try:
For an at-home natural acne treatment: Mix a drop of coconut oil with equal parts honey, an antiseptic, and aloe, an anti-inflammatory that will also help with pain and itch. Apply to pimples as a spot treatment. Rinse off after an hour.