Photo 1/9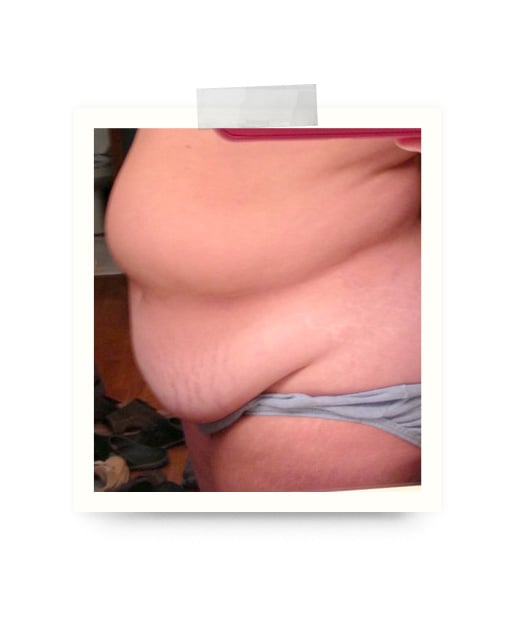 I'm 45 years old, 5'9" and 250 pounds. The last time I was truly happy with my figure was about 20 years ago. After having my two children, the weight crept on and never really left. I've also had back problems for several years, and a few surgeries. My back problems made it difficult to be active, and the number on the scale always seemed to go up.
I decided to seriously pursue plastic surgery when I realized the extent the extra weight was affecting my life. I'm a bubbly, outgoing person, but my sagging "apron" of a stomach made me extremely self-conscious. I planned my life around hiding my body. Reaching for my baggiest clothing, always looking for a desk or chair to hide behind and finding ways to avoid standing in front of people were second nature to me. I knew it was time to change when I had to ask for an extension belt on a flight -- one of my most mortifying experiences to date.
I lost 40 pounds just by counting calories and getting more active. I walked three miles a day and tried to swim as often as possible, because my back wasn't up for any extreme physical activity. But then I plateaued. I decided (after much research) that I wanted to change my life with an abdominoplasty procedure -- or, as they're commonly known, a tummy tuck.
Photo 2/9
Choosing a Surgeon
I researched three plastic surgeons in my area and made my first consultation appointment. I expected a typical doctor's office -- scrubs, stethoscopes, etc.-- but when I arrived, I walked into an office full of well put-together, attractive women in heels, trendy accessories and full makeup. I felt the old panic rise up, and that familiar voice inside of my head started whispering, 'You're not supposed to be here.' My husband, who has been my rock throughout this ordeal, told me, "Just relax." Without him, I probably would have hightailed it out of there!
When I met with the plastic surgeon, I was so impressed with his knowledge, calmness and vision for my results, I didn't even schedule consultations with the other two surgeons I researched. We decided on a drainless extended tummy tuck with muscle tightening/correction of the upper abdomen and liposuction of the upper abdomen, flanks and outer thighs. In a drainless tummy tuck, the surgeon takes extra time to suture the abdomen, closing up the space where fluid would normally collect, which eliminates the need for pesky drains after the procedure. Because I was also getting lipo, I would have a couple of very small drains to eliminate the extra fluid from my sides and back, but not as many as would be required without the extra sutures.
I called to schedule the surgery for the last week in August. After I hung up the phone, I cried. I felt the most amazing relief and excitement. I was so happy (finally!) to be doing something about the body that kept me from living the way I wanted to.
Photo 3/9
Prep
In the week before my surgery, I wanted to make sure I had taken care of everything. I filled my prescriptions (an antibiotic to prevent infection; Percocet for the pain; Lovenox to prevent blood clots; and a muscle relaxer and anti-nausea meds) and picked up a bunch of other things to help me with my recovery. Here's what my shopping list looked like:
-Arnica gel (to help with bruising and muscle pain)
-Vitamin C and Zinc supplements (to promote healing)
-Turmeric (to reduce bloating and swelling)
-Bromelain (to reduce inflammation and speed healing)
-Milk of Magnesia (to help with that first bowel movement!)
-Cold packs (for swelling)
-Compression garments
-Maxi pads and liners (for drain leaks and as a cushion between my body and the compression garment)
-Shower chair
-A walker (to help me get to and from the bathroom)
Photo 4/9
The Big Day
I honestly don't remember much about the day of the surgery. I wasn't nervous about the anesthesia at all. I had the surgery in the morning and spent the rest of the day and night sleeping in the recovery room. One of the things that attracted me to the plastic surgery practice I chose is that you stay there overnight. I think the fact that I didn't have to immediately go home made my recovery a lot more stress-free.
What I do remember: there was a lot of tightness and swelling -- thank goodness for Percocet and muscle relaxers!
Photo 5/9
Post-Op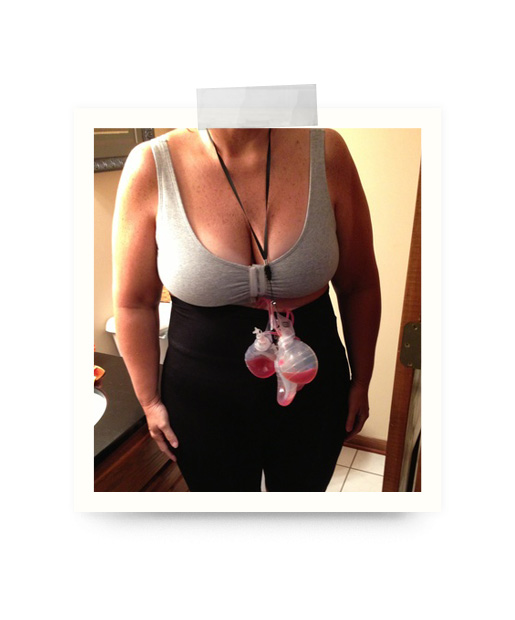 I'm not gonna lie -- in the days immediately after my surgery, I was in a lot of pain. Getting in and out of bed hurt a lot. My incision felt like it was splitting open every time I moved. The walker was really helpful -- I highly recommend one to anyone considering an operation like this.
Although I was in a lot of pain, I could already tell how much smaller I was. The surgeon said he took off about 22 pounds between the lipo and skin removal. I kept my "before" pictures close by to keep my spirits up -- it was a good reminder that I had already come pretty far!
I started feeling a lot better about three days after the operation. I was really impressed with the results. So was my sweet husband, who took a week off of work to be with me. I used the arnica regularly, and my bruising was minimal. By day four, I was able to get in and out of bed by myself without the walker.
The worst part about the recovery: those drains. I had four of them. They got in the way, pulled and occasionally burned. The drains were removed about a week after the surgery, and I was ecstatic to see them go.
The first week after the operation really was difficult, but I kept my mind focused on my results. Each day was a little bit better. Even when I was in a lot of pain, I didn't have any regrets about going through with the surgery.