Photo 1/6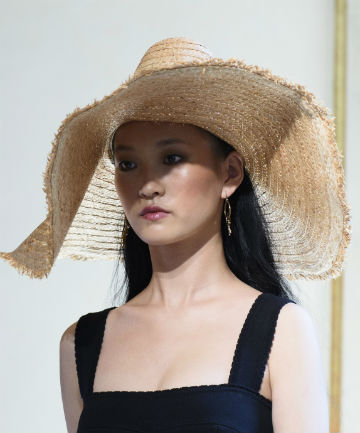 One of the best summer activities would
have
to be spending the day at the beach. Seriously, it's super relaxing to lie there on the sand, listening to the ocean's waves as you hang with your friends or catch up on a page-turning novel. But if you're not careful, all that fun in the sun can leave you with a nasty
sunburn
. According to a study published in
Mayo Clinic Proceedings
, getting five or more blistering sunburns between ages 15 and 20 increases your risk of melanoma (the deadliest form of skin cancer) by 80 percent and non-melanoma skin cancers (basal cell and squamous cell) by 68 percent — which are some pretty sobering statistics.
The good news is, it's relatively easy to avoid getting a sunburn at the beach. Follow these tips to protect yourself — and go ahead and enjoy your beach trip!
Image via Imaxtree
Photo 2/6
Apply (and Reapply) Sunscreen Like a Pro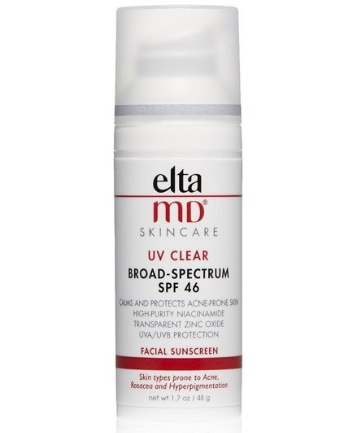 The first, and arguably most important step in your beach day beauty routine should be applying sunscreen. Choose a broad-spectrum sunscreen (meaning it protects against UVA and UVB rays) with an SPF of 30 or higher, advises
Melanie Palm
, MD, dermatologist in San Diego. We like
EltaMD UV Clear Broad-Spectrum Sunscreen SPF 46
, which shields skin from the sun using transparent zinc oxide and is fragrance-free, oil-free, paraben-free, and non-comedogenic, making it a great option for sensitive and acne-prone skin types.
Just make sure to slather on your sunscreen of choice liberally, 30 minutes before getting to the beach so that the sunscreen has time to get to work. "To ensure that you get the full SPF of a sunscreen, you need to apply one ounce — about a shot glass full," says
Gretchen Frieling
, MD, dermatopathologist in Boston. "Studies show that most people apply only half to a quarter of that amount, which means the actual SPF they have on their body is lower than advertised."
During a long day at the beach, you should use anywhere from a quarter to a half of an eight-ounce bottle of sunscreen, says Frieling, reapplying every two hours. "Sunscreens should also be reapplied immediately after swimming, toweling off, or sweating a great deal," says Frieling. Palm adds that a mineral powder sunscreen brush is great for reapplication.
Buy now
Photo 3/6
Wear Protective Clothing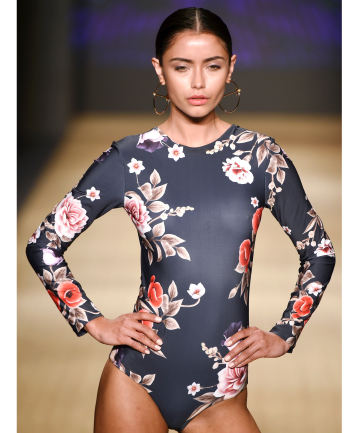 Beyond sunscreen, UPF (ultra violet protection factor) clothing is another weapon you can add to your arsenal to prevent sunburn at the beach, says Palm. UPF is the rating system used for clothing. It measures a piece of clothing's effectiveness against both UVA and UVB rays. You can find clothing, like rashguards and cover-up dresses, with a UPF rating of 15 all the way to 50+. "UPF clothing has come along way and is more comfortable, functional, and stylish than in years past," says Palm.
Palm also advises making sure your head and the back of your neck are covered. "A neck buff is a great way to keep the latter covered," she explains. Meanwhile, a broad-brimmed hat can protect your head and the back of your neck. It's also easy to find longer-sleeve styles with thumbholes to keep the back of your hands and arms covered, she adds.
Image via Imaxtree
Photo 4/6
Visit the Beach During Off-Peak Hours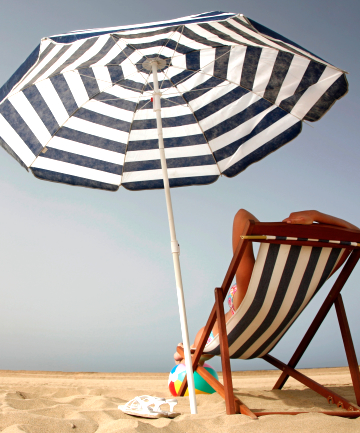 The sun's rays are at their strongest during the hours of 10 a.m. to 2 p.m., says Palm, so try to plan outdoor activities outside of this window. (As a bonus, you're sure to find a parking spot when you skip out on going to the beach during peak UV hours.) And when you are at the beach, shade is most
definitely
where it's at: "Seek shade and be aware that even on cloudy days 80 percent of UV rays still penetrate the earth's surface," says Palm. So don't forget to pack the umbrella!
Image via Alex Bramwell/Getty
Photo 5/6
Don't Forget Easily Overlooked Areas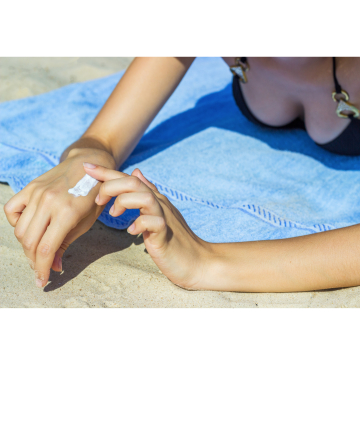 Paying attention to your face, arms, and legs is great, but there are some easily overlooked areas that need to be protected at the beach too. "If you do step out, make sure your eyes are covered with sunglasses and lips protected with a balm," says
Sheel Desai Solomon
, MD, a dermatologist based in Raleigh, North Carolina. "We often forget that the skin around the eyes is very delicate and needs extra attention." Other areas that are easily missed are your scalp, neck, backs of your ears, and tops of your hands and feet, according to the
Skin Cancer Foundation
.
Image via Mykola Sosiukin/EyeEm/Getty