Photo 1/16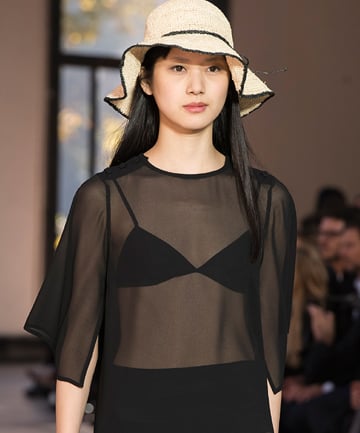 Panty lines, muffin top, back fat, saggy breasts, camel toe... We're talking underwear problems, of course -- the unspoken issues that cause unflattering wardrobe fails from the very foundation.
We get it -- the modern world of underwear is vast. It can be really easy to ignore all the confusing cuts and cumbersome technology, and continue wearing your same stretched-out sports bra and control-top panties you bought in the dreaded 7-pack.
We're not here to tell you to wear
sexier
underwear though. Lusty lingerie is not the goal. Instead, we're here to teach you how to find bras, panties and shapewear that fit your body perfectly, so your underwear is the last thing anyone notices.
Here, the seven most common, egregious -- but fixable -- problems we make when choosing what to wear under our clothes, and the simple steps you can take to get a sleeker silhouette.
Image via Imaxtree
Photo 2/16
No. 1: Back Fat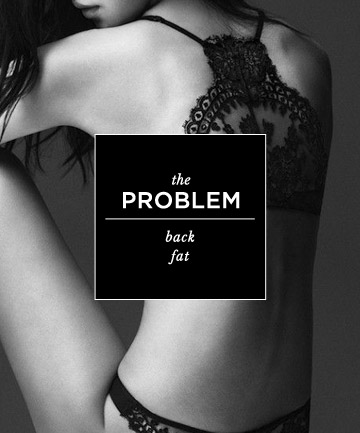 Back bulge got you down? You know, the kind that spills out from the edges of your bra as if it's actively trying to make your life difficult? Don't worry -- it's not your body's fault. Miriam Hernandez, an intimate apparel stylist and designer, says this particular problem all comes down to fit.
"Women often wear bras that are too loose to compensate for the appearance of back fat," says Hernandez. "But this solution can actually
enhance
back fat since the band rides up the back and pushes soft tissue down."
Keep reading to find out how to put the kibosh on back flab for real.
Photo 3/16
The Fix: Get Snug, Get Smooth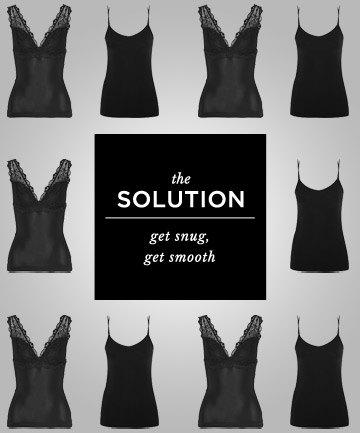 Hernandez says the band in the back of your bra should fit "snug and stationed in place below the shoulder blades and parallel to the floor." She guarantees that securing the back band of your bra just like this should solve most of the issue.
However, if you've still got problem areas, the expert recommends looking into shapewear camisoles and slips such as the Commando Classic Control V-Tank, Spanx Trust Your Thinstincts Tank Full Slip and Yummie Tummie Lena Tank. "Opt for light to medium support for a nice subtle smooth-out and for everyday comfort," she says.
Photo 4/16
No. 2: Uniboob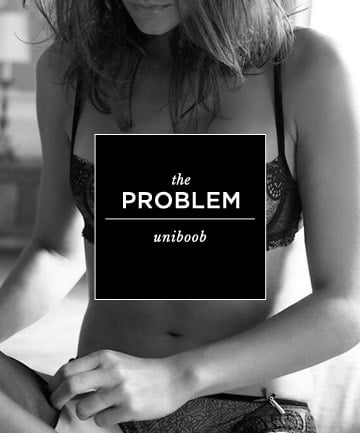 Unibrows, uniboobs... there's just something off-putting about a two-piece body part that only looks like one. When it comes to the reviled uniboob, Susan Nethero -- founder of upscale lingerie boutique, Intimacy Bra Fit Stylists -- says there are a few clear causes.
The first? Minimizer bras. "These bras are commonly worn by women with larger breasts," says Nethero, with the hopes that they'll downplay large cup sizes. The problem is that minimizer bras "actually bind and compress breast tissue, resulting in a loss of firmness." In other words, you're left with a completely unsupported look.
Seamless t-shirt bras can also be unexpected perpetrators. "Seamless bras are comfortable and look great under your tight tops," says Nethero, "but wearing them daily is a bad idea. They don't keep their shape as long as seamed bras do, which can also result in the uniboob look."
Wearing sports bras on the daily, though comfortable, can have the same unfortunate effect.
Photo 5/16
The Fix: Lift and Separate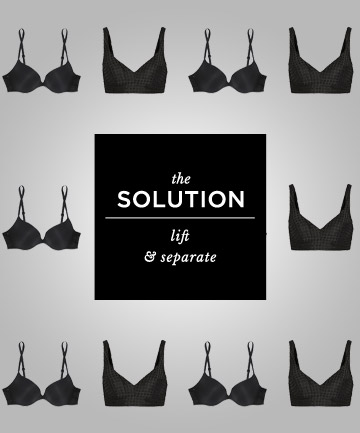 To stave off the uniboob forever, Nethero advises voluptuous women to "stick with bras that lift and center the bust line." These will help you "appear taller, smaller-breasted and even pounds slimmer." She recommends the Madison Full Cup Bra by Prima Donna for larger busts. For average busts, Marie Jo's Avero bra should do the trick.
Whether you're interested in downplaying your cup size or not, Nethero also says to "give your girls the support they need with a seamed bra, and avoid wearing your t-shirt bras daily, so they'll keep their shape."
Need a sports bra? Go for one that that offers shape and support, like the Anita Sports Bra Light & Firm or Panache Sports Bra.