Photo 9/11
CrossFit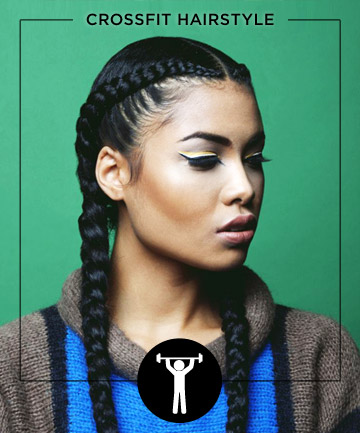 Let's being honest: If you're doing CrossFit, you're probably not worrying about your hair (because you're so badass). So, what's the most stylish way to keep your hair from getting caught in a snatch?
What the experts say: Fitness trainer Lauren Gravatt says, "French braids are a great CrossFit hairstyle to lock your hair in place and still look good." Celebrity fitness expert Sara Haley recommends double French braids or a single French braid and low double ponytails for CrossFit workouts.
The look: Double French braids
Try it:
1. Part your hair down the center, from your forehead to the nape of your neck.
2. Begin French braiding one side of your hair from the top, making sure to keep the braid taut as you go.
3. Once you reach your nape, braid regularly down the rest of your hair. Secure with an elastic.
4. Repeat on the opposite side, securing the end with an elastic.
Photo 10/11
Swimming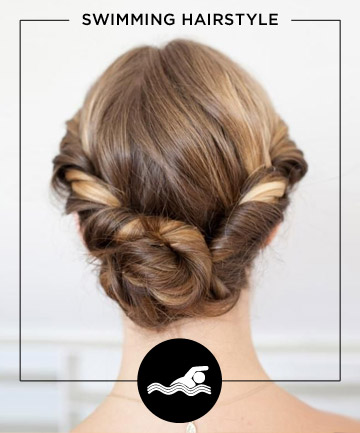 While you don't really need a style that looks good enough to walk the runway, you do need one that fits under your swim cap (if you're wearing one) and won't be a fussy, tangled mess post-workout.
What the experts say: "For swimming, wear your hair pulled back into tight bun under swim cap," says certified trainer Kyra Williams, also known as the Get in Shape Girl. Bonus points for moisturizing with a deep conditioner before your swim. "This helps pull more of the nutrients
into the hair," says Williams.
The look: Double twist low bun
Try it:
1. Part your hair down the center from your forehead to the nape of your neck.
2. Begin twisting one side back toward your nape. Be sure to keep your twist tight as you go. Secure momentarily as you begin the other side.
3. Repeat on the opposite side. Then take the two sides and twist them together.
5. Secure with bobby pins or a separate elastic as necessary.
Photo 11/11
Strength Training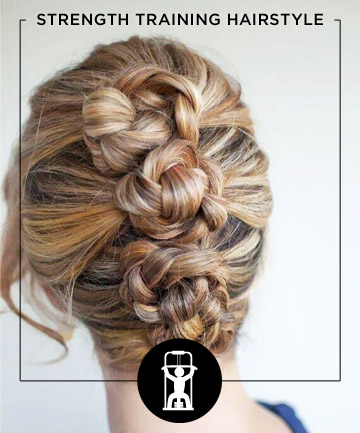 Getting stronger requires patience, perseverance, diligence and no fussing around with your ponytail from shoulder press to seated rows. Make your workout count and keep your hairstyle intact with a style that threatens sweaty pieces of hair from setting foot on your face.
What the experts say: "As a general rule when strength training, it is always recommended to
pull the hair away from the face for safety," says Rachel Martin, certified personal trainer and female body
strength training specialist from New Jersey.
"Buns, braids and ponytails
will ensure maintenance of body temperature and minimize overheating."
The look: Triple Braided bun
Try it:
1. Divide your hair horizontally into three sections, securing each section into a ponytail as you go. You should have one section at the top, middle and nape of your neck.
2. Next, braid each section down through to the ends. Secure with a clear elastic as necessary.
3. Wrap each braided piece around the base of the elastic. Use a bobby pin or separate elastic to secure.
4. Finish with hairspray as desired.
They say wearing workout clothes makes you more than twice as likely to actually work out. We say throw a neat hairstyle on top, and you've got a girl ready to sweat up a storm.
Your workout of choice plays a big role in how you should style your hair (especially for
women of color
). If you work out on a regular basis, chances are you've had your fair share of hairstyle conundrums -- finding the perfect, sweat-resistant headband for barre, using an elastic hair tie that doesn't slip down after your first burpee during plyometrics. So instead of opting for a standard ponytail, we've come up with 11 Pinterest-inspired, cute hairstyles for every kind of workout -- from Pilates, swimming and yoga to running, dance and kickboxing. Here's how to make sure your hair stays in place along the way.