Mani of the Week: Gemstone and Gold Bedecked Nude Nails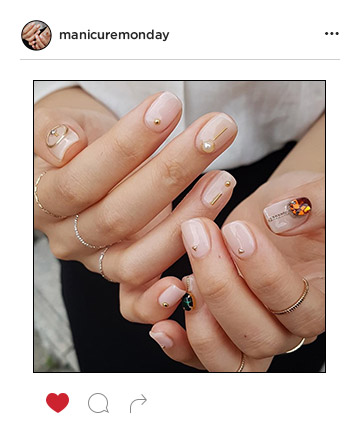 Photo 1 of 115
Created by:
@nail_unistella
Why we love it:
Let your hands do the talking with this conversation starter. The addition of 3D gold decals and colorful gems gives classic nude nails a trendy, blingy twist. Safe for the office, but enough edge for any special occasion. Make it your own by designing each nail slightly different.
To get the look:
Use
Nails Inc. Nail Polish
,$15, in Elizabeth Street,
Nails Inc. Fash Pack Nail Tattoos
, $12, superglue and variety of flat-back rhinestones and pearls.
Mani of the Week: NYFW Spring '18 Floral Nails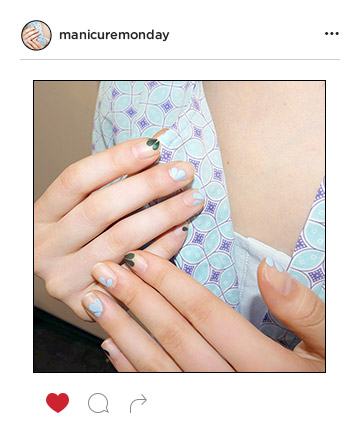 Photo 2 of 115
Created by:
@aliciatnails
Why we love it:
As Fall approaches, NYFW is here to remind us that lighter, brighter days lie ahead (even if the fashions aren't available until next year.) These delicate, pastel blue and metallic forest green flower motifs were spotted on the runways at Creatures of Comfort Spring/Summer 2018 and we're already dying to try them. Nude nails create the perfect canvas for blue and green -- or any color pairing you choose.
To get the look:
Use
Essie Nail Polish
,$18, in Blue Orchid and Laughin' To The Bank.
Mani of the Week: Doc Marten Nails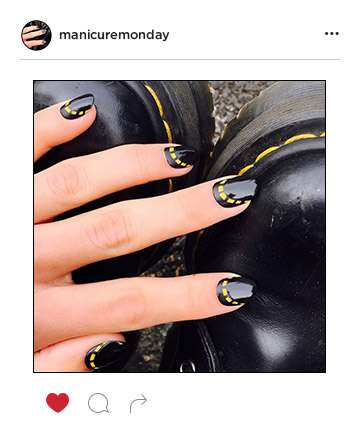 Photo 3 of 115
Created by:
@stephstonenails
Why we love it:
Dig out your knee highs, body glitter and your marabou accessories. We're loving this '90s inspired manicure, reminiscent of your favorite pair of Doc Martens. Shiny black nails accented with vivid yellow stitching transport us to a time in our lives when "Clueless" was brand-new and it was still cool to say, "As if!"
To get the look:
Use
OPI Nail Lacquer
,$10.49, in I Just Can't Cope-acabana and Black Onyx.
Mani of the Week: Navajo Inspired Nails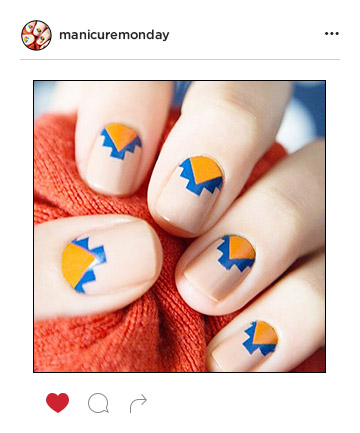 Photo 4 of 115
Created by:
sayitwithpolish
Why we love it:
The vibrant amber perfectly complements the sapphire blue in this gorgeous Navajo-inspired pattern. To recreate it, you'll just need some stencils or tape and a steady hand. The attention-grabbing look is ideal for end-of-summer soirees and early fall fetes alike.
To get the look:
Use
China Glaze Nail Lacquer
, $7.50, in Sultry Solstice and Simply Fa-Blue-Less.
Mani of the Week: Green with Envy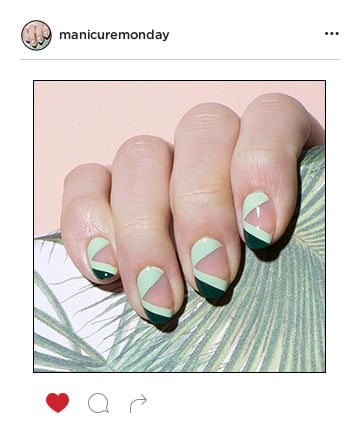 Photo 5 of 115
Created by:
@paintboxnails
Why we love it:
Angular cut-outs elevate this mint and forest green manicure, making it stylish and super-mod. The contrast of dark and light shades of green make it appropriate to wear anywhere, be it poolside in a tropical locale or strutting to work in the concrete jungle.
To get the look:
Use
Morgan Taylor Nail Lacquer
in Mint Chocolate Chip and Gotta Have Hue.
Nail art is one of those photogenic beauty trends that we could look at all day long. Somehow, scrolling through photos of nail art designs whipped up by nail art icons like Deborah Lippmann, Jin Soon and Paintbox is simply addictive – whether we plan to execute the nail design ideas or not.

That's why we're bringing you our #ManicureMonday series -- where we show you the simple nail art, endless nail design ideas and other ridiculously pretty nails that we're finding and loving.

Keep clicking to get your weekly nail art inspiration fix.