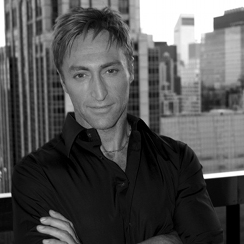 This month, Total Beauty chats with Oscar Blandi, celebrity hairstylist, owner of Oscar Blandi Salon in New York City, and creator of an eponymous hair care line.

Q: What inspired you to become a hair stylist?

A: I come from a big hairdressing family. My father and my three sisters are all in the industry. One of my sisters is a very good esthetician and the other two are stylists.

Q: What were the biggest challenges you faced early in your career?

First, opening the salon. As a stylist, you don't realize how much is involved in the whole process. And to start a product line as well is very complex, yet very fascinating at the same time. The whole journey taught me so much, not only for my business, but for my personal life as well.

Q: When did you know you had "made it" in the industry?

A: I don't think I have made it just yet. I definitely built a great brand and many people know us. But, to me making it is the day I get to retire!

Q: What is the most exciting thing about having your own product line?

A: The most exciting thing about having a product line is creating something that helps with my work. Also, I enjoy creating products that my clients will use and love.

Q: What advice do you have for other aspiring hairstylists?

A: One word -- believe. Believe it can happen, and it will. You just need to visualize it then go after it! Like many stylists, I still have so many dreams that I want to achieve, and I'm focusing on them one at a time.