Featuring Guest Guru, Pat McGrath, Makeup Artist and Global Creative Design Director for Procter & Gamble
Go here if you are having trouble viewing this email
| | |
| --- | --- |
| | December 2010 - Featuring Guest Guru, Pat McGrath |
Beauty by Numbers

November 2010
Share of Audience Report
November 2010
Brand Performance Report
This chart uses Web traffic from readers on TotalBeauty.com to rank the top 300 brands from over 1,400 on our site. Find out how each brand stacks up against the competition.

» View Full Report
This chart breaks down the product ratings and percentage of reviewed products for all brands with at least 100 consumer reviews. Wondering what your brand's average product rating is? Find out.

» View Full Report
Guest Guru

Pat McGrath, Top Makeup Artist and Global Creative Design Director for Procter & Gamble


Q: How did you get your start in the makeup world?
A: I was really introduced to makeup by Kim Bowen, the stylist, who lives out in LA now. She used to work for "Blitz Magazine" and "ID Magazine." We met in the London clubs. She asked me, "What do you want to be?" And I just happened to say, "makeup artist." She then invited me to come along to watch lots of shoots for ID and Blitz. Then I started to do lots of tests. From there I started to work with people in the music industry, and then started working for "Blitz Magazine," then "French Glamour," then "French Vogue." In time, the jobs get better and better. You work with incredible teams and photographers and that's what happened.



Q: Can you pinpoint a certain show or fashion shoot that catapulted you to become known as one of the top makeup artists in the world?
A: It happened so gradually, that you never actually feel that you reached that point. Every job is so different. Every job is a high point -- you're always surprised by who you're working with. I never dreamt I would get to work with Steven Mizel, the best photographer in the world. I never thought that would happen and then when it happened, I thought, "oh OK, it happens once." I didn't think that I'd ever be lucky or blessed enough to be working with him for ten, 12 years on! I remember my first couture show with Dior, just thinking, "You're in a dream world." But fashion is one constant high point, that's the point I want to make. People always ask me "What are your high points?" and I'm like "Everyday!" How lucky can you be, painting on makeup all day? I'm having tons of laughs and am creative all the time. No day is ever the same at this job.

Q: What do you wish you would have known before you started your career as a makeup artist?
A: In the beginning, you will be working for free and for love. That's why you get incredibly dedicated people within the industry, because you have struggled to get to where you are. I remember struggling and making barely a penny for the first ten years. I remember thinking, "oh wow, another year where I didn't make any money." But you never stopped because you loved what you did. You're there for the joy.

Q: What does your role at Procter & Gamble entail?
A: I've been working with them as a CoverGirl Cosmetic Design Director for many years. Mainly it's to develop new products. All the jobs that I've worked on (at the shows and on shoots), you're creating new colors, coming up with new ideas, quicker ways to have the most perfect face. We're constantly working -- over 30 shows a season, thousands of faces -- you realize what is needed in the industry, what's missing. P&G also shows me their new ideas that I'm able to test. It's a shared thing between me and P&G -- creating trends, colors, textures. And it's such a great arena to showcase a diverse range of must-have products. I also work with Max Factor and Dolce & Gabbana makeup, so I feel very blessed to be working with both mass and luxury.

Q: After many years of the backstage grind at runway shows, do you still love it?
A: I'm someone who gets very bored very easily. Working within fashion, you are never allowed to get bored. A fashion show is a high octane level of continuous work... The amount of work and creativity that goes into every single show is incredible.

Q: What is the most challenging aspect of your job?
A: Sometimes we do an excessive 20-hour workday. It's very exhilarating and it's like being on tour on a rock band. It can be quite insane … Last week I went to London to China to London to New York in seven days! The traveling, as well, can be challenging, but again, it is fun.

Q: Which products do you swear by and always use on your clients?
A: I always swear by CoverGirl Lash Blast and Lash Blast Fusion. I also always swear by CoverGirl Liquiline Blast in Black Fire, which is incredible -- you can get the sharpest line. I also love my CoverGirl Smoky Shadow Blast in Conceal the Sky and in Black Onyx, and of course the CoverGirl NatureLuxe Gloss Balm in Marble and Anemone. [Psst ... this is a new product that just hit the shelves]. [Plus], my Shu Uemura lash curler, my Queen Collection Natural Hue Bronzer in Ebony Bronze. There are so many!

Q: What keeps your creative well replenished?
A: You look at the clothes and the group of girls you put makeup on every day. That's how you keep your well replenished … I am inspired by what I see on the streets and the movies … Inspiration is everywhere!

Q: What is the most important lesson you've learned in your career?
A: Perseverance, patience and to love everything about the job that you're in. It doesn't matter how hard it gets or whether you're up at five in the morning and you're working on looks for shows. If you love the work that you're doing, then great things will happen. It can be challenging, but with time, things will happen. Persevere, be patient, be confident and have as much fun as you can.

Q: If you could share one makeup tip with every woman in the world, what would it be?
A: Don't be afraid of makeup. Enjoy makeup, have fun and have no fear. Don't be afraid of making mistakes. It washes off, so it's no big deal!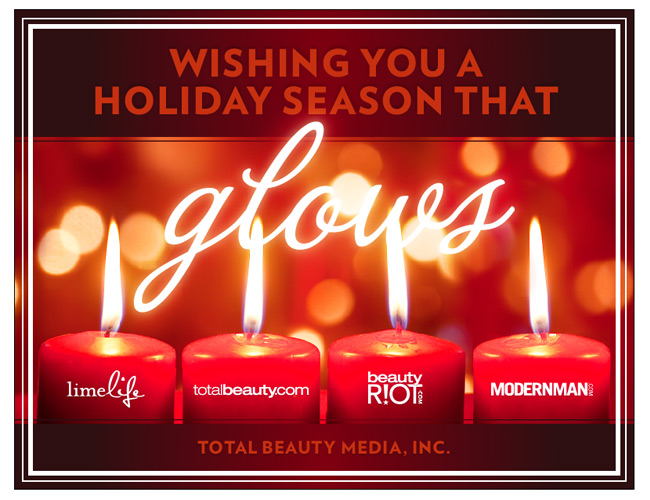 This email was sent to %%emailaddr%%.
Got this as a forward? Sign up to receive our future emails.

To ensure proper delivery, please add [email protected] to your address book or Safe Senders list.

Go here to unsubscribe

© %%Member_Busname%% | %%Member_Addr%% | %%Member_City%%, %%Member_State%% %%Member_PostalCode%%