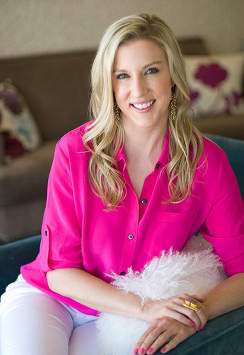 This month, Total Beauty chats with Renée Rouleau, aesthetician and founder of Renée Rouleau Skin Care Spa.
Q: How did you first become interested in skin care?
A: It was simply a love of beauty products. My grandmother was a hairdresser and owned her own beauty salon, The Powder Puff Beauty Shoppe in the Midwest where I grew up. I was surrounded by hair products, tools and accessories, as well as some skin care products since they offered facial masks, too. My own mother was always someone who took care of her skin and got regular facials, so she passed down to me that taking care of yourself and your skin was important. In the fifth grade, I was the first girl in my class to wear makeup. I would bring my makeup kit to slumber parties and do my friends' makeup. In high school, I used to order skin care products from Beverly Hills. I loved the way beauty products made me look and feel, and in my grandmother's salon, I saw what a great profession it was to make others look and feel good, too.
Q: When did you open your first spa, and what were some of the challenges you faced?
A: I opened my first skin care salon outside of Boston at the age of 21 with a business partner. Five years later, I sold my partnership in the business and moved to Dallas to open Renée Rouleau Skin Care Spa -- I was 26. The biggest challenge I faced opening in Dallas was that I moved there not knowing anyone, so to create a name for myself and to get the word out took a lot of work. Dallas women are beautiful women and take their beauty very seriously -- which means there is a lot of competition. I had to find a way to set myself apart from the rest, and I did that by offering exclusively customized skin care treatments with a product line based on nine distinct skin types rather than the standard dry, normal and oily.
Q: What's the skin complaint you hear from women?
A: Women often complain about having both wrinkles and clogged pores with adult breakouts. This is probably what I hear about most. When one has breakouts, they want to turn to acne products, but they end up drying them out too much. But to address wrinkles, most skin care products are formulated to feel heavy on the skin and are geared towards dry skin types. So women have a hard time knowing which type of skin they have and how to find a skin care routine that addresses both breakouts and wrinkles. Several of the skin types in my line address this very type of skin.
Q: What inspired you to create National Skin Care Awareness Month (September)?
A: I created National Skin Care Awareness Month to share the knowledge I have learned as a skin care expert and celebrity esthetician with 25 years of hands-on experience working with skin. I'm not just a sales person who wants to make a sale -- I simply love helping others. It's what ultimately led me to start my career in the first place. Creating this month is just an extension of who I am, my belief system and my passion for giving back.
Q: What's the most important thing you've learned during your 25 years in the beauty business?
A: What I know for sure is that beauty is more than skin deep. I have worked for years offering my skin care services to women who have been affected by domestic violence. For these women, learning to trust touch again was an obstacle -- and that's where I could be of value. My hands were helping to heal these women, improve their skin and repair their self-esteem in the process. Skin care isn't simply about vanity and looking better. Something as simple as washing your face and applying cream is a way of saying to yourself that you're important enough to look and feel your best. When you care for your skin, you're caring for yourself. And when you look better and like what you see when you look in the mirror, you'll feel better. As women, we're so busy taking care of everyone else that we often forget about caring for ourselves. For those of you who are mothers, aunts, sisters or friends, I encourage you to be an example to young girls and teach them the importance of self-care. It will build their self-worth and will go farther than you'll ever know.