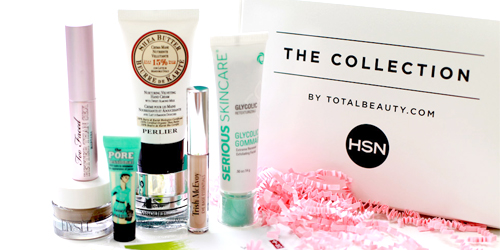 Total Beauty Media Group and HSN Partner on
New, Exclusive Beauty Collection
Multi-channel retailer HSN and TotalBeauty.com have partnered to create the Total Beauty Collection for HSN, a unique sampling opportunity for consumers.

TotalBeauty.com has teamed up with multi-channel retailer HSN again on an all-new sampling collection packed with the latest, best-selling beauty products. The collection launches October 31 on HSN.com and will be followed by a 24-hour on-air exclusive beauty event on November 13.

This exclusive sampler is packed with products that offer customers immediate results, from skin-firming treatments to a pore-minimizing solution. Timed to launch on the cusp of the holiday season, the Total Beauty Collection for HSN is perfectly geared for stocking-stuffer gifts and instant beauty solutions for busy shoppers.

"The whole idea is to introduce our audience of millions of women to the great HSN brand," says Executive Vice President of Programming and Engagement, Beth Mayall-Traglia. "Especially since it's that time of year when we all begin to stress about our holiday shopping, so the timing couldn't be better."

To read the full release, click here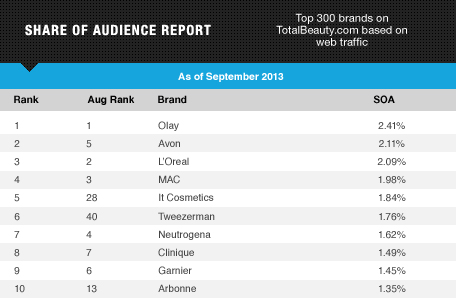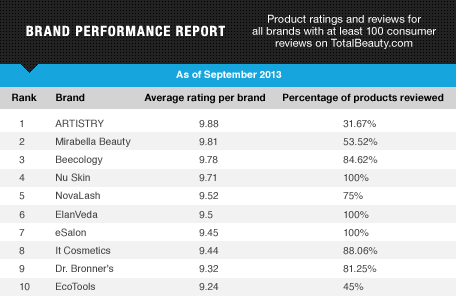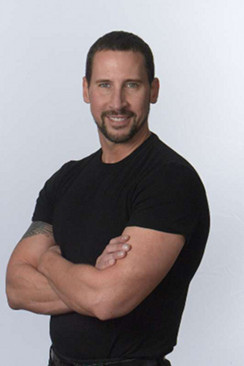 This month, Total Beauty chats with Kyle White, lead colorist at the Oscar Blandi Salon in New York City.
Q: When did you first know you wanted to work with hair?
A: Even as a child, I was always fascinated by the way hair color can really transform someone's appearance. It's the most transforming process a person can do without a plastic surgeon. What's the first thing criminals on the run do? Dye their hair! As I became a teenager, that fascination grew into an obsession. This was the early 80's, and punk was big. I would dye my hair with cherry and grape Kool-Aide or steal my mother's Jolene bleach and tip my ends. I was always doing the most insane things with my own hair, and anyone else's who would let me near theirs. The day after I graduated from high school, I enrolled at the Wilfred Academy of Beauty. That was 1986, and I never looked back.
Q: How did you get started?
A: I worked at a salon by my childhood home on Long Island, but I quickly realized my creativity and artistic urges were neither appreciated nor wanted there. I'd see some exciting new color in Vogue or something and want to try it out, but no one would let me do it on them. It seemed like whatever color they had on their head they weren't going to change it -- like 1980 was a good year for them and whatever look they had on their head then, they were stickin' to it! So I began devouring the fashion magazines (this was before Google) searching for the best place to learn and grow. There was one name that came up over and over: Oribe. At that time, Oribe was located on the tenth floor of the Elizabeth Arden building. I'll never forget: it was a gray, rainy day when I went to apply for an assisting position there. The legendary Elizabeth Arden red door was like a bright beacon guiding me to my fabulous new destiny. The next day, I packed my bags and moved to New York City. It took a while for a position in the color department to open up, but considering that salon co-workers included Francois Nars, Danilo, Rita Hazan and Ken Paves, it was well worth the wait. 


Q: When did you know you'd made it?
A: I still don't feel like I made it, and I probably never will. That said, there are a few accomplishments that have made me proud, like my thirteen "Best of the Best" Allure directories, four Vogue directories, two New York Magazine "Best of New York" directories, InStyle Blackbook directory and my Elle Beauty Insider. I couldn't believe it the first time Page Six wrote an item about me (so New York!) that I framed it and hung it in my bathroom. My good friend Lauren Weisberger put me in a very short list of acknowledgments in her book "The Devil Wears Prada."

As far as clients go, just a few of the most unbelievable women I've had the privilege of coloring (where I had to pinch myself to be sure I wasn't dreaming!) include Kate Winslet, Charlize Theron, Jessica Alba, Sienna Miller, Uma Thurman and Shakira. More recently, Naomi Watts and Belinda Carlisle, and -- of course, my long time client, to whom I owe a great deal of my success and thank God every day for -- Mariah Carey.


Q: What's your best hair advice for the average woman?
A: My best advice for the average woman regarding color would be to warn her about the two biggest destroyers of hair color and texture: sun exposure and frequent shampooing. When I make women aware of a fact that a chemist once told me, that fifty hours of sun exposure is equal to thirty minutes of bleach, they always gasp. I mean, that's basically a week in the Hamptons, so use sunblock for your hair and cover up. Frequent shampooing can strip away your scalp's natural oils, which are really Mother Nature's deep conditioner. When you wash away dirt and impurities from your hair, you also wash out color molecules. So save the health of your hair, keep your color from fading, and save twenty minutes getting ready in the morning by washing no more than three times a week. If you're feeling oily during those days in between, use a dry shampoo.
Q: What's the next step for you in your career?
A: I would love a contract with a color brand. I've had the privilege of doing some work with Garnier. It would be so amazing to be signed officially with a major brand like that. It's not just the prestige, but you often get to travel and work with chemists on product development. It would be such an interesting and new avenue to grow in.

I also am really interested in writing a memoir about my life working in this industry. I took a writing class a while back, and I showed some of my stories to my good friend and client, Jane Pratt, who is such a talented writer and publishing legend. She told me it's going to be a bestseller for sure. I have many friends who have written books and everyone is really supportive and thinks it would be a great idea.