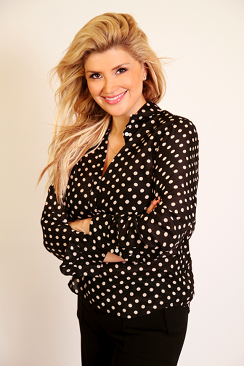 Guest Guru with celebrity hairstylist and owner of Bokaos in Los Angeles, Hasblady Guzman
Q: Did you always know you wanted to be a hairstylist? What influenced you to pursue this career?
A: No. I was going to be a marine biologist or a scientist. I got a full scholarship to San Diego State University, but my mom wouldn't let me go because she didn't want me to have sex. Instead, I worked seven days a week at mom's salon and at a car dealership. Whenever I did hair at my mom's shop, people would want to come see me. I always did my friend's hair and makeup. Then I started to make great money doing hair, and I ended up moving to another salon and worked under a Vidal Sassoon educator.
Q: What made you want to open your own salon?
A: I wanted to give women a space that was safe and nurturing to work. I had worked at a salon where the stylists were all men. Women weren't given an opportunity; I wanted to change that. I would have lunch with my mom every other day, and across the street there was an open retail space. I would look at the sign and wonder if I should call. My mom finally said, "Just call them already, and stop staring at the stupid sign. You must know the number by heart by now." I was 21 and they looked at me and said, "No thanks." But the agent convinced them to give it to me. I set my mind on walking out of there with the papers signed, and that's what happened.
Q: What is it like working with a celebrity for a red carpet event versus styling a bride's hair on her wedding day? Which do you prefer?
A: I love both, and I find it's really a matter of the personality of the celebrity or bride. At the end of the day, celebrities are real people. Some brides are nervous, some are calm and quiet, others are happy and confident. It's easiest when they feel good about themselves.
Q: What do you predict as being one of the next biggest hair trends?
A: I still see a lot of mullets and shaved-on-the-sides looks, which I keep thinking will go away, but then they don't. The ombré trend won't go away either. There will be different variations, but still ombré.
Q: What's the most challenging aspect of your job?
A: I have all the tools and I know what to do, but there are times when a woman already has an idea in her head, who thinks something is wrong, even before I've touched her -- especially when she's in her 40s and 50s. She wants to look like she did in her 20s and 30s. That's the biggest challenge.
Q: What is the most rewarding aspect of your job?
A: To take a woman who is tired and worn out, and after I'm done, she looks in the mirror and smiles. She jumps out of the chair and hugs and kisses me. The other day, a client sat in her car outside the salon, taking photos of herself and posted them to Facebook. She was just feeling so happy and sexy. When I make women feel good, that's my reward. That's why I do what I do.
Q: In addition to your career, you are passionate about your charity work. Which charities are closest to you?
A: I'm very passionate about Charity: Water, for sure. They travel to places like Africa and give children clean water.
Q: What's next for you?
A: Someone has offered to open up a salon with me on the west side of Los Angeles. I'd also love to do a product line -- brushes, creams, candles -- products I really love and believe in. I plan to continue my charity work, and I want to go back to college. I want to learn Italian.