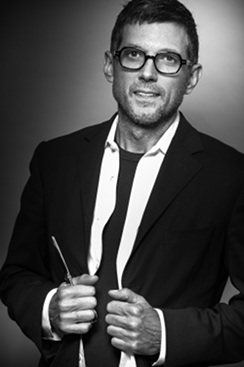 This month, Total Beauty talks with Mark Garrison, celebrity hairstylist and owner of Mark Garrison salon in New York City.

Q: When did you first know you wanted to be a hairstylist?

A: The smell of the beauty shop intoxicated me at an early age. I used to tag along with my mom for her appointments. From then, I always had a desire to become a stylist.

Q: What were some of the biggest challenges you faced early in your career?

Making the transition to being a studio/editorial hairdresser was a challenge for me. I moved to Paris to become this because all the top ones were there, and I didn't know the language or anyone. I only planned on staying for three months. Instead, I stayed 5 years, learned fluent French, and had big success doing hair for all the major magazine covers and styling for runway shows. A huge challenge turned into a major reward!

Q: How did you know it was the right time to open your own salon?

A: I didn't know -- in fact, it was never my goal. I was a studio hairdresser traveling the world for photo shoots and magazines. My mantra was always, "I never want my own salon." Lesson: never say never!

Q: What's the biggest mistake you think the average woman makes with her hair, and what can she do to change it?

A: I think she tries too hard to force a style that's to long, too colored, or too straightened with chemicals. Don't try to compete with your daughter, friends, or magazines. Be you, and maximize what you have by getting the right cut and color for your unique traits. Only have long hair if it is healthy looking, not long and fried. Keep color that works with your skin tone. Some women are not blondes and should never attempt to be.

Q: What advice do you have for other aspiring hairstylists?

A: Never stop learning, and make each day at work, each head you do, better than the last one. I still learn each and every day. It's how you stay inspired. Also, if you're right out of school, assist in a top salon that has a great training program.