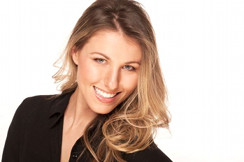 This month, Total Beauty talks with Achelle Dunaway, Creative Director of e.l.f. Cosmetics.

Q: How did you get started in beauty?

A: After graduating college in 2005, I drove cross-country from California to New York with aspirations of working in the fashion industry. I had no money, no job lined up, no apartment … only a dream of success in doing something I loved. I happened to meet the niece of the owner of e.l.f. Cosmetics, and she said I should interview for "this new beauty company called e.l.f.." Boy am I glad I did! I hadn't even considered the beauty industry at the time, everything just happened very serendipitously, and the rest is history.

Q: How long have you been with e.l.f.? Tell us about your role with the company.

I've been at e.l.f. since 2005 and have experienced an array of different responsibilities and opportunities. Currently, I am the Creative Director, which means my primary role is to develop the products for e.l.f. from concept to execution and to help build the brand both online and at retail. This includes ideation of new product categories, packaging, copy writing, seasonal sets and more. I never imagined I would be living my dream job! Beauty is such a creative field, and I love being a part of something that helps women feel more empowered and confident. Confucius said, "choose a job you love, and you will never have to work a day in your life." That's exactly how I feel.

Q: What makes e.l.f. special?

A: e.l.f. has a very family run corporate dynamic. The passion each employee has for their work is infectious, and it shows in the quality and luxury of the products both on shelf and online. e.l.f. is special because it is for any girl or woman who is just starting out in makeup or looking to try something new. The products provide prestige performance at a mass price point.

Q: What's your advice to aspiring makeup artists or someone trying to build his or her beauty brand?

A: Never give up! Follow your dreams -- when you are fueled by passion, it will take you far. Set out with that drive that says, "it doesn't matter how long it's going to take until I make it, because I WILL MAKE IT!" Warren Buffett put it perfectly, and it's always inspired me: "Someone's sitting in the shade today because someone planted a tree a long time ago." In other words, plant yourself in a field that you are committed to with the foresight to see yourself grow and flourish. And remember networking is essential in this industry. Be encouraged to always be the best version of yourself and you will see the best results.