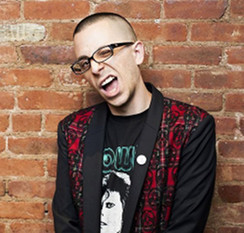 This month, Total Beauty chats with David Klasfeld, CEO and Creative Director of Obsessive Compulsive Cosmetics.
Q: What inspired you to create your brand?
A: This was really two-fold: when I made the decision to "veganize" my kit as a professional makeup artist, I realized how limited the options on the market were, specifically in terms of color cosmetics. While skin care options were plentiful, and synthetic brushes of varying quality could be found, makeup lines that had vegan options really trended toward a very limited and very neutral color range. As a makeup artist, I needed more diversity and options in terms of color, which is why you see products like Blue (Rx) and Yellow (Traffic) Lip Tars alongside a beautiful range of neutrals.

Secondly, I felt that true innovation was something that was missing from what we saw newer lines launching with. OCC always seeks to fill in gaps rather than to replicate products that are already successful in the market place. While we'll absolutely be turning our attention toward more traditional cosmetics like mascaras and lip and eye pencils in the future, I knew what would be most impactful and appealing to the cosmetic consumers is products without parallel, which I think Lip Tar and its newest incarnation Lip Tar: Stained Gloss really best exemplify.
Q: What inspires you to create new products and colors?
A: OCC definitely walks a fine line between traditional and non-traditional points of inspiration, including our participation in New York Fashion Week. This is an important opportunity for any brand, just to be at the forefront of being able to not predict, but create trends. For us, however, it also becomes a matter of seeing what is on trend and then deviating from it. Ultimately, for brands that still do seasonal collections, there ends up being a lot of repetition in new collections that get released. Instead, we use this as an opportunity to showcase alternative trends, to present the cosmetic consumer with more diverse options. Our non-traditional approach to inspiration comes from simply, what my creative team and I love as a brand. Whether it be our shared love of the Science Fiction genre of film as a whole which gave way to our S/S 2013 Colour Collection, Sci-Fi Lullabies, or trends in music, pop culture, and alternative pop culture.
Q: OCC is known for its Lip Tar, but what other products from the line are you especially proud of?
A: Our recently introduced OCC Skin: Conceal and Creme Colour Concentrates. Conceal is a multipurpose product with an extremely all-inclusive color range that eschews the boundaries of typical concealer products in that we encourage use over the face as a whole. It's simple, efficient and effective. Creme Colour Concentrate is another labor of love. It's a multi-use product that though primarily used on eyes and cheeks is phenomenal on the lips too. It mimics the same "real skin" finish that Conceal does, so all your makeup blends flawlessly without sacrificing color impact.
Q: Why did you decide to work with drag queens Detox, Willam, and Vicky Vox for your latest campaign?
A: We couldn't have found three better faces, people and personalities to represent our brand. Besides being trendsetters themselves in the way that so many makeup artists take their notes from drag queens and then dilute them for their celebrity clients, these are also three women with strong voices. The parallels between DWV and OCC are pretty astounding. In the same way we create high quality products that happen to be vegan and thereby increase awareness on the benefits of vegan products, DWV serves up some deeply insightful social and political commentary, in a hilarious, entertaining, and beautiful package that resonates in a more accessible way to a broader scope of clients. OCC products are excellent and happen to be vegan, DWV's singles and music videos are beyond entertaining but also call attention to issues such as gay rights with their Chow Down (at Chick-Fil-a) video and Women's Reproductive Rights in their Real Women Vote for Obama campaign around the time of the election.
Q: How do you want your brand to be perceived in the market?
A: As the brand that knocked down the wall barrier between consumer and professional lines. As an artist, it broke my heart when I saw looks in editorial shoots I did attributed to product I had not used, as has become typical of the commoditization of editorial credits. It concerned me primarily because I knew the looks could not be achieved using what was recommended. Which led me to question why there was a division between products designated for consumers and products designated for makeup artists. I simply don't believe that the consumer isn't as entitled to the higher quality products professionals use. And in the era of the Beauty Blogger, the education that is needed to understand how to work with these products -- our products -- is accessible in a way it wasn't when I was learning to do makeup. The cosmetic consumer is simply more educated now and we recognize and celebrate that.
Q: What's coming up next for the brand?
A: OCC really has found the absolute ideal retail partner in Sephora. There are times when I simply can't believe that we have found ourselves at this stage so relatively early on in our history. I feel like we got the "Pass Go" card in Monopoly. Any expansion will hopefully always happen through them, and for the Sephora Client, what that means is lots of innovation in the pipeline. We'll be launching a product we call Colour Cosmetic Pencils, with shades designated for use on lips, eyes, or both. Simple, efficient solutions. This is especially exciting for us because it really gives our existing fan base the opportunity to finally execute the perfect lip look using all OCC products. For new clients, it means the opportunity to be introduced to a full three step process, Prime (with OCC Lip Tar in Clear), Line (with our Colour Cosmetic Pencils) and Apply to perfect Lip Tar texture, be it our original matte, our new metallic textures, or our recently introduced gloss finish, Stained Gloss. That said, we intend to always remain true and focus on our continuing history as a line favored and put on the map by makeup artists. We'll be introducing some exclusive opportunities and products in what's typically referred to as the "Pro Market" but with an entirely different conceptualization of what products makeup professionals need in modern times.