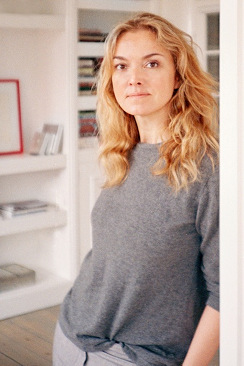 This month, Total Beauty talks with Kirsten Kjaer Weis, makeup artist and creator of the certified organic cosmetics line Kjaer Weis.

Q: What was the inspiration behind starting the brand?

A: I had worked for more than 15 years as a makeup artist, and I was seeing firsthand what using chemicals on the skin can do. You always have your favorite kit with a little bit of this and a little bit of that. And women would say, "I really break out from that," or, "I get red from this." It made me think: What is it doing long term when you see what it does short term?

But I never had any natural lines in my kit because I didn't think they performed. There was a gap in the market for combining beautiful ingredients with performance and well-designed packaging.

Q: So you always knew you were going to do a high-end line?

Yes, because I'm a bit of a design nerd. It's important to me -- what I surround myself with. I buy a bouquet of flowers. Why even bother because they're going to die in a week? But it means something. It moves you, and it translates into packaging. I just like beauty.

Q: What's the story behind this packaging?

A: I wanted something sustainable but that didn't look it. Recyclable, biodegradable -- but didn't have that brown bag feel to it. But all the materials that are recycled have a recycled look. I was always a fan of the designer who did the Comme des Garcons bottles -- a French designer called Marc Atlan. So I called him. When he came on board, he was such a genius. I had no idea it was going to be silver and red, but I sent him my mood boards, and he found this metal. And we created a refill system.

Q: What was a highlight when you were creating the brand?

A: When I found my manufacturer in Italy. I had been getting samples from different places. And then I met this Italian manufacturer, and I absolutely love them. Also, when Marc came on board. Those were two moments that made me feel like, "this is what I'm supposed to do."

Q:And what advice do you have for other beauty entrepreneurs?

A:It has to be something that you're passionate about. You hear that all the time, but it really does. You work around the clock. You wear all the caps for a long time. Before you build it and have revenue, you have to do it all yourself. So it has to be something you love.