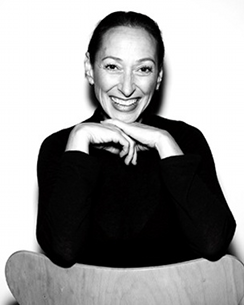 This month, Total Beauty chats with Rose-Marie Swift, makeup artist and creator of RMS Beauty.

Q: What inspired you to create RMS?

A: After many years in the fashion and makeup industry, I've learned a lot about the impact of daily exposure to chemicals in beauty care products. I see the results of taking a quick-fix approach to looking good and know first hand the price our health can pay in the pursuit of beauty. I realized that what women need are skin care, color cosmetics and toiletries that are as pure as possible -- lines that create a solid foundation for anti-aging and long-term beauty. We now know that what we put on the skin can be absorbed -- and in some circumstances, it's absorbed into the bloodstream. You only need to look to medical patches (anti-smoking patches and hormone replacement patches) for proof.

My background as an advocate for cleaner cosmetics came when my own health deteriorated years ago, and through my research I realized many of the chemicals that were in my body were also found throughout the beauty industry. I started studying ingredient labels and the extent of the use of unregulated chemical ingredients. In fact, many ingredients are downright harmful. Sadly, the list of harmful ingredients in your personal care products is long -- and we continue to use them daily. This is when I realized I had to create something that breaks away from the pack of natural cosmetics. I founded RMS Beauty a few years ago and formulated my products with raw, food grade and organic ingredients in their natural state, allowing their living, healing attributes to penetrate and rejuvenate the skin. In their purest form, enzymes, vitamins, antioxidants and their healing properties remain fully intact, encouraging amazing potential for anti-aging effects.

Q: What are some of the biggest challenges you faced when you first started your company?

The biggest challenge was definitely finding the right labs that fully understand the whole concept of organics. I am not talking about so-called "natural" products, but actual organic ingredients where the labs know the origin, growing process, the processing of each ingredient, and whether or not the ingredient is RAW…and finally the quality. Most labs do not. But I do, and I have made sure that I supply the ingredients so I know the integrity of my products stays the way it needs to be.

Q: RMS has a cult following and many celebrity fans. Are you ever surprised by the enthusiasm people have for the products?

A: I am always so excited when I hear that a big-name celebrity gives a mention in my direction. It is a validation that means a lot to me. It means I am accomplishing what I was born to do.

Q: What advice do you give women who are having trouble navigating the natural/organic/eco beauty landscape?

A: I am a firm believer that less is more, especially as we get older and our age begins to show on our skin. My advice is to use beauty products with natural and organic ingredients -- ingredients that are safe and naturally nourish the skin as opposed to the synthetic chemical counterparts in traditional beauty products.

The easiest way to start is simply to turn the product around (the front label can say anything, whether it is true or not) and actually look at the back label and its ingredient deck. Tongue-twisting words are a red flag, and if you can't pronounce it then be cautious. You want to look for natural names such as jojoba oil (which is closest to human skin), coconut oil (which is anti-fungal and antibacterial), organic herbs, etc. Your skin will thank you.

Q: What advice do you have for other beauty entrepreneurs?

A: Research, research, research. Know what you are doing so you have a strong foundation in the right direction. That process alone will validate your ideas beyond anything else. If you rely on labs for information, you are in trouble. Try to know as much as you can about ingredients and why you would and would not use them. Hard work always pays off, but most of all do not take no for an answer if you feel you are right.