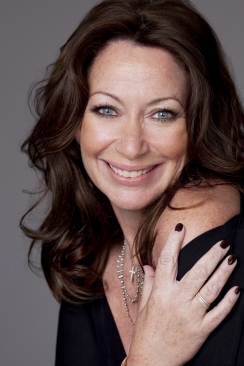 Total Beauty chats with Deborah Lippmann, celebrity manicurist and founder of the Deborah Lippmann Collection
Q: What inspired you to create your own brand? What did you think was missing from the nail industry that you felt you could do better?
A: I'm a jazz singer with a college degree in music. When I moved to New York to pursue singing, I had to pay the rent and wanted to live in a nice place. So I pursued my second love: being a manicurist. It was a great option because I could sit during the day and stand at night in heels, singing, so that was how it started.

While working at Frédéric Fekkai at Bergdorf Goodman, I noticed a hole in the marketplace. If you were a luxury shopper, you couldn't find everything you wanted for nail care from one brand. I found that clients had so many questions about their nails too. It was exciting for me to educate women. Then, I started working with celebrities on photo shoots. One thing led to another and before I knew it, my brand was born.
Q: What sets Deborah Lippmann nail polishes apart from other brands?
A: My longwearing, quick-drying, highly pigmented nail lacquers are free of formaldehyde, toluene, and dibutyl phthalates. And they are made with the finest ingredients, which means they offer treatment benefits in addition to gorgeous color. Biotin, green tea, and Aucoumea Klaineana extract (a natural resin from West African trees) strengthen, hydrate, stimulate nail growth, and prevent ridge formation. Also, with a slightly thicker consistency and brush bristles that are more densely packed, nail color glides on evenly and effortlessly for a truly professional finish.

When I was getting ready to launch my brand and figuring out how to name the shades, I considered the products that I personally buy. As a consumer, I'm super visual -- but I also found that the name of a shade could make or break whether I bought a product or not. If the name didn't match my perception of the shade, I would get confused and wouldn't buy it. I decided to name my shades after song titles because I'm a jazz singer and so passionate about music, and I felt strongly that the names should evoke a feeling rather than a specific shade, because we all see color differently. Whether you know the song or not, the names are just fun!
Q: What's your best selling product and why do you think it is so popular?
A: My Rich Girl Broad Spectrum Hand Cream with SPF 25. It's surprising because you would think the most popular item would be a lacquer, but I think that this product has become so popular because it has SPF 25. People are interested in anti-aging products for the hands, which makes perfect sense because like your face, your hands are exposed to the sun year-round.

As far as lacquer, my shade Candy Shop has been extremely popular. Candy Shop has multicolored glitter with a fun bubblegum pink base that makes the shade perfect to wear year-round. Pink is also a universal shade that everybody wears, so a pink lacquer with glitter is the perfect combination. Another reason that I think this shade is so popular is because it's a fun and happy shade -- like having cotton candy on your fingers.
Q: You've recently done a lot of collaborations ("GIRLS," "True Blood"). Why did you decide to team up with those TV shows?
A: The "True Blood" collaboration was different from the others that we've done in that HSN (together with HBO) approached us with the idea of a partnership that included items beyond our sets. It seemed like such a fun collaboration, and I'm a huge fan of the show. There was also a really strong story to tell, which allowed us to create a dark red lipstick and nail polish. I may not have ventured into something so edgy because I didn't know that it was something customers would want, but it sold out in the first airing on HSN. We also created sets with lacquer that were inspired by the main female characters in the show, which brought the collection full circle.

My most recent set inspired by the HBO series, "GIRLS," is a collaboration that came about organically in a similar way that our others have. I met Lena Dunham before the show started shooting. There was a premiere party for the first season of "GIRLS," and we provided Girls Just Wanna Have Fun from my line. A few days later Lena sent me an email with a picture of her wearing the shade, and in that email she asked if Hannah could have her own green shade. That's how it all started, and it evolved into creating a shade for each of the girls. Lena gave me direction for each of the characters, then I would make a color and she would give me feedback.
Q: You ventured into lipstick this year. Is a makeup collection on the way? Can you give us a hint about where the Deborah Lippmann brand is going in 2013?
A: I never say never to anything. If there's one thing I've learned in my life, it's to keep my eyes open to what the world has to offer. If you asked me 20 years ago if I would have a line of luxury hand, nail, and foot care products, I would have told you that you were crazy. As for 2013, we have exciting things on the way. There's a new spin on glitter for spring that I'm really excited about. We also just launched Gel Lab, which gives that high-gloss finish and soft cushiony look of a gel manicure with extended wear. You can use your desired nail shade without any limitations, and the application and removal processes are hassle-free and won't damage your nails.