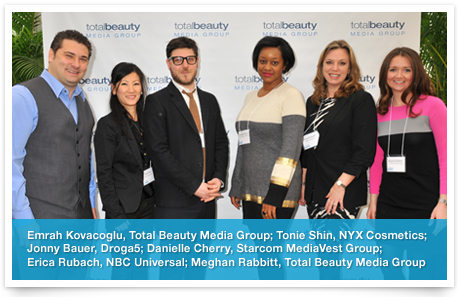 The Key to Consumer Connection: Simplicity, Authenticity, Relevancy
Combining the excitement of Fashion Week and Social Media Week, Total Beauty Media Group debuted its first Digital Salon Series event with a panel discussion on February 14th in New York City. A diverse group of industry experts (pictured above) shared case studies, advice, and insights into how the shifting digital channels are impacting consumer behavior both online and offline.
The conversation continually led back to the importance of understanding what's relevant to your consumers, and how to best leverage that knowledge to create authentic conversations. The takeaway advice to brands? Know your consumer, understand the communication channels that are most relevant to her, and use those channels to enhance what she is already doing.
Following the panel discussion, Total Beauty Media Group launched Total Beauty LIVE, the first in a series of live broadcasts, allowing brands to connect directly with the TotalBeauty.com community.
CLICK HERE to check out more photos from the panel and Total Beauty LIVE.
For more insights into how women use digital channels online, request Total Beauty Media Group's recent insights report at AddtotheCart.com.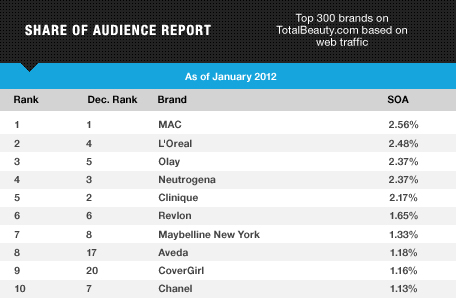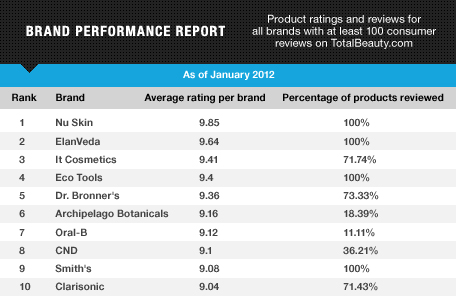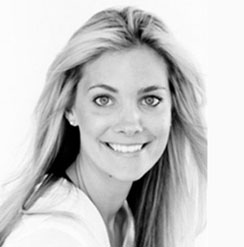 Total Beauty chats with Sarah Potempa, celebrity hairstylist and founder of Sarah Potempa hair care line
Q. You began working at a salon at the age of 15. What inspired you to go into hairstyling at such a young age?
A. I always loved braiding hair. I was really athletic and played a lot of sports when I was younger. And whether it was for my basketball, softball, or tennis teams, I was always the go-to girl who French braided all my teammates' hair. Everybody had double French braids before going out on the field. When I was 15, my parents started saying to me, "If you want to go shopping, you need to get a job." So what was the one thing I'd want to do as a job? Easy.

I called every hair salon in the yellow pages in our little town of Libertyville, Ill. One lady responded and hired me. She was this amazing woman who still, to this day, does my mom's hair. On my first day of work, she had me look through fashion magazines -- "Italian Vogue," "W Magazine," "Vanity Fair" -- and look at the ads and magazine photo spreads and think about the hairstylists who were at the shoots to create all these looks. From that day on, I was fascinated by photo shoots and wanted to be there. I just thought if I could move to New York City, I would make it. And I did.  
Q. What was the one editorial shoot that made you feel recognized as a hairstylist in the industry?
A. Maybe five years ago, I was on my first "Italian Vogue" shoot, assisting Bob Recine. Bob was trying to do a textured braided look, and I showed him how to do a French fishtail, which is just a regular fishtail on the scalp. He was amazed, saying, "I've never seen that before." At that moment, I was thinking, "Oh my god, I'm at an 'Italian Vogue' photo shoot, styling supermodel Daria Werbowy's hair, with Mario Sorrenti as the photographer, and I just taught the hairstylist something." It was a really cool moment for me. It was a moment where I was able to say, "This is me."

I felt like I was a part of that world when Bob gave me a chance and let me show him what I knew. I came into this [beauty editorial] world with people like him who are creative, open, and do what they do for the art of styling. That's also when I got signed by my agent.
Q. You've been in the industry for more than 16 years now. What would you share with aspiring hairstylists?
A. Just be really open. There's creative room and opportunity for everybody. That was my approach when I was 20 years old at New York University. I had a lot of people tell me that I'd never make it. I wasn't enough of this or that, and they'd say that the beauty world was "too cool" for me. But, I was this young, wide-eyed girl and I thought I could do it regardless of what anyone else said. And I think that attitude got me really far. I thought of hair as an art form that allowed me to be creative. And everybody has the opportunity to be creative -- it's not just limited to the people who have privileged lives. Becoming a hairstylist is definitely something that's attainable.
Q. What inspired you to create a high-end line of hair care products? What is revolutionary about the Sarah Potempa tools that sets them apart from the thousands of other hot tools?
A. I was working with Aussie [as their celebrity stylist], and was doing a lot of desk-sides with beauty editors. I was trying to teach people how to style hair like how I do for celebrities and I kept having these moments where I was like "ugh, I wish I had an easier tool for you to use." A few years ago, I was trying to show someone how to get the perfect messy beachy wave. When I am doing it on a client, it is so easy for me. But when I was translating the tutorial to an editor, I was saying things like "hold the iron upside down, then backwards, but wrap it in this direction, and don't burn yourself" -- it didn't make sense.

That's when I made a sketch of the Beachwaver. It's a curling iron that spins, has a left and right button, and basically does all the work for you. It gives you the same wavy look as if I were styling your hair.

At that time, my sister, Erin was a corporate lawyer and she hated her job. So when I approached her about starting a new hair care company with me, she said, "OK, let's do it." That's how Sarah Potempa began. Our tools are all about teaching people how to get the hairstyle they want, making those red carpet styles accessible.
Q. What was the biggest hurdle you had to overcome as a budding entrepreneur?
A. Actually, there have been a lot of hurdles. In the beginning, my sister and I felt like we were in the electrical business instead of the beauty business. Just developing a prototype was pretty hard. Our first hurdle was finding the right people. Having a new idea in the beauty business often leads to it getting stolen. So we were trying to figure out how to get the prototype made while still holding onto its rights. We hired engineers, graphic designers, and web developers from our hometown who we worked with directly. When we finally developed a prototype, it cost $10,000. It rotated, it plugged in, it curled your hair. When we got our first working prototype it was a huge hurdle we overcame. And it was amazing.

Once we got QVC on board, we had to figure out how to develop and manufacture the product on our own, since we couldn't afford a design firm. My favorite hot tools are made in South Korea, so we sent Erin to go to Korea and meet the people behind those companies and ask them questions. They were fascinated by us; they expected a man or an executive, but it was just my sister by herself. We ended up meeting these really amazing people that ran a small family-owned factory. They worked with us on every design detail. We made real relationships with these people (we're Facebook friends with them). Now we have our amazing network at QVC, our producers in South Korea, but our business still feels very "small town." Life's all about these personal connections. We know who's making these products, which is really cool.
Q.What makes your job rewarding for you? What do you love about it most?
A. The Beachwaver has been a huge success for us. We launched it on QVC, and it's been featured on the "Today Show," the "Rachael Ray Show," and in all the beauty magazines. Through that, we're getting access to the young demographic, who is so excited about the product. One beauty blogger said to me, "I can finally curl my hair!" It feels good to get that reaction from them. We're so happy to hear that girls are excited and finally think that doing their hair is simple.
Q.What's next for Sarah Potempa hair care?
A. Right now we're developing a couple new things that we're super excited about. We're working on a battery-operated flat iron that charges like your iPhone. You can take the iron with you and won't need to have a plug. We're really excited about that. Erin and I are really proud of everything we've done and everything we're working on, and we're learning as we go. Everyone is totally capable of doing it -- of making something.