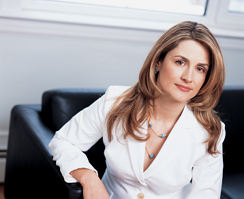 This month, Total Beauty chats with Susanne Langmuir, founder of Bite Beauty.

Q: What inspired you to create Bite Beauty?

A: I was a bit of a tomboy as a teenager, but I always had a great red lipstick on hand. I loved how transformational and instant a great lipstick can be. I created Bite Beauty with the knowledge that you ingest what you put on your skin and mouth. To me, it felt like a fresh alternative to the misused "natural product" concept, and a brand with "bite" was not only good enough to eat, but it was also edgy and current. Originally, I thought we would be launching natural cosmetics for lips, eyes and face; I wasn't just focused on lips. But once we moved from an idea to real tangible products, I realized how much I loved focusing on lipstick because the texture and the ingredient benefits really matter the most with lip products. I came to realize that if we really focused on this one thing, that we could become the best. I think it's better to do one thing really well, than to be average by doing too many things.

Q: What were some challenges you faced early on?

It's a very long list of challenges! In the beginning we had unstable formulas, difficulty finding a chemist that shared my vision, and a lot of people telling me I was heading in the wrong direction by not outsourcing production to a private label manufacturer. In the end, I am very grateful for the hurdles because they now define us as a brand. To achieve our vision and expectations, we control every part of the process in our own facility -- from R&D in our private lab, to our unique handcrafting methods in our production department. It's a very selfish vision we share -- one that I think is essential to create and sustain a new idea.

Q: When did you know the brand was a success?

A: I think part of achieving success is to never be totally confident that you have achieved it. I tend to focus more on our future opportunities than where we are today, and I believe the momentum of always moving forward is essential. I think the key is to enjoy achievements while continuing to push ahead with new challenges. That said, when I read good product reviews, and meet strangers who tell me they won't use any other lipstick other than Bite, I know we are heading in the right direction! That feels really good.

Q: What inspired you to open your NYC store?

A: The SoHo store in particular is as much a "lab" for us as it is for our clients. Blending a new color offers such instant gratification, and sharing that creative process with real fashion and beauty insiders gives us an edge in sensing color and texture trends. The store keeps us connected -- and not to mention it's hard to be in a bad mood when you are spinning a new lipstick shade. We all truly love the process.

Q: What advice do you have for other women entrepreneurs in the beauty business?

A: Become really focused and clear about your idea and your strengths. When that is crystal clear, you'll know when you don't need to listen to others for advice and direction because your own instincts will be more powerful. I know that sounds a little corny, but I really believe that gave me the strength to move forward even when it became extremely challenging. A second piece of advice is to increase your expectation of how much money you will need upfront. Even as a shoestring startup, it will be much more than you could possibly imagine! To get it right, you won't want to compromise, and doing that takes time and money.