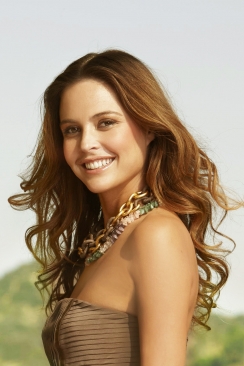 Total Beauty chats with Josie Maran, founder and CEO of Josie Maran Cosmetics
Q: How did you first get into the beauty business?
A: I got "scouted" at a family barbecue when I was 12, and I spent a few years doing Macy's ads and a Hershey's commercial … stuff like that. When I got to the "awkward age" -- too old to be a child-model, too young to be an adult -- I took a few years off. Then I got lucky and started getting big jobs. I was the Guess? Girl in 1998. I got a lot of magazine covers. And then in 1999, I became the Maybelline girl, which lasted for an incredible 10 years -- and also led to me founding my own company.
Q: What inspired you to create your own brand?
A: When I was pregnant with my first daughter, I started asking the makeup artists I worked with for non-toxic, natural makeup that would be safe for my baby and me. They had nothing to offer me, so I decided to create a line myself. The rest, as they say, is history!
Q: What was one specific challenge you faced when you first started Josie Maran Cosmetics? Did you ever have a moment when you thought this brand wouldn't make it?
A: Believe me, I had more than one challenging moment when I was starting the company, and I have more than one challenging moment a day still! But luckily, I thrive on being told "no." I'm too short to be a model, but I'm a model. There was no such thing as healthy makeup that really worked, and now I've got a thriving business making healthy makeup that really works.

The first time I went on QVC to promote my products, I bombed! Later on, QVC gave me another try and I sold out every unit. In fact, for the first two years after I started the company, it often seemed like we weren't going to make it due to limited funds and lack of exposure. But I hustled because I knew how much I wanted these products for myself, and I saw what a need there was for them in the industry. I knew that by filling that need for healthy makeup, we would have success. I just had to work to get the word out so the women craving these products could find us. I knew I had to be the person to bring those women what they wanted.
Q: How did you get your brand to stand out and get noticed?
A: When I started the brand five years ago, there were very few natural makeup lines, so customers who wanted non-toxic, safe, healthy makeup that also performed beautifully were drawn to our products. We're also really lucky to have two great partners, Sephora and QVC, who love our brand and really get behind it. Of course, none of that would matter if the products didn't perform -- and they do!
Q: What's Josie Maran's bestseller -- and why does it stand out from the rest in its category?
A: Our bestseller is 100% Pure Argan Oil, and it's also the product we pioneered -- although it's kind of an anti-technology because it's harvested from Argan trees and produced by Moroccan women who have been doing it for generations. It's organic and first-cold pressed for top quality, like the best olive oil, and every bottle sold helps provide fair-trade, fair-wage jobs and education for the women in the co-ops that supply it. Our customers love it for the visible improvements it makes in their hair, nails, and skin.
Q: What is revolutionary about Josie Maran that sets it apart from other brands?
A: JMC's mantra is "Luxury with a Conscience," and that pretty much describes the two qualities that set our company apart. The unique luxury aspect of our brand is based on the most amazing ingredient, our miracle moisturizer and bestselling product: 100% Pure Argan Oil. I'm obsessed with quality and after all of my years in makeup chairs, I know how important the best ingredients are to creating the best look. So, along with Argan Oil, we strive to use only the best natural ingredients available. The other part of our mantra is "Conscience" because I want to help create a beautiful world as much as I want to help women create a beautiful look, which is why Josie Maran products give back.
Q: What is your own personal philosophy of beauty?
A: When it comes to makeup, I'm a huge believer in the phrase "less is more." I created my makeup to bring out women's natural beauty, not conceal it. My purpose is to help women love themselves and their looks, not hide their true selves behind a mask.
Q: What can we look forward to from JMC in 2013?
A: It would be a shorter list to say what we're not innovating next year! Our office is bustling with our Product Development team trying out new products and potential products on their coworkers. All I can say now is that 2013 is going to be a very exciting year for JMC and for our customers!