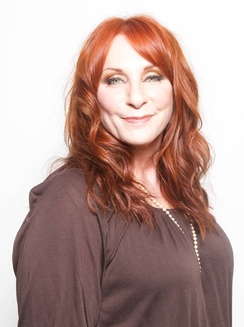 This month, Total Beauty talks with Beth Ann Catalano, President of AHAVA North America.

Q: What's the history of the brand?

A: We're the Dead Sea brand. We started in 1988. A kibbutz of people lived at the Dead Sea, and they were watching visitors come from all over the world and enjoy their experience, and moreover taking the Dead Sea home with them through the mud and the salt and the water. Since the kibbutz was compiled of a lot of scientists, they started studying the Dead Sea to see why people were taking it home. I would've run out and made commercial products, but they were smarter than I because they focused on the technology. Now, we have a research facility at the Dead Sea. Normally, companies of our size outsource research and development or they go to New Jersey and take stuff off the shelf. We do none of that. We act big, although we're small. We act like a Lauder or a L'Oreal in terms of what we invest in. That research and development facility turned into also having a company store, and it became a commercial proposition. Now we're in over 20 countries.

Q: Why do you think people are drawn to the brand?

There are so many good brands out there that have lovely marketing. One of our challenges it to communicate through our product and our packaging what our point of difference is. That's not all there is to it, but that's what really sells product. So the challenge is: How do you communicate technology? How do you communicate the ingredient story? How do you communicate the anti-aging value of it? Right now, our body business is over 65 percent of our business. How do you communicate that it's a face proposition, also? I have a lot of work to do, but I'm at an advantage because the product is that good. I think it would be very difficult to take on that challenge if the product wasn't as super-duper like it is. I think there's room for this brand in the market because it falls into the natural-scientific quadrant. And there aren't too many brands living in that scientific-natural type of space. We need to take advantage of that because that's where the trend of skin care is going and they're not there yet.

Q: How long have you been with the company and how did you come to work with AHAVA?

A: I've been here six months, and we've done a lot. I've known of the brand a long time. I was ready to take on the next challenge. I was contacted by someone in the industry who was looking to replace the former person. It was a long process in that they sent me to Israel -- I love Israel -- so that was really cool and fun. The people there are really passionate about the technology and the science.

Q: What advice do you have for women breaking into the beauty industry?

A: Two things: Number one, don't ever forget that you're a woman. I think being a woman gives you so many advantages in this industry. I was an entrepreneur, and I owned my own company. I had a very successful experience. We had a product called Jonathan Product -- we were on a reality television show. We sold our shares in the company, and it was a really positive experience. But it made me learn that I always need to be aware that I'm a woman. I know the products better than men, I use the products more than men, and I understand the psyche of what a woman wants. I understand things like cellulite. I like being a woman. You need to remember that we're in the beauty business. That's one part of it. From an entrepreneurial side, you'd better love what you do. And you need to have enough money -- get your financing in order. That's going to make the difference whether your brand is going to be big, little, or not there at all.