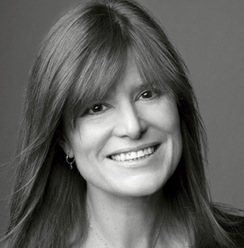 This month, Total Beauty chats with Jin Soon Choi, celebrity manicurist, owner of Jin Soon Hand & Foot Spas in New York City, and creator of JINsoon Nail Polish.
Q: How did you first get into beauty?
A: I was in fashion in Korea. When I came here, I had to survive, so I started working in a nail salon. At the time, a lot of Korean people were working in nail salons, so I had to follow in their footsteps. I got to be good, and I went to work in a hair salon as the only manicurist because I wanted to learn English. It wasn't easy to work at a hair salon as a manicurist, so I was struggling with what to do. A friend of mine suggested I go to people's houses, so I started doing that. And then a client who became a friend gave me a bicycle. I put a manicure kit in the front, and a footbath on my back, and rode my bicycle to clients' houses. Another friend suggested I send letters to editors to try to get work on photo shoots. So I went to Barnes & Noble, took every single magazine, and wrote down every beauty director's name and the address for the magazine. Another friend who was a client wrote a letter for me, and I sent about 50 of them. One person responded to me: It was Andrea Pomerantz Lustig, who was the beauty director at Cosmopolitan at the time. She liked my work, and asked me to work on a photo shoot. I didn't even know what that was, but I said yes, and she introduced me to agents. And very quickly I was busy.
Q: When did you open your first spa?
A: Two years after freelancing on photo shoots, I opened my East Village spa -- that was 1999. And then I met my husband -- he was an architect who renovated city-owned buildings around there. He helped me -- he did the design and construction for me.
Q: What inspired you to create a nail polish line?
A: I did everything: nail salons, editorial manicurist, and fashion shows. So what's the natural next step for me? Having my own collection.
Q: Did you have a feeling it was going to be as successful as it is?
A: I was very nervous. But it's not only about having good colors -- you have to have a good concept and good marketing, also. I had a strong background as an editorial manicurist. And I've worked with very famous fashion photographers. So I knew I had to use my background. And I wanted to create high fashion nail colors using my high fashion background. It's about being simple, elegant, and sophisticated. It's not a gimmick. My first collection was very classic.
Q: Where do you look for inspiration?
A: I love modern art -- that's my thing. My upcoming spring and summer 2014 collection is inspired by modern art.
Q: Do you have any advice for other women entrepreneurs?
A: I think they need to focus. Provide quality and a good concept at the same time -- you can't just provide quality. There has to be inspiration behind it. It's all about concept these days. Then, you have to work hard and focus.