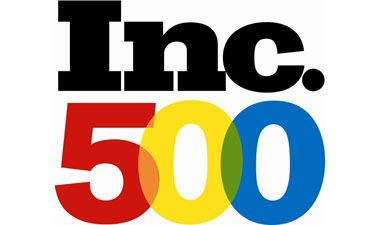 Total Beauty Media Group Makes the List!
Inc. Magazine recently recognized Total Beauty Media Group as one of America's fastest-growing private companies on the 2012 Inc. 500 list. Total Beauty Media Group is the fifth fastest-growing media company and ranked No. 279 in Inc 500's list for all industries.

We're proud of our growth over the past three years, and we'd like to personally thank partners like you who have helped us become an expert resource of beauty and wellness content. 

We have big plans for growth over the next year with exciting news to share, so stay tuned!

Check out the 2012 Media Industry List.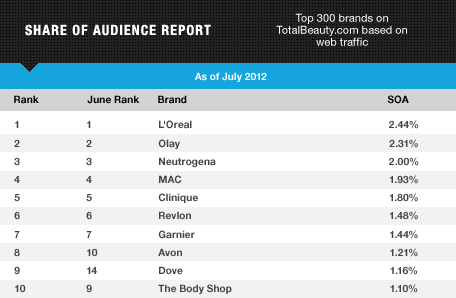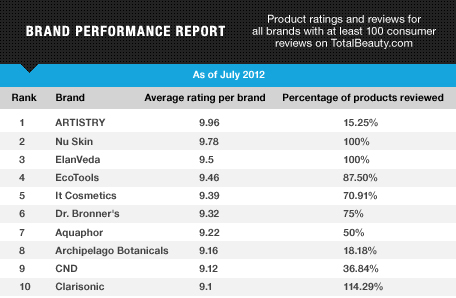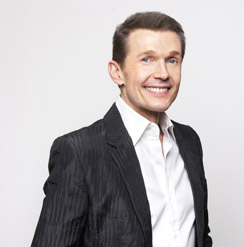 Total Beauty Chats with Ole Henriksen, Creator of OLEHENRIKSEN Skin Care
Q: How did you first get interested in skin care?
A: Skin care has always been a part of my life. My mother filled prescriptions at a local pharmacy for years, and she would create ointments to keep my skin soft and supple when I was outside during the cold, Danish winter. There was something about the way my mother applied the ointments -- it smelled and felt wonderful, it protected my skin, and I loved it. It was a very simple introduction to skin care, but it gave me an awareness of skin care from a very early age.  
Q: What inspired you to open your own spa and create your own skin care line?
A: Even though I've always been interested in skin care, I didn't plan on making it my career. It wasn't until I developed cystic acne while living in Jakarta, Indonesia, working as a show dancer that I began to take skin care seriously. I had the pleasure of working with Lagita, an amazing local esthetician, who was really the first person to teach me the transformative powers of the skin when treated correctly. I was amazed how you could restore bad skin to perfection again with the right treatments.

I knew I couldn't dance forever, and with encouragement from a dear friend, I enrolled at the Christine Shaw Beauty College in London. When I graduated and moved to the United States I couldn't find a job -- no one would hire me because I was a man! Rather than get discouraged, it inspired me to start my own company. And so I opened my first spa, Ole Henriksen of Denmark in 1975.
Q: What was one specific challenge you faced when first starting out? Did you ever have a moment when you thought this brand wouldn't make it?
A: When I first started out, there were a few major hurdles that I had to overcome. As I mentioned, being a man made it nearly impossible to be hired, so I started my own business. I was also up against the fact that I was young -- I was barely 24 and I had people wondering whether I really knew what I was talking about.

As far as ever having a moment when I thought the brand wouldn't make it, it was definitely difficult financially for the first few years. I was making formulations in my kitchen and taking them on my bike to the spa because I couldn't afford a car. I have always believed in following my heart, and I was certain I was on the right path. There was never a moment where I thought of giving up or that I would not be successful. I knew that the most important things in life are not handed to you on a gold platter -- you have to work for them. They're a challenge, but I have always loved a challenge.
Q: What is revolutionary about OLEHENRIKSEN? What sets it apart from other brands?
A: I think first and foremost, we really connect with our clients on a personal level. To me, everyone is a VIP and should be treated as such. I have always educated my clients -- I want them to become their own skin care experts.

I also think something that sets us apart is that we have been focused on wellness from the get-go. I have always been on the forefront of treating skin from the inside out.
Q: How did you get your brand noticed? How did you become the go-to skin care guru in Hollywood?
A: After appearing on Oprah, my first American book, "Ole Henriksen's Seven Day Skin Care Program," became a smash hit and I received so many letters asking me to recreate all of the at-home formulations from the book into products with a shelf life. And that was when the OLEHENRIKSEN line of products was born.

As a brand, I think one of the reasons we really stand out on the shelf is our extraordinary and bright packaging. All the colors are so happy and they make me smile when I see them. And of course, the products deliver on their promises, so clients come back again and again.
Q: What's OLEHENRIKSEN's bestselling product and why does it stand out from the rest in its category?
A: Our truth serum collagen booster is really a miracle product. It contains five forms of antioxidant-rich vitamin C extracts that act like a wake up call for the skin. Vitamin C is a powerhouse ingredient that firms, lifts, and evens skin tone while strengthening collagen. And the aroma is fantastic, making it a joy to apply to your skin.

People truly become addicted to the results. The truth serum collagen booster has been growing and growing, and it just gets bigger ever year.
Q: What technologies did you pioneer first?
A: One of the things that I truly pioneered was wetroom treatments. When people came to my spa, I wanted to give them a total body experience. Our wetroom experiences are a choreographed sequence of treatments that pamper our clients from scalp to feet. We integrate our bottled products with homemade kitchen formulations to leave our clients feeling refreshed, renewed, and completely taken care of.

We were also the first spa to offer microdermabrasion on the west coast. This was a huge hit, leading to the creation of our Micro Mini Peel System, which has been a huge success with our clients.

I have also been groundbreaking with the ingredients I use in my formulations. We were among the first to use vitamin C, Ester-C, and AHAs. And what has been really groundbreaking is the concentrations that we use in our products. I wanted to make sure that all of my products were going to give my clients visible results. I work to create the right balance of active ingredients and calming ingredients to deliver transformative results.
Q: What's next for OLEHENRIKSEN?
A: We have so many new and exciting things going on! We are always working on new formulations and have already gotten started on products for 2014. Each day I wake up feeling truly blessed for the brilliant and positive people that I work with -- they are really like my extended family, and I am just so thrilled and excited about the future.