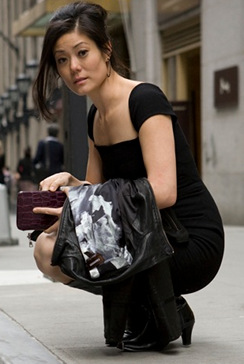 Guest Guru with Angela Jia Kim CEO of Om Aroma & Co., Founder of Savor the Success
Q: You were formerly a concert pianist! How did you go from that to the becoming a beauty expert?
A: I was always obsessed with skin care since I was a young girl playing with all of my mom's exotic creams from Korea. One day while on tour as a pianist, I broke out into a horrible rash on stage in front of hundreds of people after applying a "natural" cream. The humiliating experience led me to create my own lotions and potions as a hobby in my kitchen for myself. I applied all of the discipline, perseverance, and principles of excellence to create the perfect cream for myself and my loved ones.

So, really I got into the beauty industry by accident. After 1000 tries to come up with the best formula, I started to give the creams as gifts to friends. They wanted to buy the creams for their loved ones, and before I knew it, the first spa to order from us was a Starwood luxury hotel and spa.
Q: What inspired you to open your own spa?
A: First came Om Aroma & Co., the organic skin care line. I was busy touring, and before going on stage to perform Mozart, I was taking calls from my sales reps. I would pray that there would be no more orders while I was on tour; it was becoming too big for me to handle. I felt that I had two secret lovers: my piano career and my business.

I was five months pregnant with my daughter when I decided that I needed a lifestyle change. I quit piano cold turkey on June 15, 2009 after a concert in the Minneapolis area. One month after I had my baby, I opened up a little shop in the Bryant Holiday Shops and, while breastfeeding, I sold more than $40,000 worth of creams.

Eventually, I opened up a boutique in the West Village, and people were coming in asking for facials. Since we already had wonderful protocols that we had created for our wholesale spa accounts, it was easy for us to start that journey. We opened up two treatment rooms in our boutique spa and shortly after, we made New York Magazine's "Best of NY" list.
Q: Can you talk a little about Om Aroma organic skin care brand? What makes it unique?
A: Om Aroma takes sexy ingredients like champagne, caviar, and truffles and infuses it with organic ingredients and extracts for anti-aging benefits. It's not a grungy organic product. It's luxurious, sexy, and fresh. We make the products in small batches, locally produced in New York. It was designed for the woman who is on-the-go and needs to look and feel great in a New York second.
Q: Can you share a little about Savor the Success? Why did you create it? What was your goal?
A: Remember when I told you I was touring and praying that there would be no Om Aroma orders while I was on the road? It was then that I realized that I needed help and support. I felt alone and isolated as an artist-turned-entrepreneur. So I started gatherings of women entrepreneurs coming to my living room to support one another with questions such as, "How do I manage my employees?" to "Who can build my website?"

When I officially launched Savor the Success, we eventually grew from two people in my living room to 20,000 online members across the United States in less than three years. Anyone who has a business can apply to be part of the network for free. We now have 7 Figure Clubs, Premium Memberships, and we are launching the Manifest Method, an organized system that helps women to create their 5-Year Vision and break it down into daily baby steps so they, too, can make their wildest dreams come true.
Q: What do you enjoy most about what you do?
A: I love building and manifesting my thoughts into reality -- and I love inspiring other women to do the same. I love making connections, creating jobs, and giving my team members a positive place to come to everyday. I love creating a business that takes care of my family and my employees. Mostly, I love being able to savor life with family, friends, and colleagues over a glass of amazing wine. This is what life is all about!
Q: What do you have coming up in 2013? Anything new and exciting to share?
A: My Manifest Method book and system will be launched. Also, there will be a major conference called Rock the World in New York City co-sponsored by American Express and Whole Foods. Not to mention, Om Aroma Bespoke Beauty Toners, a Carrot Serum (yum!), custom serums created in our West Village boutique spa. Plus, a new spa in the Hamptons!