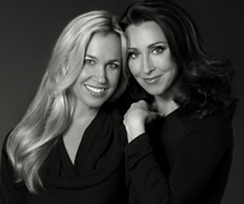 Guest Guru with Radical Skincare co-founders and sisters Liz and Rachel Edlich
Q: How did you first get interested in skin care?
Liz: Before the age of 10, Rachel and I worked in my father's plastic surgery lab at the University of Virginia Hospital and in the burn unit. In the burn unit, I sat and talked to the patients, removed dead skin off patients in the debris removal room, rode with the rescue squad on emergency calls, and I assisted in CPR training classes. Working with severely burned victims gave me a real sense of perspective and got me interested in the medical side of skin care.
Q: What inspired you to create a skin care brand?
Liz: When I turned 46, I realized gravity and aging was real -- and I became passionate about finding a solution. Plus, my sister developed rosacea after her second child and was yearning for the skin that she used to have.

Rachel: Around that time, Liz and I had a company called One World where we designed and managed celebrity websites. In addition to that, we also specialized in creating health and beauty products. For several star clients the two would overlap and we would end up creating unique products for celebrities. Somewhere along the way we decided we really wanted to create the best anti-aging product for our mom, our friends, and ourselves. We knew that we had access to the best chemists and scientists in the world, and so Radical was born.
Q: What was one specific challenge you faced when you first started out?
Rachel: People kept suggesting that we hire a celebrity to be the face of the brand. They told us that would be the only way to get attention. But we thought that real women's stories of passion, perseverance, and problem solving were more inspiring.
Q: How did you get your brand to stand out and get noticed?
Liz: Radical Skincare is the first brand to have more than 15 antioxidant-rich fruits in one bottle. Plus, it was proven to be 300 percent more potent than leading brands, and combines maximum levels of anti-aging actives. Ours are the strongest skin care products on the market today and they can be used on even the most sensitive skin.

Rachel: Because our products had powerful results, we ended up attracting the best researchers and have talented partners in every country.
Q: What technologies did Radical pioneer first?
Liz: Our Trylacel technology has allowed us to maintain the potency of antioxidants in cream and serum form. Before our Trylacel technology, antioxidants lost their power and had limited efficacy. So, our products smooth and protect even the most sensitive skin, and because they contain the strongest antioxidant delivery system, you see instant anti-aging benefits as well.
Q: What is Radical's bestseller -- and why does it stand out from the rest in its category?
Rachel: The bestseller is our power duo: the Antioxidant Peptide Infused Serum and Anti-Aging Restorative Moisture. The Peptide Infused Antioxidant Serum actives were proven to increase collagen and elastin production by 128 percent in just two weeks. By combining these two products, you can expect more even skin tone, smoother texture, and the reduction of fine lines and wrinkles.
Q: What is Radical's next step? Anything new and exciting to share?
Rachel: We are in the process of launching our Radical Anti-Aging Replenishing Extreme Moisture Cream, which is great for very dry skin and extreme conditions. Our Radical Cell Rejuvenating Mask will also be launched in certain spas and retail treatment rooms. And we are really excited to launch our first book, "Radical Living," next year.