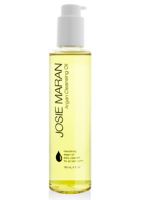 Purchased in a try me kit

I purchased a try me kit at Sephora that included this, the 100% argan oil, and the moisturizer and I am so happy I did!! I have never used a cleansing oil and figured I'd give it a shot. I squirt a little bit in my hand and rubbed it in and applied it to my face and instantly noticed the WONDERFUL smell. I covered my face and neck and as the instructions said, wet my hands and washed my face. ...read more I noticed there was hardly any lather, didn't know if that was a good thing or bad thing, but washed my face and dabbed it dry. I felt my face after and noticed it was very soft, and it did take off my makeup and eye makeup with zero stinging to my eyes and no irritation. I will continue to use this oil in the morning to wash my face, and monitor how my skin looks, but so far I give it a 10 because it seems to work at what it claims!

Works Well

I think this is a very interesting product. It did a pretty good job at removing my makeup but I prefer to use it in the morning, when I can use the other brand products with it. I find that it refreshes and hydrates my skin without being drying at all. A little goes a long way and this product doesn't really lather up at all. It smells fantastic.

Josie Maran Cleansing Oil

I tried this product about a year ago and after a few uses I decided I hated it. Initially I broke out and it took forever to normalize my skin, and naturally I attributed that to brief interlude with this product. A few weeks or so ago I went back to give it a 2nd chance. My skin was starting to get wintery and that drives me insane on my face because between several times a week exfoliation, reg...read moreular Clarisonic use, and high quality moisturizers, my skin was parched beyond words. The first night I used this before bed. For starters this product smells DIVINE. I would bathe in this scent if I could, it's amazing. Using it this time around was different. My skin seemed to soak up the moisture and even after washing and patting dry, it still sucked up moisturizer as well. Using this a few times a week, in place of my usual cleanser, seems to be better hydrating my skin. I haven't had any breakouts related to use, nor has my skin gotten oily. I'm going to continue using it this winter to see how much improvement I notice and will report back ASAP. In the meantime I think this is a quality product worth trying. A little pricey, but it's no worse than other cleansing oils at the same price point. Also, this is the only cleansing oil I've ever used, so I'm a bit biased.

Back
to top