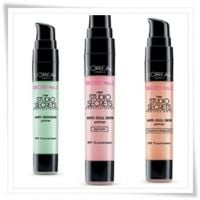 The Green One REALLY Cancels The Redness!

I've had this about a year and tried it initially but hated it. I was playing around with what was in my makeup bag and I came back to it a few days ago. What was I thinking to not love this stuff?! My blotchy red, flushed rosacea-prone cheeks were smoothed out, even-toned and matte. The light, liquid-y formula took less than a full pump to blend over and cover my cheeks, around my nose, my chin a...read morend forehead. I used my fingers to blend it in well and the redness just disappeared. My skin was left smooth, dry, silky and with NO REDNESS. And stayed gone for hours with my mineral foundation and concealer on my larger spots. So glad I gave it a second chance! The only reason I gave it 9 stars was because it also claims to be a "highlighter", which means some shimmer. Ugh! If I'm trying to correct something, why the heck would I want sparkles all over it? But this ABSOLUTELY works and LASTS ALL DAY. My new must-have product. "Note: I use the green one, not sure about the other ones.*

Terrible and Ineffective

I can only speak to the green version of this primer, but I can safely say it did not work for me at all. It was very expensive for a drugstore primer, between $15 and $20. I had high expectations that were not met at all. For one thing, the texture is weird: when you squirt it out and apply, it is thin, greasy, and sheer; then, as you blend it in and apply foundation/concealer over it, it turns g...read moreunky and balls up. It separated around my nose where I have the worst redness, turned into little balls and flakes on my cheeks, and it clung to dry patches and acne on my nose, chin, and forehead. The result of that was green crusty lumps around the acne I was trying to cover up in the first place. I tried using my fingers, a sponge, and different brushes and nothing could make it apply nicely. I tried with other primers and moisturizers underneath, different concealers and foundations on top, and nothing would make it look smooth or help with my redness. I can't use it and it was a terrible waste of my money.

I actually like it.

There've been a lot of bad reviews for this product. I bought the one in green for my rosacea-red cheeks. I also have very dry skin and find that the liquidy consistency of this blends better than the thicker color corrected primer/concealers out there and overall gives a more natural finish. I definitely like this product and would even buy it again. You just have to have the right skin texture to like this stuff.

Back
to top