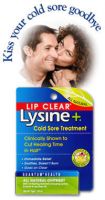 Lip Clear Lysine+
As low as
worked great!

I started getting my first cold sore in so long I had nothing in the house to use on it, so based on the reviews here I bought Lysine+. Within an hour of applying it the burning was gone, and the whole cold sore was gone in less than 24 hours.

It Works and 1/4 the price of Abreva!

As an occasional cold sore sufferer, I like to keep something on hand for when i start to feel that tingle (which signals a cold sore about to come out). In the past, I have kept Abreva on hand, but at $14-$18 a pop for a small tube/pump, I was finding that it was getting expensive, and it is so small I'd even lose it or run out fast. With Lip Clear Lysine, you get lots more in the tube at like ...read more$6!! And folks, this stuff works just as well...it also has a nice scent and feel....my last cold sore never really surfaced after applying this right away....try it for sure!!

Lysine works WONDERS!!

At the first sign of a cold sore, I apply less than a pea sized amount. If I feel it soak in, I apply some more. Sometimes my cold sores are gone in as little as a few minutes if I catch them early, otherwise they are gone in up to a few hours. It is rare one even lasts into the next day! The most popular competitor on the market talks about how few DAYS it can heal in... DAYS?! Not a chance with Lysine! Oh, and Lysine is significantly less expensive too!

Back
to top