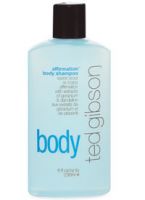 Ted Gibson Affirmation Body Shampoo
As low as
Editor's Rating & Review
If you're tired of your shower smelling like a tropical rain forest, try the Affirmation Body Shampoo from Ted Gibson. The scent is very fresh (it contains geranium and dandelion extract) but not girly -- suitable for both men and women. The formula lathers easily even without a pouf and rinses quickly, leaving skin feeling clean but not dry or tight. You can follow up with the <a href="/reviews/product/6158241" target="new">Affirmation Body Conditioner</a>, but your skin will likely feel hydrated enough without it.
Reviewed by Sarah on 07/11/2008

How we review products
Better things to do with $34.00

I can't imagine spending $34.00 on any soap. In today's economy, I can find a lot more things to spend that money on. I find a lot more reasonably priced soaps that make me smell just as nice.

$34 for Soap? You've GOT to be kidding !

Unless a little fairy pops out and does the washing for me, I think this is definitely overpriced. There are much, much better adn cheaper options out there.

Back
to top