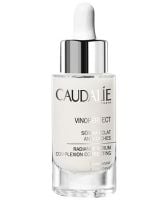 It Did Very Little

I had very high expectations from the hype I had heard about this. I used it for a long time and it did absolutely NOTHING to rid my skin of a few dark spots (and they're not very dark). I asked for a refund.

So far so good.

I purchased this after reading good reviews. I was in search of a serum that could help lighten my acne scars, moisturize and have antioxidants. Unfortunately it didn't lighten my scars. It stayed a little tacky on my skin which was ok because it acted as a sort of primer and helped my mineral make-up stick. I experienced less breakouts and smoother skin after a few weeks, but without powder my sk...read morein looked super freaking shiny and oily. oil production started getting out of hand so i ended up taking it back. Now i'm in search of something mattifying lol.

Contains mostly thickeners

This did not fade my sun spots nor did it brighten my skin. After purchasing, I came to find out most of the ingredients are emollients and thickeners. Product offers very little antioxidant benefits to ward off environmental factors due to the fact that the grape seed is listed toward the very end of the ingredient list. Also, this product should not be in a clear bottle since the ingredients bre...read moreak down in the light. The dropper is not a good feature because the moment the product is exposed to air, it begins breaks down as well; a pump would have been ideal. Regardless, this product does not work at all.