The Best Self Tanners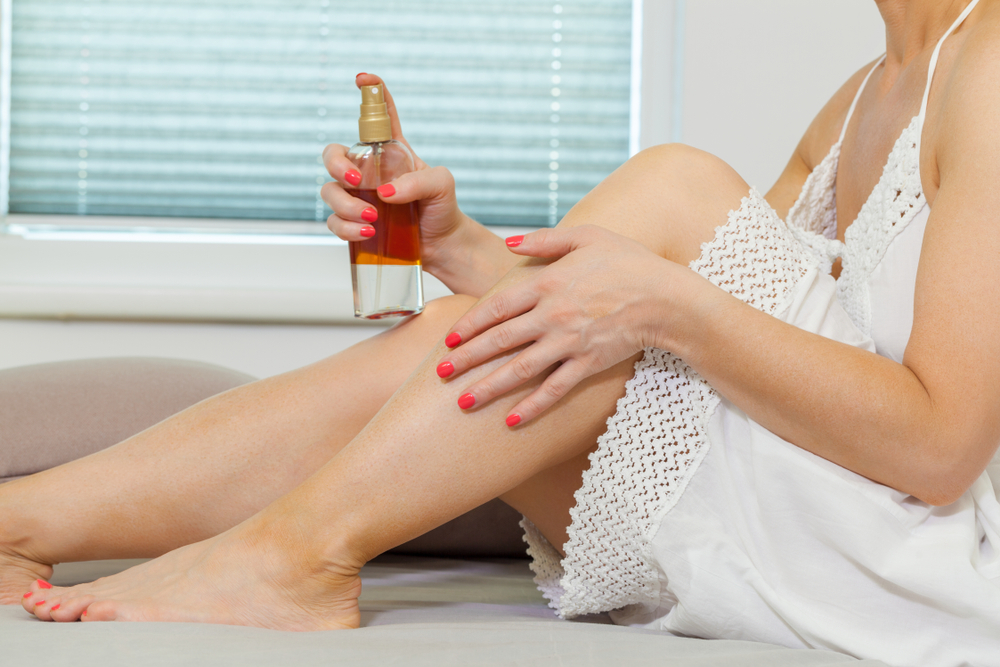 Looking for a healthy glow but don't want skin damage from the sun? Yeah, we're not about that either. Besides premature aging of your skin, sun damage can lead to cancer, unsightly skin spots, and incredibly painful burns. So it's no wonder that when self-tanners hit the market, they took off with a bang. They've come a long, long way since their first introduction, however. Trust us, it's worth another shot. And with the self-tanners listed below, you're sure to find the perfect pick.
Beauty by Earth Self Tanner
With the best of the best ingredients, this option offers a healthy-looking glow that may even replenish your sin with organic ingredients.
Want that perfect glow but you're wary of what goes into achieving it? We get it. This vegan-friendly self-tanner achieves gorgeous results without sun damage and harmful chemicals. Using simple and safe ingredients (organic shea butter and organic coconut oil, just to name a few), your skin will look smooth, bronzed, and healthy after just the first use. Although this self-tanner is a bit on the pricier end, it's totally worth it. For sensitive, more pale skin, this self-tanner delivers orange-free, stink-free results that'll make you have beach-worthy skin without any of the sun damage that goes along with it.
Pros:
This self-tanner is cruelty-free: vegan, never tested on animals, and with all-natural ingredients.
Without the harsh chemicals of other self-tanners, you'll avoid that notorious self-tanner stink.
Appropriate for use on the more sensitive face and chest skin, as well.
No parabens, phthalates, and other chemical additives that are damaging.
Cons:
For a relatively small amount (7.5 Fl Oz), you'll want to view this as an investment in your skincare routine. It's a bit pricier.
Jergens Natural Glow Instant Sun Body Mousse
Those that want a quick tan should check out this lightweight mousse from Jergens for the best results.
Best with Instant Results
For a gradual, natural-looking tan, this Instant Sun Body Mouse by Jergens says it in its name: natural glow. Seriously, you'll look like you've spent the day at the beach, except without the burn or sun damage that so often goes along with it. What's more, this isn't a spray (no streaks) and this isn't a lotion… it's a mousse. Not just any mousse, but a tinted mousse that allows for incredibly precise application. The results? Fully customizable color that develops almost instantly, and all without unsightly orange streaks. With a tropical scent, you'll feel like you just got back from a tropical beach vacation even if you're using this in the middle of a snowy, northern landscape.
Pros:
Fast-drying application (dries in 60 seconds or less), means you can self-tan and go without worrying about staining your clothes.
Included sunless tanning mitts for a more natural application.
A more budget-friendly self-tanner option than the one listed above.
Cons:
Because this product dries quickly, you'll want to wash your hands immediately or make sure to use the sunless tanning mitts.
Bondi Sands Self Tanning Foam
For the best in a lightweight formula, go with this foam application from Bondi Sands.
Enriched with salon-quality ingredients such as aloe vera and coconut, this self-tanner will help to create a truly natural-looking bronzed glow that may be healthier for your skin than other self-tanners on the market. The lightweight design of this foam application means you'll have a gradual, more natural-looking tan without the streaks, stink, and awful orange look that you're remembering from those first self-tanners that hit the shelves.
Pros:
You can wash your skin after just one hour of application.
The smooth, weightless formula is best applied with a mitt.
Includes ingredients that may be beneficial to the overall health of your skin.
Cons:
3.3 Fl Oz container is on the small side.
St. Tropez Self Tan Bronzing Mousse
This self-bronzing mousse from St. Tropez delivers effortless results.
St. Tropez; just the name brings to mind a luxurious, delightful beachside glow. This vegan-friendly formula delivers fast results for a long-lasting sunless tan. The lightweight mousse dries in 60 seconds or under, after fully developed it'll last for up to 10 days, and is infused with an eco-cert approved DHA (an all natural tanning agent). The non-stick formula won't transfer off to your clothes, is fade-resistant, and because the formula is tinted upon application, you'll avoid streaks and spots.
Pros:
Free of the bad stuff: paraben-free, sulfate-free, phthalate-free, and contains 100% naturally-derived DHA.
The extremely hydrating formula provides a healthy glow.
8 Fl Oz bottle.
Cons:
You'll need to wait a full 4-8 hours before showering or bathing.
Frequently Asked Questions
How do I avoid the dreaded orange hands or orange streaks?
While self-tanners have definitely come a long way, there are still some unwanted side effects that can happen. Most notably, orange or streaked skin. To avoid this, going with a quality, salon-worthy self-tanner is a good idea. And, on top of that, you'll want to properly prep your skin before and after use. This means exfoliating your skin beforehand (a day is best), apply in sections, blend well at key points such as wrists and ankles, and make sure to dilute the solution with lotion for use over your joints. It's a good idea to have fully hydrated, clean skin before application, too.
Are self-tanners safe to use?
If you're nervous about the ingredients used in self-tanner, we can't exactly blame you. After all, what you put on your skin directly impacts your health. If you're nervous about certain ingredients, do the research and go with a product that contains less of the harmful ingredients you're wanting to avoid.
Here's what you should know, though: the ingredients in these products have been approved to use on skin. Direct tanning in the sun (or worse, tanning beds), has been proven to cause all kinds of woes. Using some self-tanner to get that glow? It just might be the safer bet.