The Top 5 Purple Hair Dyes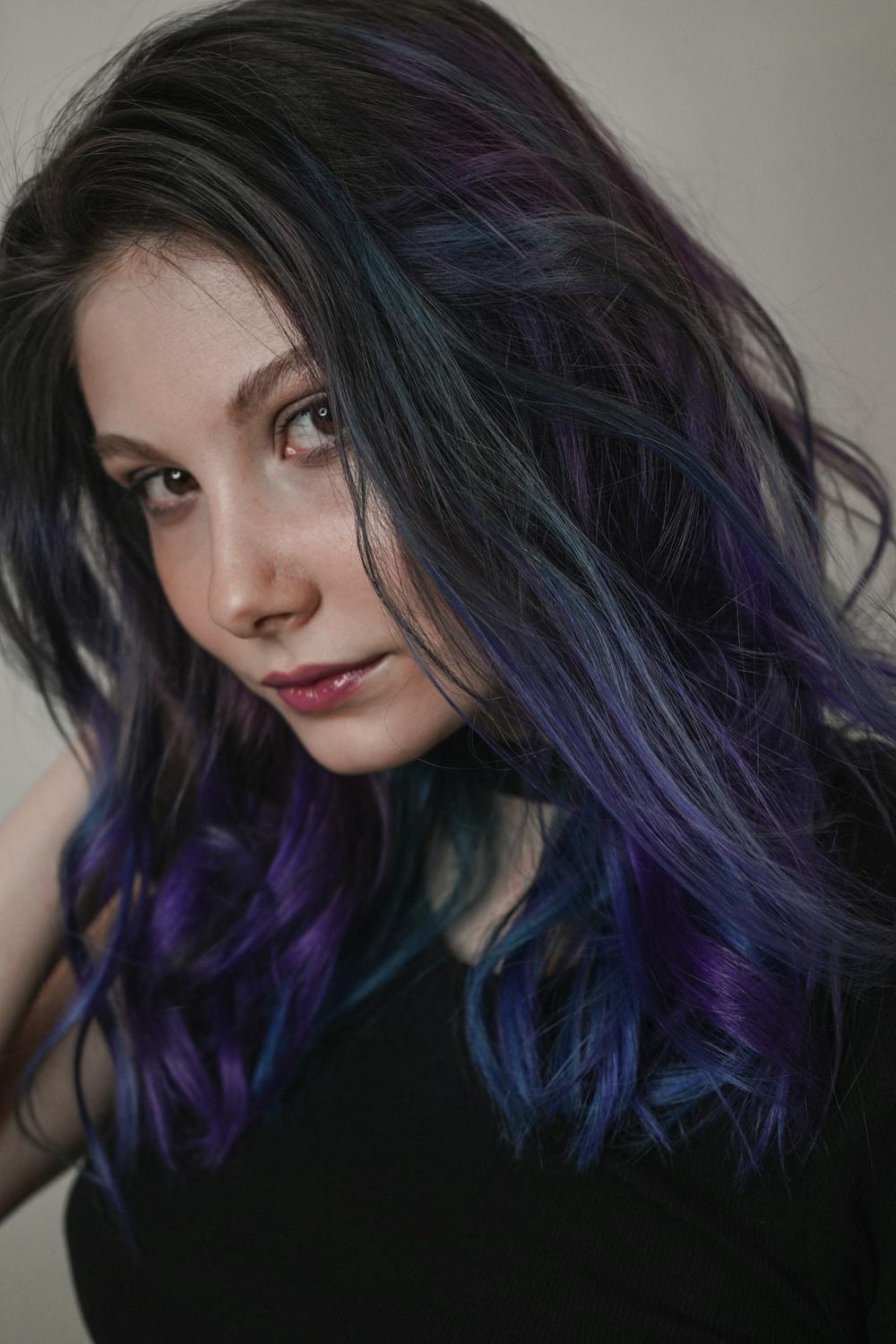 In case you hadn't heard, purple hair is all the rage. For one thing, it's a versatile color: You can go dark purple, if you're feeling bold, or opt for a light lavender or other pastel-colored shade if you don't want to go the full-on punk-rock route. For another thing, purple is cropping up all over Instagram feeds everywhere as the hair color du jour, simply because it looks good on just about everyone. Regardless of whether you want lilac streaks, mauve highlights, or you want to dye your entire mane a bright eggplant shade, it's high time to jump on board the purple hair trend. Check out our list of the top five purple hair dyes available.
Manic Panic Violet Night Dark Purple Hair Dye
We love this dye from Manic Panic for its gorgeous, customizable color.
When it comes to purple hair dyes, Manic Panic Violet Night reigns supreme. This dye is a beautiful, deep cool purple shade, and, crucially, it works well on unbleached hair or darker hair colors. Best of all, you can easily customize your look by adding in the Manic Panic pastel-izer if you want a softer shade. The dye formula is cruelty- and paraben-free, and lasts for a good four to six weeks. Not to mention, it's made with special conditioners that lock in moisture, so hair looks shiny and well-nourished.
Pros:
Dark purple shade looks good on all types of hair.
Works well on unbleached hair.
You can easily customize the shade.
Formulated with conditioning agents.
Paraben-free, cruelty-free.
Cons:
The smell is a little funky.
Arctic Fox Semi-Permanent Hair Dye
No animals were harmed in the making of this Arctic Fox dye.
The aptly named Violet Dream Hair Dye from Arctic Fox makes for a lovely head of purple hair. Edgy, cool, but not over-the-top, this purple dye is a highly pigmented color, so it covers up brassy tones and gives off a deep warm tint. For the eco-conscious among us, this dye is 100 percent cruelty-free, meaning no animal byproducts were used in crafting the formula. This dye is gentle enough for frequent use, and the color lasts for weeks before fading into a pretty light pink shade.
Pros:
Cruelty-free.
Dye is highly pigmented, which = a deep warm tint and coverage of brassy tones.
Gentle enough for frequent use.
Fades into a light pink shade.
Cons:
A little pricier than most.
Punky Plum Semi-Permanent Hair Color
This Punky dye makes everyone who uses it look like a rockstar babe.
Best Universally Flattering Color
It's all about the color with Punky Plum Semi-Permanent Hair Dye—this dye results in a natural-looking blend of purple and red tones that's not too dark, and flatters nearly everyone. What's even better is that the chemical-free formula helps restore shine and vitality to your hair, leaving it looking silky-smooth and healthy (not stripped or damaged, which can be the case with some dyes).
Pros:
Universally flattering blend of red and purple tones that's not too dark.
Gentle, moisturizing formula that leaves hair looking and feeling softer, shinier, and healthier.
Cons:
It does tend to stain, so you have to be extra-careful right after using.
Celeb Luxury Viral Colorwash
With this Viral Colorwash from Celeb Luxury, getting the purple hair of your dreams is as easy as shampooing it.
With Celeb Luxury Viral Colorwash, all it takes it shampooing your hair to achieve the color you want. Get vibrant, true-tone color in the shower with this fade-free, sulfate-free, awesomely long-lasting dye. If you have platinum hair, expect full color intensity; for those with highlights or medium blonde hair, the color is subtle and pretty. And, you can re-apply as many times as you want to customize and increase your shade.
Pros:
Super easy to use; all you have to do is shampoo your hair as you normally would.
Fade-free and sulfate-free.
Reapply as many times as you want to customize and increase color intensity.
Choose from one of two purple shades.
Cons:
It tends to dry out your hair.
Got2B Metallic Permanent Hair Dye
Why go with regular purple dye when you could have a shimmery mermaid mane?
Got2B Permanent Hair Dye is the perfect dye to use for those times when you want to turn some heads. That's because, unlike with most other traditional purple hair dyes, this one transforms your hair into a shimmery, metallic purple that shines like the sun. Although this dye does work best on lighter hair shades, it works great with all hair textures and on extensions and wigs.
Pros:
Gorgeous, multidimensional metallic purple shade.
Can be used on natural hair, extensions, and wigs.
Cons:
If your hair is longer than shoulder-length, you probably need to use two tubes.
Frequently Asked Questions
If I dye my hair purple, how long do results typically last?
If you're using dye from a box, results tend to last anywhere between three to six weeks. The longevity of your results also largely depends on how often you wash your hair.
Can I dye my hair purple if I have dark hair, or do I need to bleach it first?
You don't necessarily need to bleach your hair before dyeing it dark purple—unless you're going for a pastel shade, in which case, yes, your hair needs to be a pale yellow color first.
Should I go with a permanent or semi-permanent dye?
If you're just dyeing your hair for fun and you don't mind how long it lasts, go with semi-permanent dye, which is much more low-maintenance than permanent dye (although it wears off fairly quickly). If you want your color to last four weeks or more, permanent dye is likely the better option, although it does require more work to maintain.