The Best Ice Rollers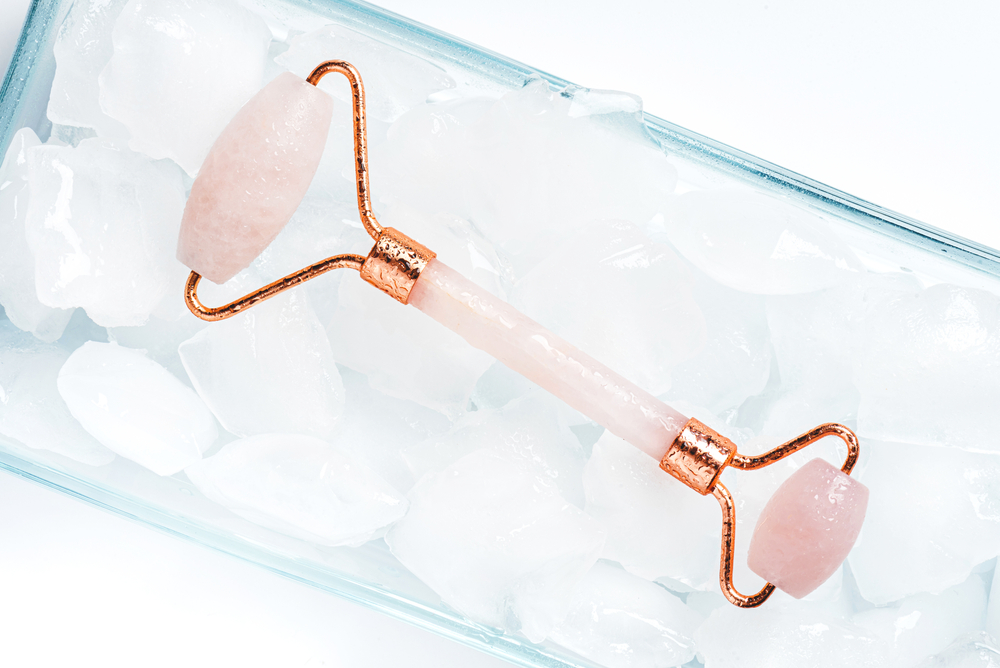 Have you ever tried icing your skin? It's actually a beauty hack. Many people use cold therapy in hopes that it will decrease puffiness and help reduce large pores. If you're interested in seeing what ice can do for your skin, an ice roller makes it simple. You don't have to try to hang onto a slippery ice cube or freeze your fingers. You simply store your ice roller in the freezer and pull it out when it's time to use it. To help you get started with a convenient way to ice your face, here are a few of the best ice rollers.
PUR Botanicals Ice Roller Face Massager
This product will add a splash of color to your routine.
Do you enjoy using brightly colored tools for your beauty routine? These ice rollers are super cute. You can select from five different colors. The handles and roller are both colored. They are made from durable materials. The ice rollers have a great design that doesn't squeak when you use them. These ice rollers are easy to use. The ergonomic handle fits nicely into your hands. If you've never used an ice roller before, you'll appreciate the directions and information on the sides of the box. You can easily remove the roller to store it in the freezer. Then when it's ready, you can snap it back into place on the handle to save space.
Pros
We love how long it stays cold after you take it out of the refrigerator. Even after delivering a full facial massage, the ice roller head is still chill to the touch.
If you have puffy eyes in the morning, this is a great remedy. It takes just a short massage with this roller to reduce those dark morning bags.
The rubbery handle is also a plus because it helps in maneuvering the roller around the face.
Cons
The roller head is a little large, so getting right by the eyes can be a challenge for some people.
Gyothrig Jade Roller and Ice Roller
If you're just getting started with ice rolling, this is a great set.
If you want to add ice rolling to your beauty routine, check out this set. It comes with an ice roller, a jade facial massage roller, two cleaning cloths, and an instruction manual. This set arrives in a nice gift box. You can easily remove the head of the ice roller so you can store it in the freezer. The jade roller can also be kept in the freezer if you want to combine the benefits of cold with the massaging roller. If you've forgotten to freeze your ice roller, you can do a quick freeze in only 10-15 minutes. The handles are both ergonomically shaped and comfortable to hold. The heads roll easily and have a great contour. The jade roller has two different-sized heads, and you can easily get around your eyes with the smaller of them.
Although we prefer the ice roller for reducing morning puffiness, the jade roller is also good for a quick pick-me-up facial massage before an event or a night out.
This ice roller is bigger than most, so it works well for other parts of the body too, not just the face. We like using it to soothe sore muscles in the arms and neck.
Cons
The large ice roller is kind of bulky, so you may have to find an appropriate place to store it to keep it clean.
Teenitor Ice Roller
You won't break the bank with this inexpensive option.
Do you want an inexpensive ice roller? Here's a great one. Whether you're trying to stick to a budget or just don't want to invest a lot until you know if you will personally notice any improvements, this ice roller is a good choice. You can select from green or blue. The handle and the roller are both the same color. This ice roller is 7.5-inches long from the handle to the top of the roller. The roller head is 3.2-inches long and 1.6-inches wide. It's very lightweight. This ice roller stays cold for quite a while after you remove it from the freezer. It's easy to take apart for freezing and cleaning.
Pros
If you aren't sure if an ice roller is right for you, this is a great inexpensive way to give it a try. The price is low but the quality is on par with most other models on the market.
The roller head retains its coldness, so you can give your full face a cooling massage without needing to chill it again.
Cons
The roller wheel tends to slide out of place if you apply too much pressure.
DBlosp Two Ice Roller Set
This set comes with two ice rollers, and one has a bumpy head that feels great.
Give your face a bit of a gentle massage while you ice it. This ice roller set comes with two different products. One is larger. It has a green head that features water and beads inside. This gives it a great texture for rubbing over your face. The other roller has a stainless steel head. It is a lot smaller and perfect for icing those hard-to-reach areas around your eyes and nose. You can keep them both in the freezer at all times, or put them in 10 to 15 minutes before use. They will stay cold for several minutes before warming up.
Pros
For those that suffer from tight jaws and headaches, this might be the perfect remedy. The roller head does more than just cool since the beads help massage the muscles to break up tension.
The stainless steel roller is ideal for getting into the tight angles around the eyes, so no area is left unmassaged.
Cons
They don't stay quite as cold as some of the others.
Frequently Asked Questions
Where do I rub the ice roller?
You can use an ice roller on the majority of your body if desired. Many people stick to their faces. But others will rub it on their shoulders, back, legs, and more. The cool temperature feels great on sore body parts and this may help provide some relief.
How do I clean an ice roller?
You need to make sure your ice roller stays sanitary. You should wash it after every use to help kill bacteria and ensure it's ready to go when you want to use it again. The cleaning process doesn't have to be complicated. You can rub it down with a small towel that's been dipped in rubbing alcohol. Alternatively, you can purchase alcohol wipes that are simple to use. As you clean, make sure you roll the head. That way you get the entire surface and not just one place.
How do I store my ice roller?
Many people decide to store their ice roller in the freezer permanently. They simply place the head in a Ziploc bag and then place it on the freezer shelf. Then, it's ready whenever you're ready for some ice treatment. If you don't have much room in your freezer, that's okay. You can store the ice roller in your bathroom or anywhere else where you have space. Then, before you use the roller, put the head in the freezer for about 15 minutes. This will give it time to get cold. Finally, some ice rollers can be stored in the fridge. This makes the roller not get as cold, so if you're having a hard time adjusting to the freezing temperature, this might be a good solution.
About the Author
About the Site
TotalBeauty
Since 2007, TotalBeauty has been committed to helping millions of people find the right makeup, skincare, and haircare products for their needs. Our experts know what works best for every face shape, skin type, hair type, and more. They are here to share that knowledge with everyone looking to upgrade their beauty routines or try something new.