The Top 5 Hair Growth Oils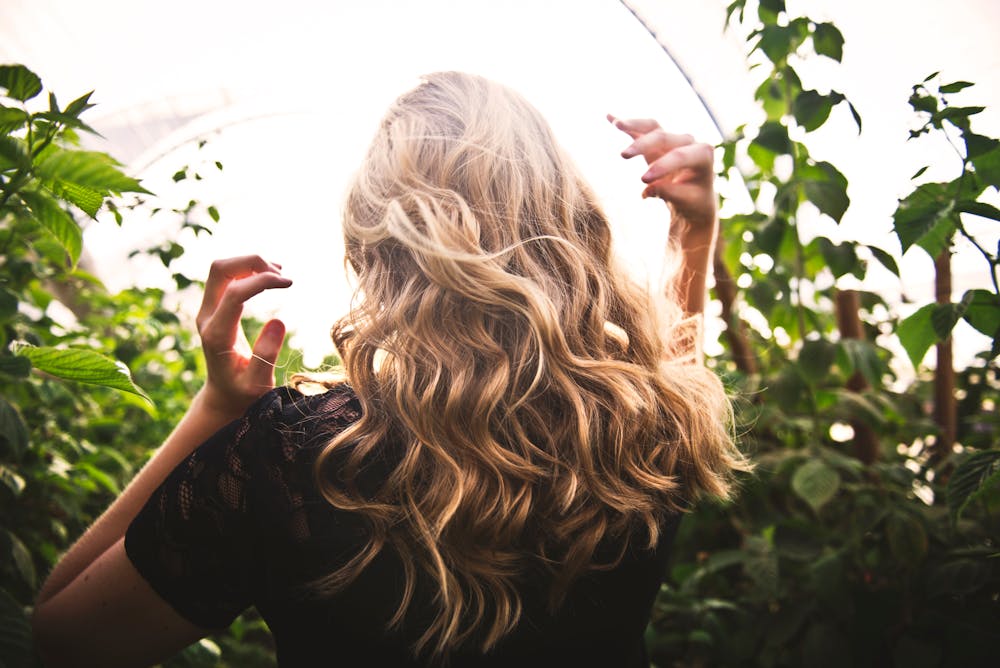 Always dreamed of having long, luxurious locks? Hair growth oils are known to help promote healthy hair growth by restoring much-needed nutrients to your strands and scalp while helping to prevent breakage and split ends. If you want thick, healthy, flowing hair, it's important to get regular trims, invest in a good shampoo and conditioner, spend less time heat-styling, and make sure you're using a gentle brush. But, supplementing with a hair growth oil can give your hair the extra boost it needs to look its best. Here are the top five.
EssyNaturals Natural Hair Growth Oil
Enjoy healthier, longer hair in no time with this EssyNaturals oil.
Rich in omega-6 fatty acid and vitamin E, EssyNaturals Natural Hair Growth Oil is the real deal. This incredible-quality oil boasts a super-nourishing formula that's packed with pure, all-natural ingredients like castor oil, rosemary, biotin, caffeine, and other much-needed antioxidants, minerals, and proteins. It also has natural antibacterial and anti-fungal properties to promote both a healthier scalp and longer, thicker, fuller hair. Crucially, this gentle-yet-effective oil doesn't contain parabens or sulfates and is cruelty-free.
Pros:
High-quality formula comprised of pure ingredients like castor oil, biotin, rosemary, and caffeine, plus nourishing omega-6 fatty acid and vitamin E.
Contains natural antibacterial and antifungal properties, so both scalp and hair are left healthier.
Gentle yet effective, with no parabens or sulfates; cruelty-free.
Cons:
Moroccan Oil Treatment
If you want healthier, thicker hair that feels silky-smooth to the touch, then Moroccan oil is your new BFF.
You'll have long, luscious locks in no time when you use the Moroccan Oil Treatment, a multitasking hair treatment that's infused with rich nutrients like argan oil and every vitamin imaginable. This hair oil does it all: strengthens, nourishes, tames frizz, detangles, and delivers long-lasting shine. And, you can apply it to damp or dry hair; the formula absorbs quickly and doesn't leave a greasy residue.
Pros:
Contains argan oil and powerhouse vitamins that work together to detangle, nourish, and strengthen hair.
Formula absorbs quickly, with no residue.
You can use it on damp or dry hair depending on what you need it for, from eliminating frizz to taming flyaways to hydrating your scalp.
Cons:
Not the most pleasant scent in the world.
The Mane Choice Hair Growth Oil
This hair growth oil from The Mane Choice will revitalize and restore your hair in every way.
Best Multi-Vitamin Formula
Support natural hair growth with The Mane Choice Hair Growth Oil, whose enriching formula is an excellent-quality blend of essential nutrients and multivitamins, all of which are specifically designed to maximize growth, lock in moisture, and repair strands that are brittle or damaged from too much heat-styling. The lightweight, non-greasy formula contains all the good stuff: vitamins A through E, biotin, crucial antioxidants, organic oils, and more.
Pros:
Really well-crafted formula comprised of essential nutrients, multivitamins, and organic oils.
Awesome at helping to maximize growth, and also lock in moisture and repair damaged strands.
Lightweight; not greasy.
Helps to reduce shedding.
Cons:
It's likely that hair growth results may take a while (at least a couple months or so) to notice.
Hair Thickness Maximizer Organic Hair Growth Oil
A high-quality organic oil blend like this one is the ticket to longer, fuller hair.
With a luxurious oil blend that rivals that of any other hair growth product, the Organic Hair Growth Oil from Hair Thickness Maximizer is wonderful for nourishing the scalp, supporting thick hair growth, and strengthening and protecting strands against future damage. The oils included are castor oil (essential for growth), jojoba, rosehip, spearmint, tea tree, and several more. It's an ideal oil for those with thinning hair or hair loss, since it assists in the preservation and strengthening of your existing follicles.
Pros:
Oil blend contains everything from castor to jojoba to rosehip, and every other oil you could possibly dream up; it's a powerful product.
Great for those with thinning hair or hair loss.
Nourishes the scalp and strengthens and protects hair against future damage.
Cons:
Can cause stains on certain fabrics.
Votala Hair Growth Serum
No need for harmful chemicals if you just want longer hair.
Best All-Natural Ingredients
Why use a chemical-laced product on your precious strands when you could use an all-natural formula (that's just as effective)? Votala Hair Growth Serum uses ginger, vitamin E, fleece-flower root, and other unique, organic ingredients to spur hair growth, restore nutrients, and prevent future hair loss. It's a one-of-a-kind formula that's quick-absorbing and easy to apply: Simply rub a couple drops onto your hair until it foams, massage it through your roots for a couple minutes, and then rinse off. Et voila; hair that's thicker, softer, and healthier.
Pros:
All-natural formula that consists of unique, organic ingredients; no chemicals needed.
Effective at preventing future hair loss, as well as repairing, restoring, and encouraging growth.
Helps to balance an oily scalp.
Formula is easy to apply and quick-absorbing.
Cons:
Again, not the cheapest hair growth oil.
Frequently Asked Questions
How do hair growth oils work?
Although each type of hair growth oil works a little bit differently, in general, these oils encourage growth by restoring nutrients to your scalp and strands, nourishing and hydrating the scalp, and stimulating hair follicles so that you're left with healthier, longer locks.
How do I know which type of hair growth oil is right for me?
There are lots of oils to choose from, and picking the right one for you depends on your hair texture and specific needs. It's usually best to consult with your hairdresser, to figure out what your scalp needs and what type of hair you have.
Should my hair be wet or dry when I apply my oil?
You can apply your oil when your hair is either wet or dry.
Why Trust Us
Since 2007, TotalBeauty has been committed to helping millions of people find the right makeup, skincare, and haircare products for their needs. Our experts know what works best for every face shape, skin type, hair type, and more. They are here to share that knowledge with everyone looking to upgrade their beauty routines or try something new.