The Best Face Cleansers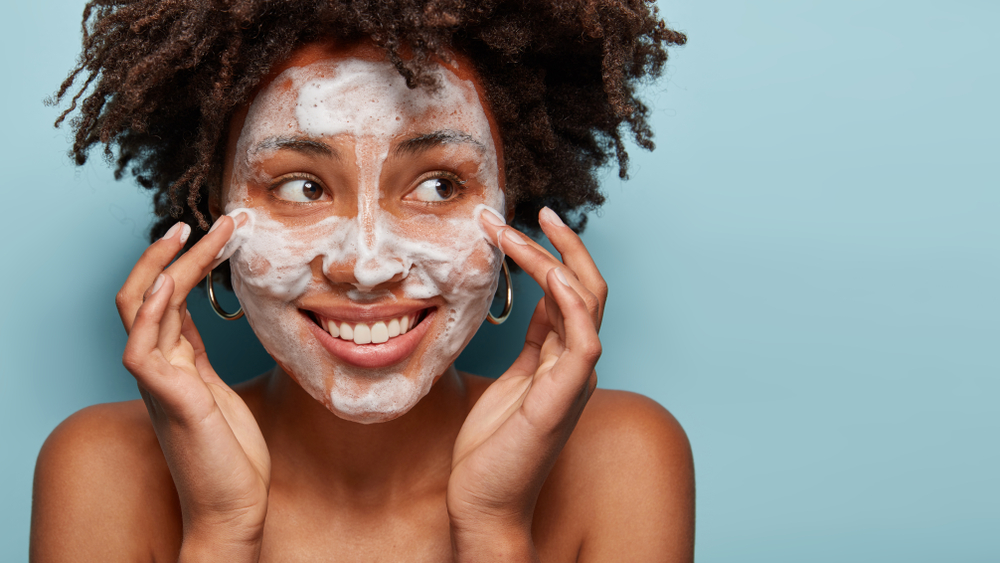 From sunscreen in the mornings to serums in the evenings, our skin routines take a lot of work to make sure our faces look young and healthy over time. But while there are many miracle products out there today, you'll need a clean face before you put any of them on. And here's where the right facial cleanser can really make a difference, not only prepping your skin for all the good stuff to follow but also keeping it rosy and wrinkle-free for longer. Now when it comes to picking a good face wash for you, there are several factors to keep in mind, specifically: what type of skin you have, how sensitive your skin is, and how much you're looking to clean at the end of the day. For example, if you tend to get breakouts from wearing heavy makeup, then the premium iS Clinical Cleansing Solution will wipe the extra mascara away while also cleansing your acne-prone pores. But if you're looking for a more delicate option that can be used year-round for combination-skin types, then you can't go wrong with the gentle cleanser by La-Roche Posay on our list. Read on to find more in-depth reviews of our favorite cleansers for every skin type available today.
iS Clinical Cleansing Complex
This brand always brings the goods, and their face wash is no exception.
If you struggle with acne, iS Clinical Cleansing Complex is a godsend. This highly-touted cleanser is the real deal—it does an excellent job of deep-cleaning the skin and vacuuming out every last trace of dirt and oil, but it's not at all harsh. It's quite the opposite, actually: this cleanser incorporates a blend of top-notch antioxidants, bio-nutrients, and mild resurfacing ingredients that work together to gently, thoroughly cleanse the skin and prevent acne from flaring up, all while preserving your skin's natural oils and tightening the pores.
Pros:
Forget about adding makeup wipes to your makeup routine — this cleanser can remove even the heaviest of foundations and mascara without irritating your eyes.
This stuff is super concentrated so you'll only need a truly pea-sized amount to foam up and cleanse your whole face. That means the bottle itself can last for months depending on how often you use it.
Cons:
This face cleanser will set your budget back a bit more than other products.
CeraVe Foaming Facial Cleanser
This cleanser gets rid of all the gunk but doesn't strip your skin.
CeraVe Foaming Facial Cleanser is awesome for oily skin, since it works into a foamy lather almost instantly, effectively removing excess oil and grime without disrupting the skin barrier. Dermatologists love the formula, too, which has hyaluronic acid, niacinamide, and three essential ceramides—these ingredients help to soothe, refresh, and hydrate the skin, and even diminish redness. Say goodbye to that familiar oily sheen, and hello to your newly clean, glowing complexion.
Pros:
Perfect for anyone with a sensitive nose, this cleanser has no added fragrances in it meaning your skin will feel its very natural best every time you use it.
Because this cleanser comes in a bigger bottle sized at a whopping 16 ounces, you don't have to be sparing when it comes to using the good stuff. For example, we love to use it on our bodies, too, especially in the hotter months.
Cons:
While it's great for oily pores, this face wash is harsh for users with dry skin.
La Roche-Posay Toleriane Hydrating Gentle Cleanser
A cream cleanser is best for those with dehydrated skin, and this cleanser is a winner.
Luxuriously creamy and oh-so-nourishing, La Roche-Posay Toleriane Hydrating Gentle Cleanser is definitely best for those whose skin tends to be a bit parched. Think of this cleanser as a big glass of water for your face—it's formulated with prebiotic thermal water, ceramides, niacinamide, and glycerin, so it's wonderfully hydrating for even the driest complexions. Plus, it helps remove even the heaviest eye makeup.
Pros:
Unlike other cleansers that only work on one type of skin, this particular wash can be used with some oily faces as well. That's why it's perfect for all-season use for anyone with combination skin that changes with the weather.
We love the one-pump system that keeps your counters clean and always dispenses just the right amount for your daily routine.
Cons:
You'll need to use a lot of cleanser to get it into a proper foam.
Bioderma Sensibio H20 Micellar Water
This micellar water is all the rage in the skincare world.
If you haven't yet heard of Bioderma, you're in for a treat. This oil-free facial cleansing product is many people's favorite French beauty secret. It's micellar water, which is a cleanser that uses purified water, light oils, and moisturizers to dissolve makeup and rinse away impurities. The result? Skin that looks and feels softer and fresher than a newborn's (well, almost).
Pros:
While you can definitely treat this cleanser like your regular face wash, one of the best things about micellar water is that you don't have to rinse it off after using it, making it a great option for those looking to spend less time in the bathroom.
Thanks to the super moisturizing effect of this water, you don't have to worry about stinging or irritation while washing your face, even if you've got super-sensitive skin.
Cons:
If you're worried about the environment, then you'll have to think twice about this cleanser as you'll need cotton pads to use it properly.
Frequently Asked Questions
Do I need to use a facial cleanser or can I just use regular soap to wash my face?
You really shouldn't use a bar of soap to wash your face. Soap can strip your skin of its natural oils and disrupt your skin's pH balance (which is a big no-no in the skincare world). Plus, a targeted facial cleanser can help you address your specific skin concerns.
Do I really need to double-cleanse at night?
That depends. If you wear foundation, or your skin is oily or acne-prone, then yes, you should double-cleanse your skin at night. If you wear minimal makeup, it's probably fine to just do a one-step cleanse.
How do I know what type of facial cleanser is right for me?
It all comes down to your skin type. Those with oily or acne-prone skin should opt for a light foaming cleanser, sensitive or dry skin types should use a cream-based cleanser, and normal or combo skin types will likely be happiest using a gel-based cleanser. If you do a double-cleanse at night, then using an oil-based cleanser first (to remove makeup) is a great option for all skin types.
About the Author
About the Site
TotalBeauty
Since 2007, TotalBeauty has been committed to helping millions of people find the right makeup, skincare, and haircare products for their needs. Our experts know what works best for every face shape, skin type, hair type, and more. They are here to share that knowledge with everyone looking to upgrade their beauty routines or try something new.