The Best Claw Clips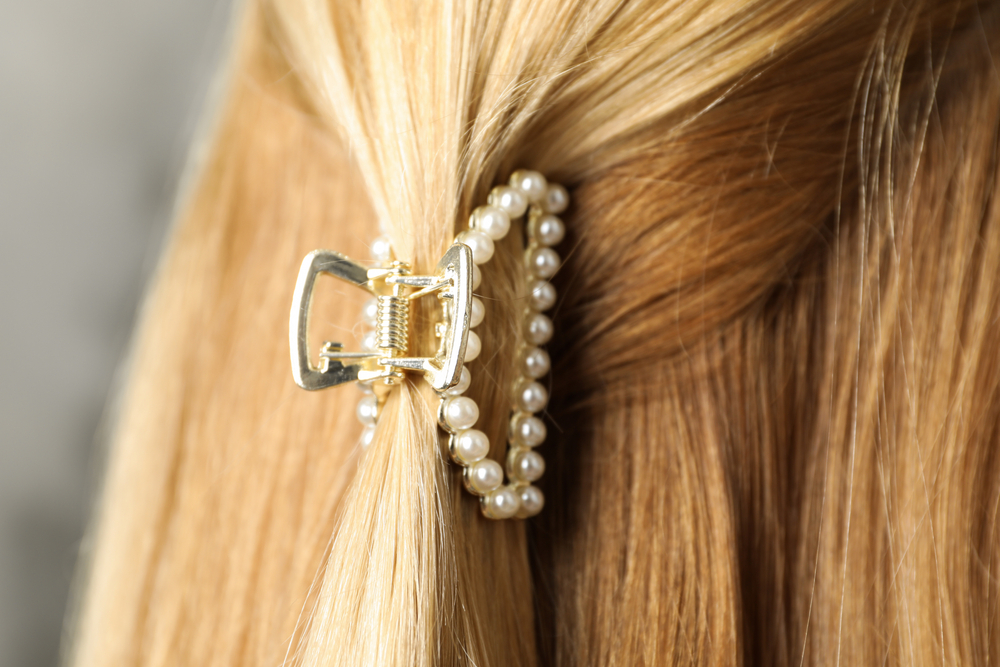 Claw clips, or butterfly clips, are a versatile hair accessory. For fashion-minded folks, they're a great way to hold twists, buns, and updos into place. They're also super practical and can keep all that pesky hair out of your face. If you've come to the market in search of a new clip, you're in luck. We've combed through the seemingly endless options to find the best of the best. Read on to discover the perfect claw clip for you and your hairstyle.
Revlon Strong Hold Hair Claw Clips
From their inexpensive price to their effective design, these claw clips have everything we look for in a clip.
Revlon Claw Clips easily score the top spot on our list. For one great price, you get two strong claw clips. These have a double layer of teeth to provide an extra-strong hold. They also typically stay in place all day, so you can clip up your hair and forget about fussing with it later. These clips are about four inches long, open widely, and can hold quite a lot of hair. With the style and the reliability that we look for, Revlon Hair Claw Clips are our go-to.
Pros
Durable and strong
The double rows of teeth help prevent fly-aways
Budget-friendly
Comes in a set of two
Cons
They may be too small to hold a lot of really thick hair securely
TOCESS Big Hair Claw Clips
For those with really rebellious hair that's prone to fly-aways, we recommend these matte clips which promise a nonslip grip.
Another great overall option, the Tocess Big Hair Claw Clips are a premium pack of clips that look good and work even better. The matte finish helps hold hair into place so that it doesn't move around throughout the day. Although there are definitely cheaper options out there, we always recommend these grippy clips to those tired of their hair slipping through the smooth teeth of cheaper clips. Best of all, each of the four clips in this set is four inches long and opens up like a hungry hippo, so those with heavy, thick hair should definitely give this pick a shot.
Pros
The four pastel shades can match just about any outfit
Although the matte helps keep a grip on hair, it doesn't damage or pull at the roots
They're strong and durable
They're the perfect size for a wide range of hair types
Cons
A little on the pricier side
Goody Hair Women's Classic Mini Hair Claw Clip (15 Count)
The mini claw clips from the '90s are coming back in fashion and Goody is here to introduce them back onto the scene.
Do you remember when mini claw clips were all the rage in the 90s? Well, those easy to use hair accessories are making a comeback. They're a great way to adorn short hair. You can also use several of them, making them a great fit for any type of hair. You can use them to create fun updos or pull back small sections of hair. This set comes with 15 clips. There are five different colors, and you get three of each. Each clip is 2.25 inches wide. The colors are all neutral, so they look great no matter what you're wearing. The hinge is strong, and these claw clips stay securely in place.
Pros
Set of 15 mini claw clips
Strong hinge
Neutral colors
Cons
They're small and don't hold a lot of hair, so you may need to use a bunch to support a lot of hair
DEATTI Hair Claw Clips for Women
These medium claw clips are strong and durable, making them a great fit if you have a lot of thick hair.
These strong claw clips hold a lot of hair. This is a set of three and you can select between a couple of different color options. Each color is beautiful. The clips each have some sparkle gems on them, adding to the elegant vibe. You can wear them for everyday style, or use them for semi-formal updos. The clips have interlocking teeth, to help them stay in place. They are medium size, measuring 1-1/4-inches wide by 3-1/3-inches long. Made from plastic, these clips are designed to be durable.
Pros
Set of three
Strong enough to hold thick hair
Gems for added beauty
Cons
They're medium-sized, not large, so make sure to check out the dimensions
Frequently Asked Questions
How can you wear claw clips?
Claw clips can be used for so many hairstyles. They are a really versatile addition to your hair accessories collection. You can use larger clips to hold your hair back in a ponytail or a half pony. Smaller ones are great for securing smaller twists of hair. You can add several small clips for a fun look. Claw clips of any size add beauty to a messy bun. You can use them with a french twist. Claw clips are perfect for keeping your hair out of your face.
Do you need to clean your claw clips?
It's important to keep your hair accessories clean. They can really get dirty from your hair product, natural grease, and any environmental grime. You can clean them with a wipe or let them soak in a sink full of soapy water. Then, make sure you rinse them thoroughly. Finally, always let them dry before storing them again or putting them back in your hair.
How can you keep claw clips from breaking?
If you put too much pressure on the hinge of a claw clip, you risk breaking it in half. To prevent this damage, it's best to treat your claw clips gently. Don't force them open too wide and try to shove all of your hair into it. This will help them to last longer.