The Top 5 Bath Salts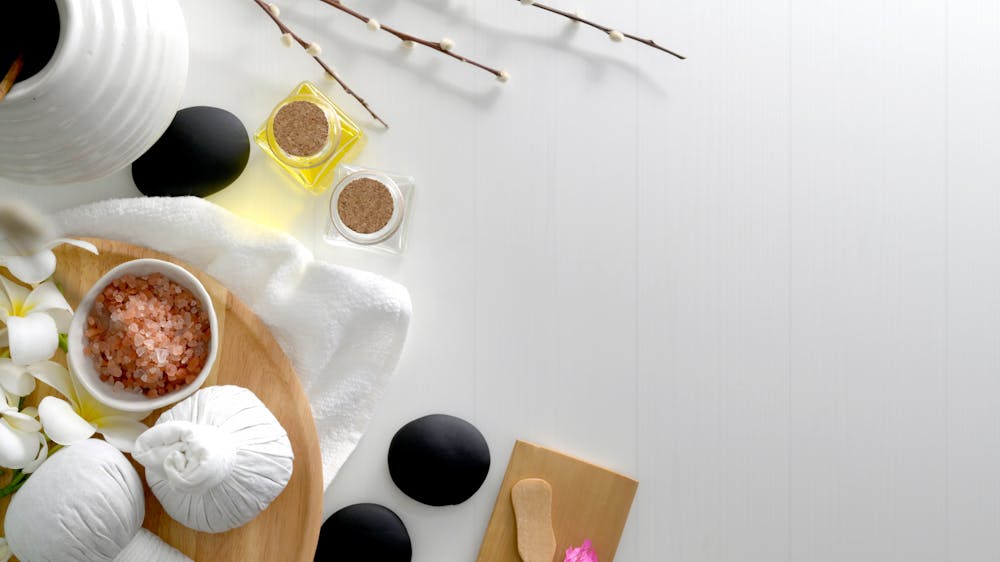 Is there anything better than a steamy, relaxing bath after a long work day? (Or any time, for that matter.) But no bath is complete without luxurious, bliss-inducing bath salts, of course. These water-soluble minerals have been used for centuries, for their mental and physical healing properties. And although many bath salts are derived from Epsom, there are all kinds of salts for soaking, depending on what your mind and body are craving. Whether you need to detoxify, soothe aching muscles, or simply have an all-body aromatherapy experience, you're bound to find the perfect type of bath salt for your needs on this list.
Sitz Bath Salt
For the most blissful soak imaginable, turn to Sitz Bath Salts.
Crafted with pure, all-natural salts and essential oils, Sitz Bath Salts are pure heaven, offering the utmost in relaxation after a long, stressful day. The high-quality oil blend—with notes of lavender, geranium, and frankincense—is specially formulated to help soothe every part of your body. And, the chemical-free formula even includes vitamin C, which neutralizes the bathwater for an optimally clean soak. All in all, nothing beats a bath with Sitz Bath Salts.
Pros:
Specifically designed to help soothe and relax every part of the body.
The juniper-and-niaouli scent is lovely.
Wonderful essential oil blend that includes lavender, geranium, and frankincense, plus vitamin C crystals to help neutralize your bathwater.
May even help with hemorrhoids.
Cons:
Not the cheapest bath salts, by any means.
San Francisco Salt Co. Lavender Bath Salts
There are few things better than a nice, long lavender-scented bath.
There's nothing like a lavender-scented soak in the tub to calm your nerves, ease your mind, and make you feel like you're at the spa (you know, instead of your tiny bathtub at home). Enter San Francisco Salt Co. Lavender Bath Salts, which are the perfect salts to use when you need to unwind. Naturally scented with lavender essential oil, this is a fine/medium grain blend of chunky, purple-colored sea salts that soften the skin, soothe muscle aches, promote a restful night's sleep, and just plain look cute in your tub.
Pros:
Superior-grade lavender essential oil + a fine/medium grain blend of sea salts = a winning bath combo.
Calming, pleasant (but not overpowering) scent.
Helps to ease the mind, soothe muscle aches, and promote a good night's sleep.
Comes in three sizes.
Cons:
Doesn't foam and make bubbles.
Dr. Teal's Foaming Bath
This Dr. Teal's wash foams up into a rich, bubbly lather, making it the perfect companion for a bubble bath.
Pamper yourself silly with Dr. Teal's Foaming Bath, which foams up into a nice lather, with long-lasting bubbles that gently cleanse the body and relax the mind. Formulated with smell-good spearmint and eucalyptus that stimulate the senses (along with pure Epsom salt), this luxurious product definitely belongs in every bath lover's cabinet. It's also very affordably priced.
Pros:
Foams up into a good lather; bubbles last for the duration of the bath.
Spearmint and eucalyptus make for a wonderful-smelling combination, while pure Epsom salt helps to cleanse the body and invigorate the mind.
Affordably priced.
Cons:
We'd love to see even more bubbles.
Ancient Minerals Magnesium Bath Flakes
Magnesium works wonders for stress, and these bath flakes are the best.
Ancient Minerals Magnesium Bath Flakes are better than therapy. (There, we said it.) Whether you need some serious stress relief, your muscles are in need of recovery, or you just want to chill out and relax, these flakes are an incredible bath tool to have on hand. Immerse your body and get ready to reap the many benefits of magnesium: from an improved quality of sleep to healthier skin to accelerated muscle recovery, and more.
Pros:
Carries all the benefits of magnesium: relaxed muscles, healthy skin, better sleep, and stress relief.
Comes in three sizes.
Cons:
You do have to be careful not to get the bath too hot when using these.
Thena Natural Wellness Organic Muscle Soak
Soak up the organic goodness.
Crafted from a blend of top-grade, organic essential oils—including arnica, peppermint, rosemary, and eucalyptus—Thena Organic Muscle Soak helps to soothe stiffness, boost energy levels, and relieve you of stress, fatigue, and anxiety. (And, um, who couldn't use all of that right now?) Although it doesn't come cheap, rest assured that this product is 100 percent worth every penny; chances are that you'll never want to get out of the tub.
Pros:
Top-grade blend of essential oils, including arnica oil, which is a key ingredient
Help to soothe tension, boost energy, and relieve you of stress and anxiety.
Cons:
Not cheap (but worth it).
Frequently Asked Questions
What type of bath salt should I choose?
That depends on what type of experience you want to have. If you need to soothe your aching muscles, Dead Sea or Epsom salts are best. Need to detox? Himalayan salts are excellent for flushing out toxins. And magnesium is great for relaxing and promoting healthy sleep.
How much salt should I put in the bathtub?
For a single bath, 1/2 cup of salts is sufficient, unless you're in severe muscle pain or trying to detox or get over a cold; in this case, you can use 1 cup of salts.
What are the benefits of using bath salts?
There are several key health benefits associated with using bath salts. From a mental health standpoint, bath salts help to decrease stress and anxiety and calm the mind. And from a physical standpoint, they're great for moisturizing, aiding in healthy sleep patterns, and soothing muscle pain.