The Best Travel Bottles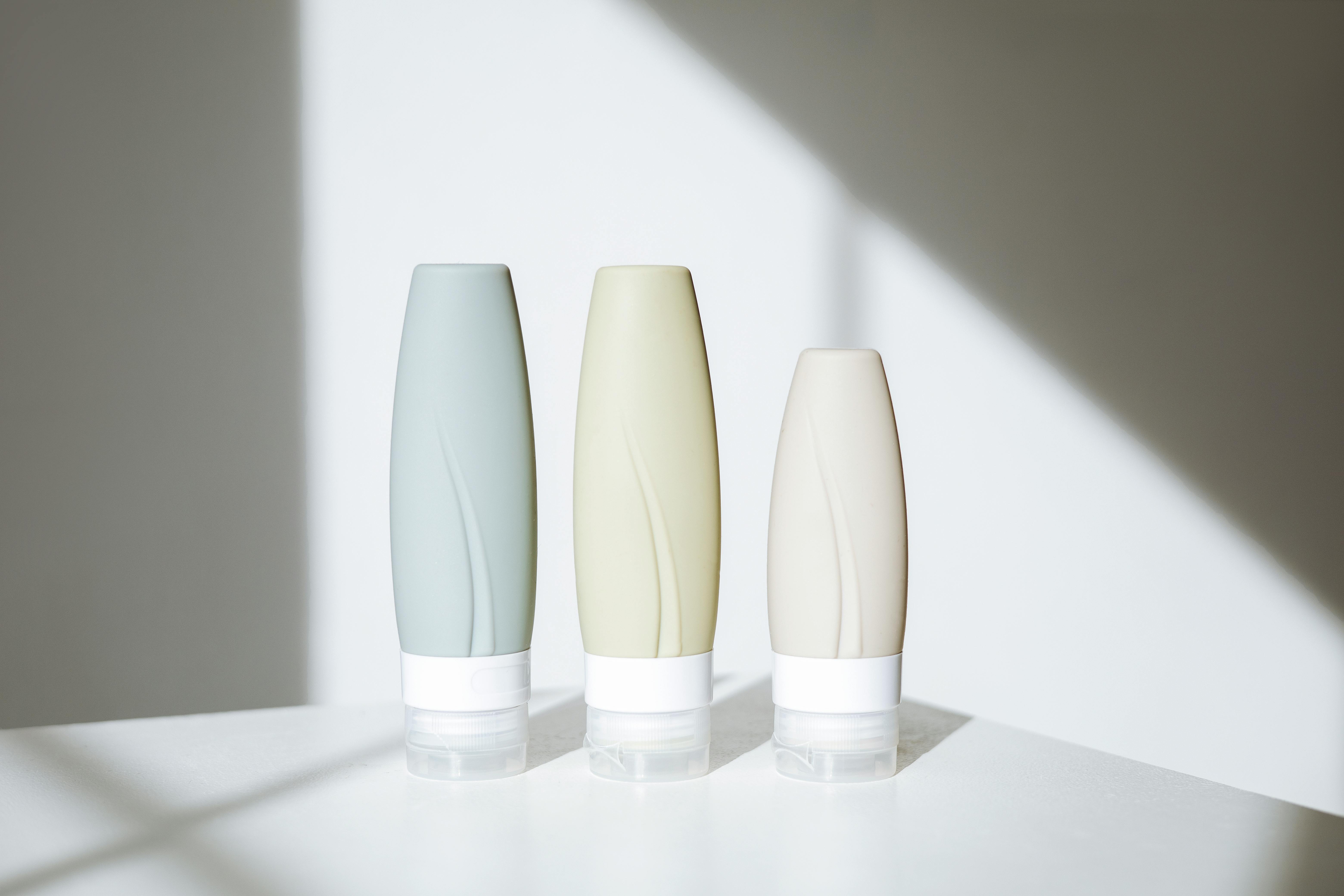 Bringing all your toiletries with you on vacation can be a hassle. Many full-sized containers are too large to be brought on flights, which can be especially frustrating when you're only bringing a carry-on suitcase. There is an easy solution to this conundrum, however, and it comes in the form of travel bottles. Travel bottles are mini containers that can be filled with your favorite shampoos, conditioners, body washes, and more. They are acceptable under most TSA guidelines, which makes them a lifesaver when traveling. Find the perfect travel bottles for you by reading on for a list of our favorite options.
AMMAX Portable Travel Bottles, Set of 4
This TSA-approved travel kit helps make sure your trip is awesome.
This option comes with four travel bottles, making it perfect for bringing your shampoo, conditioner, body wash, and lotion with you. These bottles feature a three-layer, leak-proof design that will help to prevent any spillage inside your luggage. Travel worry-free with this reliable option. Additionally, these bottles are made of a soft, BPA-free, food-grade silicone material. This means that in addition to being able to store your cosmetics, these bottles can also store consumable products on the go. You can use these bottles to transport sauces, salad dressing, or even baby food. With so many great features, it's no wonder why we recommend this amazing set of travel bottles.
Pros:
We find these really easy to fill up since the opening is nice and wide.
The silicone flexes and bends, which means pressure changes during airline travel won't cause any messy spills.
They're less wasteful than most bottles since you can squeeze out every last drop.
Cons:
They have a rounded bottom, so you can only stand them up on the cap.
Morfone Travel Bottles Set for Toiletries, Set of 16
This sweet set makes sure you have the appropriate container for each of your toiletries.
Do you follow a 10-step Korean skincare routine? Or do you have to pack for more than one person? Whatever the case may be, if you need a set with many travel containers, then this is the option for you. This set comes with a whopping 16 items, including four travel bottles, four cosmetic jars, two spray bottles, a travel bag, and more. The travel bottles and jars are very secure, so you won't have to worry about leaking. Additionally, the bottles are made of a soft, BPA-free silicone material that is easier to store than hard plastic alternatives. Additionally, these containers feature wide openings for easy filling. If you're looking for an all-inclusive option, then this is the perfect one for you.
Pros:
The included accessories are really useful. We love the scoops, funnel, cleaning brush, labels, and carrying case that all help keep your kit clean and organized.
The bottles themselves are leak-resistant thanks to the well-designed seal. They also have a valve that prevents drips.
Squeezing the bottles is satisfying and easy to control.
Cons:
The case is kind of flimsy, so it's only useful for storage.
Teapile Travel Bottles, Set of 4
There's no need to worry about your cosmetics making a mess within your suitcase when you travel with these leakproof containers.
If you've ever had your liquids leak in your suitcase, then you know how frustrating and stressful it can be. To avoid this scenario, you'll want to check out this option. It comes with four super leakproof travel bottles. The bottles feature a three-layer design that will prevent leakage or spillage. Moreover, these bottles are made from high-quality, food-grade silicone material, so you can safely store your cosmetics or consumables in them. In addition to the four travel bottles, this kit also comes with three cosmetic jars and two toothbrush covers. If you're searching for a reliable, leak-proof set of travel containers, then look no further; this is the option you want.
Pros:
For the four bottles and all the nifty accessories, this option is a steal of a deal.
We appreciate the different colors, so it's easy to identify which bottle contains which liquid.
Each bottle has a large 3-ounce capacity, so they're perfect for longer vacations.
Cons:
If you remove the caps from the silicone bottle for cleaning, it can be kind of difficult to get them back on.
HommieSafe Collapsible Travel Bottle Set, Set of 4
These collapsible containers help you stay within the liquid capacity requirements of airlines.
This collapsible option is super versatile. You can adjust the size of these bottles to meet different capacity requirements for liquids when traveling. You can also collapse the bottles after you've used up some of the product so that they take up less space in your luggage on the return flight. In addition to having a thoughtful design, these travel bottles are made of food-grade silicone that ensures safe storage and prevents unpleasant odors. Additionally, the bottles are leak-proof, as their lids feature self-sealing valves. Enjoy your vacation a little bit more with this set of four great collapsible travel bottles.
Pros:
The cute chic look adds a little extra glam to travel.
These can be stood up from their base, so you don't need to hold them upright while you fill them.
This is another great option for those with limited funds since the price is affordable.
Cons:
The folds in the bottles make it harder to squeeze out every last drop of a liquid, especially when the bottle is fully collapsed.
CRTWDMAN 2-Ounce Plastic Bottles with Caps, Set of 25
This set of 25 is a great option if you're a frequent traveler or selling travel cosmetics.
If you're a frequent flyer and seem to always misplace your travel bottles, then this is the option for you. This bulk set comes with 25 plastic travel bottles, so you'll always be able to have one on hand. This great quantity makes this option great if you want to distribute cosmetics. These travel bottles are made of excellent PET plastic material, and they feature great seals, are refillable, lightweight, and space-saving. Additionally, they come with a flip cap design that makes them super easy to use. Enjoy quality and quantity with this awesome bulk option.
Pros:
Although they aren't advertised as "TSA-approved", they fit all the requirements.
Unlike most silicone bottles, these are clear, so you can distinguish your shampoo from your hand sanitizer much more easily.
The caps are high-quality, sturdy, and easy to use.
Cons:
Unlike silicone bottles, these can't be squeezed flat to get out every last drop, so you may have to shake them upside down to dispense their contents.
Our Tips and Tricks
As anyone who's flown before can attest to, the air pressure changes in an airplane are very noticeable. Our ears "pop", our water bottles expand, and our toiletries leak. That's why we made sure we picked leak-proof bottles for our list. However, there are still a couple of steps you can take to ensure your bag doesn't get inundated with your shampoo.
The main culprit for bursting bottles in airplanes is the atmosphere. The air in your bottle is at a higher pressure than the air at higher altitudes, so it pushes against the inner walls of its container. Thus, reduce the air in your bottles by filling them up almost all the way. If you don't want to carry around that much liquid, you can often squeeze the silicone bottles before screwing on the cap to reduce their overall volume. As a final deterrent, you can also store all your bottles in a plastic bag.
Frequently Asked Questions
What liquids are allowed by the TSA in carry-on luggage?
The TSA asks flyers to observe the "3-1-1" rule when bringing liquids in carry-on bags. This rule states that each liquid item must be in a container that holds 3.4 ounces or less ("3"), all liquid items must go in one quart-sized plastic bag ("1"), and each passenger is allowed only one liquids bag ("1").
How do I clean my travel bottles?
Many travel bottles are made out of silicone, so washing them is a breeze. Simply unscrew the cap and rinse out the bottle using soap and water. If you have a gentle brush, you can use this with some dish soap for a thorough clean. Make sure to clean the cap in the same way too, since these usually have extra crevices where gunk can build up.
About the Author
Why Trust Us
Since 2007, TotalBeauty has been committed to helping millions of people find the right makeup, skincare, and haircare products for their needs. Our experts know what works best for every face shape, skin type, hair type, and more. They are here to share that knowledge with everyone looking to upgrade their beauty routines or try something new.