5 Best Teeth Whitening Strips for 2020 – Teeth Whitening Strips Reviews – Total Beauty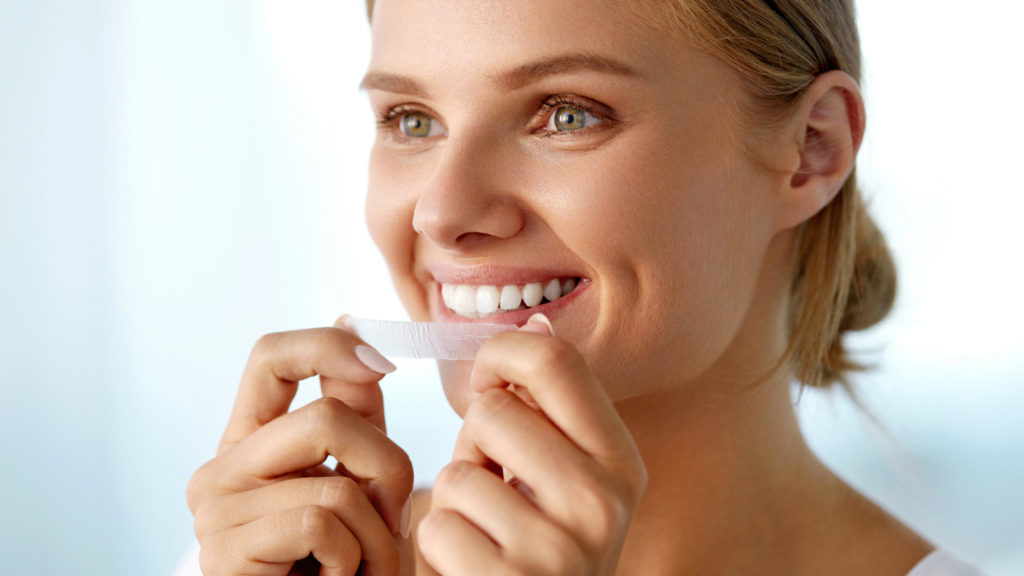 Are you pleased with the results of a tooth whitening paste? Maybe you are now ready to take things to the next level and bleach your teeth a few shades lighter. Teeth whitening strips work well as a relatively inexpensive alternative to having a bleaching procedure done in your dentist's office. Simply keep these plastic gel strips on your teeth for up to an hour a day, and lasting results can be seen within about a week. Let's have a look at some of the best and most reliable teeth whitening strips on the market.
Best Choice
The Crest 3D White Dental Whitening Kit contains forty-four strips and is meant to be used thirty minutes daily for twenty days for results the company claims will last twelve months.
Pros:
Two extra strip sets of 1-Hour Express are included to whiten teeth quickly, in case you would like to use them for an important event the next day. When the regular 3D strips are used for a half-hour a day, look for visible results within three days. The gel adheres well to allow talking and drinking water while using them. Crest recommends using their 3D White Toothpaste in conjunction with the whitening kit to further results.
Cons:
Crest 3D is not for use on loose teeth, cracked teeth, braces or other dental work as they adhere very tightly. For ultra-sensitive teeth, use a toothpaste-like Sensodyne instead of 3D White Toothpaste to brush your teeth. Tooth and gum sensitivity issues are normally experienced with this product. It contains sodium hydroxide (lye) to heighten the whitening effects of the hydrogen peroxide.
Easy-to-use
The Fairywill Teeth Whitening Strips are moisture activated, so there is no need to dry one's teeth before applying them.
Pros:
This kit contains twenty-eight strips to be used in fourteen days at thirty minutes per day. Fairywill claims that it uses a formula that does not cause sensitivity and that the final results will last up to ninety days. Like the Crest 3D product, one can talk and sip water while using the Fairywill brand. The kit includes a tooth shade assessment chart so you can see how well it works for you. It does not cause excess salivation, and they taste good. The kit is made in China.
Cons:
This product only contains one active ingredient, hydrogen peroxide, so that the whitening effects will be less than Crest 3D. The strips can be difficult to remove after the allotted thirty minutes. If not removed at the stated time, they can cause extreme sensitivity.
Best Natural Strips
The price is significantly less than Crest, although the Zimba Minty Teeth Whitening Strips are produced in the USA. It is a well-known brand.
Pros:
Zimba has a naturally minty taste, without a chemical after-flavor. You'll receive twenty-eight strips that are meant to be used over fourteen days. The treatment time is between thirty minutes to an hour, as you prefer. Zimba uses two active ingredients, hydrogen peroxide and coconut oil, which is also a buffer so that the formula is probably the most gentle teeth whitening strip available for sensitive teeth. Dry the teeth before applying the strips. They are barely noticeable when worn.
Cons:
The coconut oil buffer will keep these strips from performing on the same level as Crest and Fairywill. Even though coconut oil contains whitening agents, it is still an oil and will prohibit the hydrogen peroxide from reaching the inner core of your teeth. The strips do not adhere as well due to the oil.
Best For Sensitive Teeth
Lovely Smile Premium Line Teeth Whitening Strips claims that your teeth will lighten up to seven shades in the first week, and three extra shades during the second. Lovely Smile also says the results
Pros:
Lovely Smile also says the results will last up to one year. This brand also contains enough strips for the two week usage period. Lovely Smile is one of the least expensive teeth bleaching products, but it contains a higher percentage of its active ingredient hydrogen peroxide. They claim the strips cause no teeth or gum sensitivities. Most users concur with the claims of Lovely Smile and say they work better than the much more expensive Crest brand. The product is made in Germany.
Cons:
Lovely Smile does not adhere to the teeth as well as the other brands listed here because the gel is thicker. They are more difficult to remove the closer one gets to the one hour maximum treatment time.
Best Price
The Fancymay Teeth Whitening Strips contain no hydrogen peroxide, but use two active ingredients, sodium chlorite, and coconut oil instead.
Pros:
The best-priced product in a fourteen-day treatment, Fancymay, is very effective and produces almost instant results without making the teeth and gums hurt. Like Lovely Smile, the treatment time is between thirty to sixty minutes daily, and the kit is also made in Germany. The strips are hardly noticeable when wearing. They cling well to the teeth for the full hour. Make sure to dry your teeth first before using the strips.
Cons:
The manufacturers suggest that the product not be used if there is any tooth decay or if you have swollen gums. Unlike other teeth whitening strips, it is recommended to brush before using this product. In some users, temporary white spots might appear and, thereafter, disappear. The strips are plain rectangles that fold without cutouts for the teeth. So the whitening strips may bunch.
What Really Matters
A major, trustworthy brand
Hair grows back. Skin rejuvenates. Teeth do neither on their own. Using an unknown brand for cosmetic reasons could be a risk to the health of your teeth, even if the ingredients are listed.
Make sure you trust the brand you've chosen. Although most kits contain various dilutions of hydrogen peroxide or carbamide peroxide and are safe to use, others might contain another teeth whitener, chlorine dioxide, which can erode enamel and weaken the teeth.
Understanding how the kit works
A good teeth whitening strip kit will come with strips that cover the front and back of your teeth. The back of the teeth are important because the strips are not just working to remove surface stains, but they whiten stains on the inside of the teeth, too, ones that come from trauma and age. For best results, your teeth need the double action of one strip that folds over the teeth to cover both surfaces.
The key ingredient in teeth whitening strips is usually hydrogen peroxide, which is trapped in a gummy substance on the strips. Unless the instructions indicate otherwise, dry your teeth first with a towel before applying the whitening strips. Once they have adhered, the gum keeps the active ingredient next to the surface of your teeth for more effective cleaning than a mouthwash or toothpaste can provide. Strips clean interior and exterior staining, but a whitening toothpaste only brightens the outside of your teeth.
Following manufacturers suggestions and instructions
Active ingredients in the strips can cause teeth and gum sensitivities, so it's essential to follow the instructions that are written on the box exactly. Only a percentage of users experience sensitivities while using them, but there are kits made especially for sensitive teeth if you need to downgrade the active ingredients.
What's In Right Now
Natural-substance based products that lower the risk of tooth and gum sensitivities are popular at the moment. Natural products contain the same active ingredients as the chemical-based varieties from Crest or Fairywill, but the solution is usually buffered with coconut oil to help avoid irritation. Coconut oil aids in teeth whitening and helps preserve the results of the at-home procedure over time.
Prices
Expensive, $50 – $100: Products that claim to be professional-grade fall into this category, like ones that contain higher percentages of active ingredients and others that come with a blue or LED light to enhance the effects of the strips.
Mid-range, $20 – $50: From the same companies that market professional-grade products, like Crest, the products in this category contain fewer active ingredients, although many are labeled "pro" or "professional.' Natural varieties are in this category, as well.
Cheap, $8 – $20: This category hosts lesser-known brands of teeth whitening strips. Because the strips are cosmetic and do not have to be approved by the American Dental Association, exercise caution.
FAQs
How do teeth whitening strips differ from what dentists recommend to whiten teeth?
Teeth-whitening strips are a step up from whitening toothpaste, but there are other more effective products beyond strips. At times, a dentist will recommend strips, but their product of choice is tray-based systems. If a dentist constructs the trays, they will fit your teeth perfectly, ultimately limiting the risk of gum sensitivities due to the higher percentages of active ingredients in the bleaching gel that is used with the trays. When the trays are custom made, it helps keep the gel from touching the gums. If your dentist recommends that you purchase a tray and gel system over-the-counter, it will work similarly.
Professional-strength gel trays are usually worn more than an hour and can whiten teeth by up to eight shades in four weeks. Strips are worn for up to an hour a day and normally improve the appearance of your teeth between two to five shades.
What is the difference between teeth whitening strips and professional teeth whitening?
Dentists use high concentration solutions that are brushed directly onto the teeth then treated with light, lasers, or heat. These treatments can cost up to five hundred dollars, but produce visible results in a single, one-hour treatment. Usually, more than one appointment is required. Strips only whiten natural teeth. Dental work is necessary if you have veneers or other dental work to bleach.
How do I get the results of teeth whitening strips to last longer?
Even the teeth whitening conducted in a dentist's office is not permanent. The results of any tooth whitening treatment are going to depend on the amount of staining you have. You can better your results by getting a regular dental cleaning first to remove plaque, before starting with your teeth whitening kit. Make sure to wait until your gums are fully healed first before proceeding with the teeth whitening kit.
The results generally last one to four months. During and post-use, make sure to brush your teeth more often and to do so correctly. Try using teeth whitening toothpaste or other oral hygiene products that contain teeth whitening ingredients such as hydrogen peroxide, baking soda, coconut oil, activated charcoal, lemon, or vinegar. Drink more water. Lastly, avoid substances that yellow and darken the teeth like tobacco, coffee, and black tea – or at the least brush your teeth after consuming.
Should you brush your teeth before or after using teeth whitening strips?
If you choose to brush your teeth before applying the strips, make sure to wait at least an hour for your gums to repair fully before applying the strips. Remember, gums are sensitive to hydrogen peroxide and other active ingredients in teeth whitening kits.
When removing the strips, there may be a bit of gel adhering to your teeth. You can do several things: (1) rub it into the teeth and allow it to dissolve over time, (2) remove it with your finger and rinse, or (3) very gently brush it away.
What should be avoided when using teeth whitening strips?
Never use teeth whitening strips for longer than recommended in the instructions or more frequently than indicated. Straying from the manufacturer's suggestions for use could excessively bleach your teeth and lead to a blue color or even transparency. Smoking while the strips have adhered to the teeth can also inhibit the effects of bleaching and cause undesirable results. Try to wait a few hours before lighting up.
Because all foods and drinks, when allowed to remain on the teeth, can begin to erode enamel, it's a good idea to follow your dentist's advice and brush after every meal.