The Best Synthetic Wigs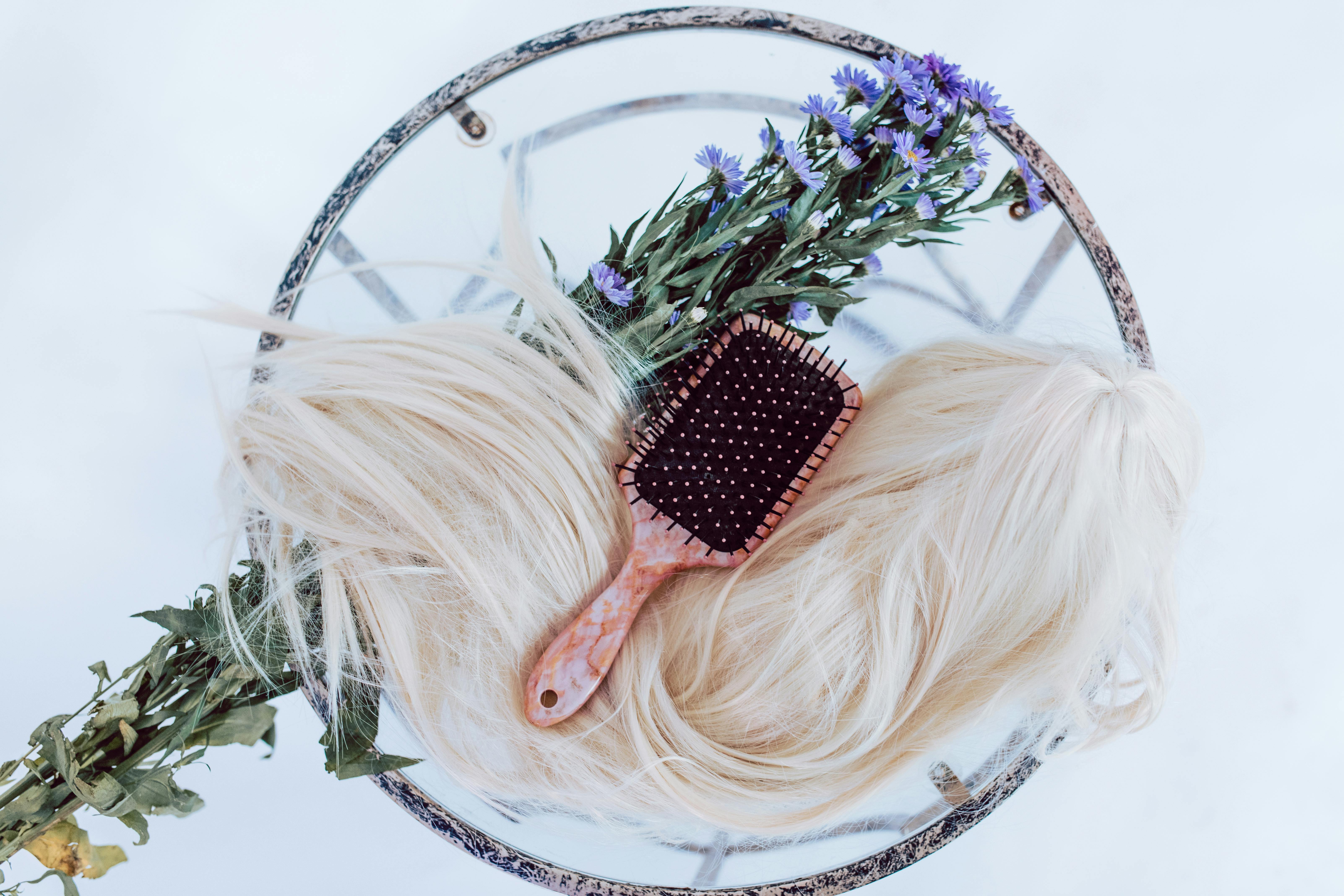 Synthetic wigs are an awesome way to switch up your style or dress for a fun party night. Below, we've gathered some of the best pieces being sold today, so you can snag the perfect type. Read on to discover natural-looking wigs, bold colors, beautiful cuts, and more:
Kaneles Mullet Wig
And they brought their mullets. You can have one too with this soft and silly wig from Kaneles.
While it's no time-traveling phone booth, this mullet wig is the next best thing. This fun wig comes in several different hair colors, so you're sure to find one that suits you. The strands are made with high-quality synthetic materials, and they're heat-resistant for styling potential. Since it's so affordable, we found this wig to be perfect for costumes and party wear. And if the party goes on all night, this wig is comfortable enough to be worn for hours at a time.
Pros:
We like the grip of this wig. The cap uses a thin rubber webbing that naturally adheres to your scalp.
Once adjusted, this wig looks surprisingly authentic. The colors and fibers have the consistency of natural hair.
Cons:
This only comes in one style — the mullet. We would have loved for there to be other 80s-themed options. 
VCKOVCKO Wavy Cosplay Wig
Check out these brilliantly bright shades if you're looking for the best way to dress like your all-time favorite character.
As you prepare for your next big cosplay event, this stunning, brightly colored wig could be the perfect addition to your costume. Its middle-length cut is both comfortable and cute, and it comes in a variety of colors to suit your character's specific needs. Additionally, this wig is made of high-quality fibers, so it won't shed or tangle as you go about your day. And, if you're not into cosplay, we think this wig is beautiful and comfortable enough for daily use.
Pros:
The hairline on a lot of wigs tends to look unnatural, but this one naturally blends in with your scalp, thanks to the adjustable and breathable cap. 
Even if you have really long hair, this wig does a good job hiding it.
We love that there is a multitude of colors to choose from. And considering the price, we think it's worth buying more than one.
Cons:
The short, wavy cut with bangs is the same for every color option.
Topcosplay Wig and Crown
This super cute wig is the perfect introduction to synthetic pieces for kids. Its included crown is pretty great, too.
What child hasn't wanted to be royalty? This crown-adorned wig gives your child the chance to play princess whenever they want. And since it's adjustable, the wig should fit them for quite some time.
This wig comes in a beautiful pink color with soft blue hues underneath. It's soft to the touch with a natural look. It's even heat-resistant and washable in case your child gets a bit messy while roleplaying.
Pros:
Unlike other wigs in this price range, this one is comfortable for extended wear. Your child shouldn't experience any itching or scalp irritation.
We like that it's adjustable enough to fit as your child grows so that they can enjoy this wig for a couple of years or more.
Cons:
The crown included crown is pretty flimsy and liable to break. 
Joedir Long Synthetic Wig
This incredibly long synthetic wig gives you the look you want without taking years to grow your own strands.
Joedir's synthetic wig is perfect for all of your long hair needs. It measures an impressive 30 inches long. The soft natural waves give it a cute, versatile style ideal for cosplay or everyday wear. Whether you're looking for orange or a natural black, this wig comes with plenty of color options.
This wig is both durable and soft enough for long-term use. You can even use a flat iron to style it. 
With the proper maintenance, this wig should last you a long time.
Cons:
The price is much higher than that of other synthetic wigs we've reviewed.
ELIM Short Curly Wig
This stunning wig comes in all the curl styles — each one as voluminous as the real-life versions.
This wig is perfect for bringing in the curls. It's short and voluminous, giving you an incredibly twirly style with ease. It even comes in multiple styles — tight curls, ringlets, loose versions, etc.
This piece is made of high-quality materials, allowing it to be heat-resistant and long-lasting. It has a comfortable feel and an adjustable cap to give every user the perfect fit. It also comes with a few extra gifts — earrings, a wig brush, a gift box, and more, making it the ideal product to give away or keep for yourself.
Pros:
You will definitely turn some heads with this wig because it looks deceptively real. Between the natural shades and bouncy curls, you may forget that you're wearing a wig.
If the wig doesn't feel perfect when it arrives, it can be cut and curled to suit your style.
Cons:
The price is slightly higher than average, but the quality and extra gifts are well worth the added cost.
Our Tips and Tricks
Synthetic wigs are a great way to spruce up a costume or add some edge to your Friday night outfit. But once the party is over, how do you keep the wig clean and tangle-free? It's not as difficult as you might think. Unlike human hair wigs, synthetic wigs are much easier to maintain. After about 6-8 wears, wash your wig in wig shampoo. It's important that you use a shampoo made specifically for wigs. Otherwise, you might damage the synthetic fibers. Pour about a tablespoon worth of shampoo in a water-filled bowl. Gently massage the fibers as well as the cap to remove any excess oils and sweat. Once you're done, rinse and apply the wig conditioner. Do not get any conditioner on the cap portion, as it may loosen the hair from the wig.  Massage the conditioner into the fibers and then rinse and pat dry. Speaking of dry, conditioning spray is an excellent alternative if you don't want to use a traditional conditioner.
Frequently Asked Questions
Q: What products do I need to style my synthetic wig?
A: Most of these products will look great without styling, but if you do want to change the feel, make sure you use products that are designed to work with wigs such as spray, gel, etc.
Q: Doo synthetic wigs stay in place?
A: Yes, most of these products have adjustable bands to provide the perfect fit. If your wig still needs some help to stay in place, you could try a wig cap or double-sided tape to help.
Why Trust Us
Since 2007, TotalBeauty has been committed to helping millions of people find the right makeup, skincare, and haircare products for their needs. Our experts know what works best for every face shape, skin type, hair type, and more. They are here to share that knowledge with everyone looking to upgrade their beauty routines or try something new.