The Best Sunscreens For Your Face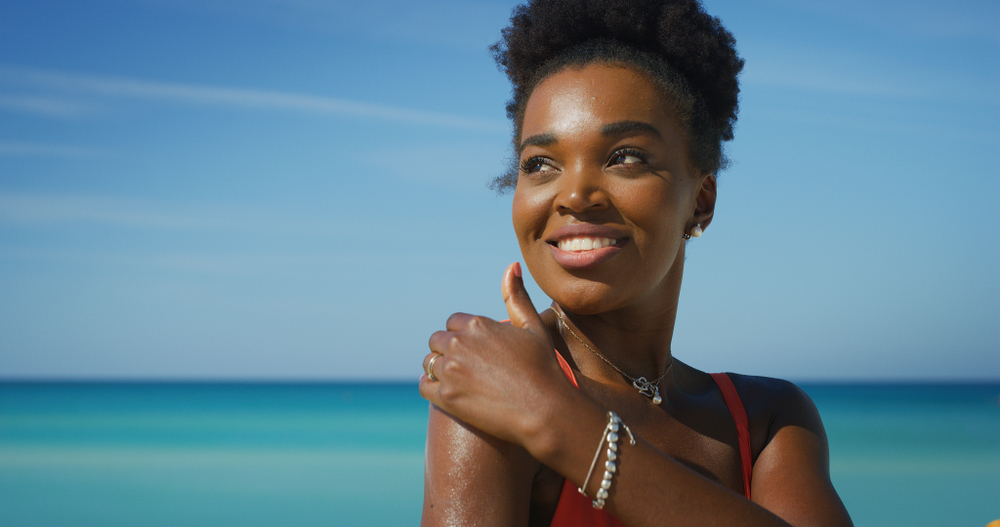 Sunscreen isn't just for when you know you'll be outside for an extended period. Instead, it's an essential part of a daily skincare routine. Applying sunscreen is one of the easiest and most effective ways to keep your skin healthy, and it's important to wear it whether it's sunny or cloudy. When used regularly, sunscreen helps protect your skin from the ultraviolet rays that cause premature aging, skin cancer, and sunburn. Choosing the best sunscreen to meet your needs isn't always easy, so we've reviewed the top options to help you out. Keep reading to learn about the best sunscreens for your face.
What to Look for
When choosing the best sunscreen for your face, it's important to keep the following factors in mind: UVB and UVA protection, SPF factor of 30 or higher, and your skin type. We quickly identified Unseen Sunscreen as our favorite during our search because its weightless formula goes on smoothly and absorbs in a snap while providing broad-spectrum protection against the sun's harmful rays. However, if you're looking for a sunscreen with a range of nourishing ingredients like aloe, papaya, and guava, the sunscreen by Hawaiian Tropic is an excellent option. Read on to learn more about our top picks and what made them stand out.
Supergoop Broad Spectrum Sunscreen For face
This broad-spectrum sunscreen helps protect your skin against the sun's harsh rays without weighing it down.
This sunscreen by Supergoop seemingly does it all. It blends into the skin without leaving a white residue and works well with all skin shades. In addition to sun protection, it helps protect skin from the blue light smartphones, computers, and tablets emit. Plus, it's loaded with skin-nourishing ingredients, including soothing frankincense & hydrating meadowfoam seed that help protect your skin from the elements.
Pros:
This sunscreen is a clear gel that easily spreads onto the skin and absorbs almost instantly, making it an excellent makeup primer.
The lightweight formula is completely invisible and can be reapplied on top of makeup throughout the day.
Cons:
The bottle is on the small side.
Hawaiian Tropic Weightless Sunscreen For Face
Give your face the nourishment and protection it needs with this lightweight and breathable broad-spectrum sunscreen.
Hawaiian Tropic is one of the most well-known names in sun protection, and its facial sunscreen doesn't disappoint. It's weightless and absorbed into the skin almost immediately after application. Although it has a thick texture, it feels light on the skin, making it comfortable to wear in both dry and humid weather. Its botanical blend leaves your skin feeling moist and keeps it hydrated for up to 12 hours while effectively protecting your skin from the sun.
Pros:
This sunscreen doesn't leave a white cast on the skin, no matter the skin shade. Instead, it leaves all skin types with an attractive glow.
This sunscreen has a budget price, yet we found it works as effectively as more expensive brands.
Cons:
It has a strong fragrance.
La Roche-Posay Dry Touch Sunscreen For Face
This non-comedogenic sunscreen helps prevent blemishes while delivering broad-spectrum protection against the sun's harmful rays.
If you have acne-prone skin, it's essential to choose an oil-free sunscreen that won't clog your pores. This sunscreen for the face from La Roche-Posay was formulated to provide your skin with broad-spectrum protection while helping absorb oil on the skin's surface that could lead to breakouts. What's more, it's waterproof for up to 80 minutes, so you can enjoy a swim or intense outdoor workout worry-free.
Pros:
We were surprised by how well this sunscreen controlled oil production, leaving skin with a non-greasy, matte look that lasts for several hours.
This sunscreen helps control hyper-pigmentation, and it's made with ingredients that won't cause breakouts.
Cons:
It dries really quickly, so you'll want to blend it well.
Cetaphil Sensitive Skin Sunscreen For Face
With ingredients to help nourish and repair the skin, this sunscreen provides broad-spectrum protection without irritation.
This sunscreen by Cetaphil protects your skin from the sun's harmful rays without irritating your skin. The antioxidant blend is fortified with provitamin B5 to help protect skin from free radical damage. It also contains edelweiss extract to help skin absorb moisture without clogging pores. It's hypoallergenic and fragrance-free, making it an excellent choice if you have sensitive skin.
Pros:
The ingredients in this sunscreen don't cause acne, don't sting, and don't leave skin feeling greasy or oily, making it an ideal option for people with sensitive skin.
We found that regular use of this product helps reduce the appearance of brown spots on the face caused by exposure to the sun.
Cons:
It tingles a bit when you apply it.
CeraVe Moisturizing Sunscreen for Face
This sunscreen infuses your skin with ingredients designed to lock in moisture while providing broad-spectrum protection against the sun's harmful rays.
You won't need an additional moisturizer for your face when using this sunscreen by CeraVe. The sunscreen uses hyaluronic acid to help maintain the skin's moisture and niacinamide to help calm it. It's lightweight and is quickly absorbed by the skin, leaving it feeling soft to the touch. Plus, it contains essential ceramides found in the skin to help fortify your skin.
Pros:
One pump of the bottle is enough to cover your entire face with this sunscreen and keep it moisturized throughout the day.
This formula is non-greasy and absorbs quickly while infusing skin with ingredients that keep it feeling soft and hydrated all day.
Cons:
It's a bit tricky to layer this product.
Frequently Asked Questions
Is SPF 30 or SPF 50 better for your face? 
SPF 30 and SPF 50 sunscreens provide almost the same level of protection from UV radiation, so both are an excellent choice. The SPF factor tells you how well a sunscreen protects your skin from sunburns caused by UVB rays. If you have light skin or a condition that increases your sensitivity to sunlight, it's best to select a sunscreen with a high SPF.
Should you wear sunscreen every day?
Yes, you should wear sunscreen daily, rain or shine. Even when indoors, your skin is exposed to the sun's harmful rays, making sunscreen an essential tool in preventing sun-related skin damage. Furthermore, when it's cloudy, your skin can still absorb up to 80% of the sun's rays. Wearing sunscreen every day will help protect your skin against skin cancers and premature aging.
About the Author
Why Trust Us
Since 2007, TotalBeauty has been committed to helping millions of people find the right makeup, skincare, and haircare products for their needs. Our experts know what works best for every face shape, skin type, hair type, and more. They are here to share that knowledge with everyone looking to upgrade their beauty routines or try something new.