5 Best Sunscreen Sprays for 2019 – Total Beauty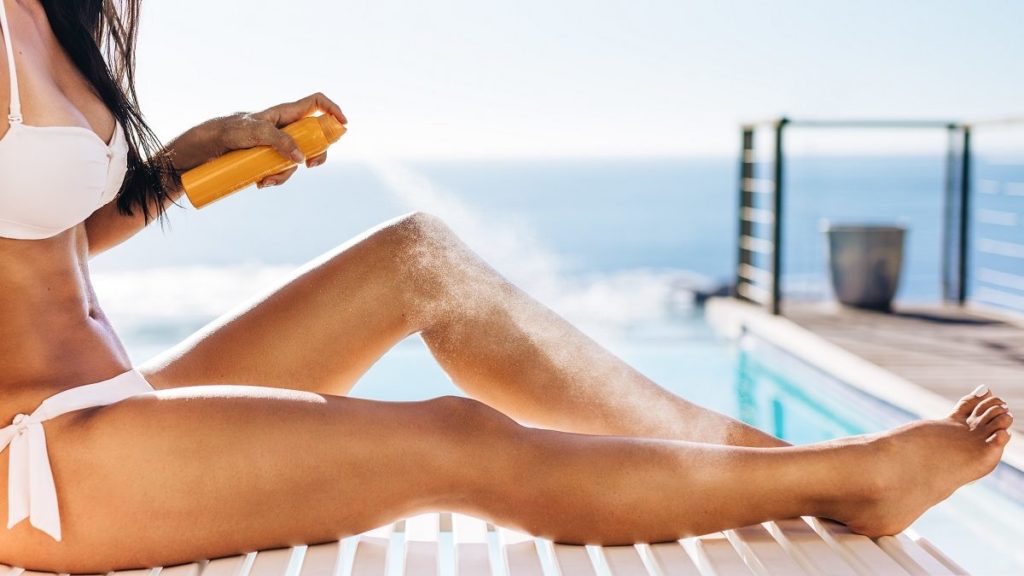 Sunscreen helps protect the skin from the sun's harmful rays. The effects of sun exposure include skin damage, premature aging, and even skin cancer. Applying sunscreen creates a barrier to shield the skin, which can either block the sun altogether or filter out the most harmful rays. Sunscreen should always be worn even when it's overcast as these rays can still penetrate the ozone layer and cause skin damage. If you need a new sunscreen, here are our top picks:
Best Choice
The KINeSYS SPF 30 sunscreen is suitable for the whole family. It's oil- and alcohol-free and can be used on the face and body.
Pros:
The KINeSYS SPF 30 sunscreen provides both UVA and UVB broad-spectrum protection. It has a clear formulation meaning all skin tones can apply this without it leaving a white cast on the skin. It provides up to 80 minutes of protection in the water, making it ideal for the beach. The oil-free formula also means it won't disrupt your grip when playing tennis or similar sports. It's also fragrance-free, which is ideal for those who dislike the smell of sunscreen or have extremely sensitive skin.
Cons:
It's SPF 30, which only offers average-level protection and isn't ideal for ultra-fair skin. The clear appearance may make it difficult to see where you've applied the product, meaning you might miss spots.
Best with Instant Bronzer
Australian Gold spray gel sunscreen provides SPF 4. It contains natural bronzing agents, acting as a self-tanner as well as sun protection.
Best with Instant Bronzer
Pros:
If you prefer a tanned look, this sunscreen has bronzing pigments in its formulation. It will give you a sun-kissed glow through application alone, helping to avoid sun damage through tanning. It also contains sunflower seed oil and olive fruit oil, which will deeply hydrate the skin as you apply it. The fragrance is a combination of coconut, orange, and vanilla, which is different from regular sunscreens that often smell like chemicals.
Cons:
SPF 4 only offers 75% protection against UVB rays, so it's not the best product on the market for protecting skin against damage or premature aging. The low level of protection also makes it unsuitable for delicate skin types. The fragrance may be too feminine for some. Also, the bronzing pigments may be difficult to apply evenly across the whole body.
Best Hydrating Formula
The Sun Bum original sunscreen offers SPF 30 within its moisturizing formula. It's also gluten-free, vegan-friendly, and dermatologist tested.
Pros:
Offers SPF 30 broad-spectrum UVA and UVB protection with a reapply time of 80 minutes. The formula is non-comedogenic, which means it won't cause breakouts or blackheads on the skin. It's also paraben-free, cruelty-free, gluten-free, PABA-free and oil-free. The packaging does not allow light to penetrate it, which helps preserve the product from breakdown. All of Sun Bum's products are tested by the Skin Cancer Foundation to ensure that they adequately protect the skin.
Cons:
Some users have found that this was not suitable for use on the face due to reactions around the eye area. For those with sensitivities, you may have to buy a separate SPF to use on the face that is gentler around the eyes.
Best for Kids
Designed with your child's delicate skin in mind, the Babyganics sunscreen offers SPF 50 protection. For added value, this product is supplied as a two-pack.
Pros:
Babyganics is specifically designed to be used on the extremely delicate skin of children. It offers SPF 50 as well as UVA and UVA protection. It's also water-resistant for up to 80 minutes. It's formulated with plant-derived ingredients and is pediatrician and dermatologist tested. In addition to being tear-free, it's also formulated with nourishing seed oils to gently hydrate the skin. You will receive two bottles of this sunscreen per order, which creates an incredibly good value.
Cons:
It's formulated with octinoxate which is a controversial ingredient, as it can enter the bloodstream and cause damage to wildlife in the ocean. It has a white appearance, which is helpful to be sure you've applied it everywhere but may be less suitable on deeper skin tones.
Best Travel Size
The Supergoop! sunscreen has an oil formulation and offers SPF 50 protection. It's packaged in a handy pump-style bottle for easy application.
Pros:
It offers SPF 50, which is higher than the average sunscreen. The oil formula makes it easy to apply to the skin, and its colorless appearance makes it ideal for all skin tones. Oils tend to be more hydrating to the skin and can give a healthy sheen that can be quite flattering, especially on dull or dry skin. It is formulated with meadowfoam for additional hydration. It is available in a travel-sized 1 fl oz bottle or a larger 5 fl oz bottle.
Cons:
It doesn't mention any UVA or UVB protection. Although the transparent formula makes it ideal for all skin tones, it also means you cannot see where you have applied the product. It has a strong fragrance that might not be to everyone's preference. It also contains 7.5% octinoxate.
What Really Matters
Sunscreen Versus Sunblock
When looking to protect yourself against the sun's harmful effects, it can be confusing to know whether to buy regular sunscreen or sunblock.
Sunscreen defends the skin by absorbing the UV rays before they are able to reach deeper levels of the dermis. It doesn't prevent all rays from getting in, so might not be suitable for use in very sunny climates. Sunscreen is usually invisible once applied, which makes it very popular. Those with sensitive skin may find that a regular sunscreen doesn't give adequate protection due to the fact that it still lets some rays in.
As the name suggests, a sunblock literally acts as a physical barrier. It sits on top of the skin to prevent UV rays from penetrating the skin. Common ingredients found in sunblock include titanium oxide or zinc oxide. It provides almost complete protection against skin damage due to the sun, meaning it's suitable for those with fair skin. Sunblock can be more noticeable when applied to the skin.
Protection Level
It is recommended that everyone wears sun protection every day. This is because the sun can cause premature aging, skin damage, and even skin cancer. The higher the SPF, the more protection it will offer; however, it must be applied throughout the day, as it can wear off. Also, look for sunscreen or sunblock that has both UVA and UVB filters. Ideally, it should also be water-resistant, so make sure this is the case before heading into the pool or the sea.
Formulation
No two sunscreens are the same and you will find a variety of formulations, including oils, creams, and sprays. In order to get adequate sun protection, use sunscreen. It's easy to apply. Clear sunscreens feel hydrating on the skin, but it can be difficult to see which areas have been missed, leading to sunburn.
If you have sensitive skin or if the sunscreen is to be used on babies and children, it must be at least SPF 50. Most sunscreens suitable for children will be specifically formulated for them and should also be fragrance-free as well as dermatologist tested.
For deeper skin tones, avoid any sunscreens that do not blend down as you rub them in. Otherwise, you could be left with a white cast over the skin. Look for a transparent formula or a white formula which turns transparent as it is applied, so that you don't miss any spots.
Prices
Cheap
More affordable sunscreens can be picked up for around $12. Cheaper sunscreens may include travel sizes. Always check that the sunscreen gives a good level of protection against UVA and UVB rays.
Mid-Range
The average price for sunscreen is $15. These sunscreens are often sold in both oil and cream variations. The majority of sunscreens at this price point are SPF 30, which is fine for everyday use, but may not be suitable for delicate or fair skin.
Expensive
Premium sunscreens cost upwards of $20, although some luxury brands can cost over $50. The difference with high-end sunscreen is their improved technology and their higher levels of SPF protection. By paying more for your sunscreen, you will find brands that offer dry-touch technology and an invisible finish.
FAQs
What level of SPF do I need?
The higher, the better! Most people choose SPF 30, but those with fair skin may wish to opt for SPF 50. No sunscreen can prevent 100% of UVB rays, but the higher up you go on the SPF scale, the more it will filter out.
How often should I apply sunscreen?
Sunscreen should be worn every day, preferably applied 30 minutes before heading outside. If you are going into a very sunny environment, it should be reapplied every couple of hours.
Remember that not all sunscreens are waterproof, so it may need to be reapplied after going into a pool or the sea. You should also reapply if you have towel-dried your skin.
My makeup has SPF. Do I still need to apply sunscreen?
Yes. Although many foundations or tinted moisturizers do contain SPF, they cannot be relied upon for adequate protection. In addition, foundation is not always applied evenly over the face, so some areas will not be given coverage. You should always apply SPF onto your face over moisturizer and under makeup. Remember to take facial SPF down onto the neck and chest.
Can I still get a tan while wearing sunscreen?
Absolutely. It depends on the strength of the SPF as the higher the number, the more rays it will block. Although tanning from the sun is not advisable due to the damage it can cause, if you wish to get a tan, opt for a lower SPF.
For a safer option, you can also opt for a high SPF to protect your skin, but choose a brand that contains bronzing pigments or self-tanner. That way you will get a golden glow without any sun damage.
Can sunscreen expire?
Yes, and if you use expired sunscreen, it will no longer be effective. Unfortunately, many people have suffered severe sunburn due to expired sunscreen. Exposure to sunlight and extreme heat (such as when your sunscreen is left out on the beach) can cause it to expire.
Whenever possible, store your sunscreen in a cool and dark place to avoid its expiry. To be on the safe side, always buy brand new sunscreen each year. If the consistency is watery or if it has developed a strong odor, it may have expired.
What other steps can I take to prevent sunburn?
Aside from liberally and regularly applying sunscreen or sunblock to your face and body, there are some other ways to prevent sunburn.
Avoid going out in the sun between 10 AM and 2 PM, as this is when the sun is at its hottest. If you are out at that time, seek shade to avoid the rays, which are most damaging during this time.
Cover your skin whenever possible with long sleeves or a hat. If you feel yourself starting to burn, get out of the sun and reapply sunscreen once again.