The Best Styling Tools for Multiple Hair Styles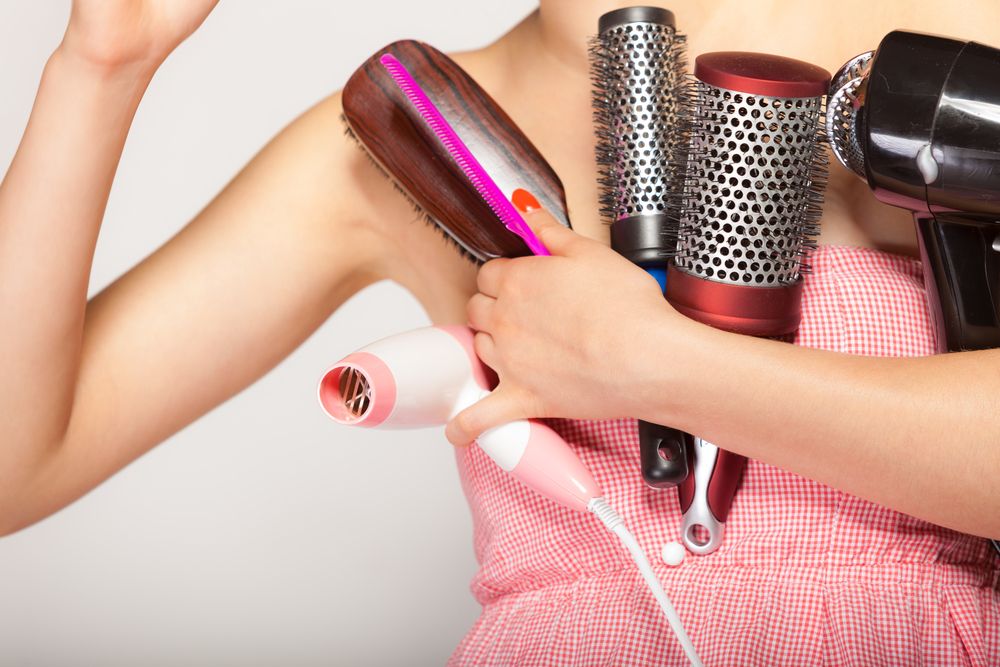 Learning how to style your own hair is an art form, especially if your locks aren't the most cooperative. Trust us — we know. Of course, all the YouTube tutorials in the world can't help you if you don't have good styling tools at your disposal. Whether you want to achieve a sleek, straight mane or bouncy, voluminous curls, get the 'do of your dreams with the hairstyling gadgets on this list.
Bestope Five-in-One Curling Wand Set
The styling possibilities are all but endless with this multipurpose marvel.
Whether you're after big, glamorous curls, loose waves, or tight, small ringlets, you can achieve all kinds of curl types with Bestope's Five-in-One Curling Wand Set. This nifty kit comes with five different barrels, each producing a different curl type, from bouncy spirals to voluminous waves. Each interchangeable rod features high-quality ceramic that heats up quickly and locks in moisture, so curls stay fresh for as long as possible. With barrel sizes ranging from 0.35″ to 1.35″, this set has something for nearly everyone, regardless of hair type or length. You'll also receive a heat-resistant glove and two hair clips with your purchase so you can get started on your new look ASAP.
Pros:
Built-in automatic shutoff feature activates after 60 minutes to prevent accidents
Can heat up to 410°F in just 60 seconds
Barrels feel very secure when locked into place
Cons:
Not geared toward straighter styles, though the larger barrels can help smooth your hair
Kipozi Professional Five-in-One Curling Wand Set
This mix-and-match tool features five interchangeable wands and is designed for maximum versatility.
All of the interchangeable attachments for Kipozi's Five-in-One Curling Wand feature a ceramic tourmaline coating to easily handle high temperatures while being gentler on hair than the clunky curling irons of the past. We especially love the round brush attachment that uses thermal bristles to comb hair as you style it for maximum smoothness. The wand, all five heads, a heat-resistant glove, and two clips are all packaged up in a stylish box that makes it a great gift option for anyone in your life who's looking to liven up their locks. But if you want to snag one for yourself while you're at it, more power to you.
Pros:
Round brush attachment can help create smoother styles if curls aren't what you're after
Wand attachments can reach 392°F – 410°F in 30 seconds; round brush can heat up to 356°F
An 8′ power cord means you aren't tethered far away from any mirrors
Cons:
We wish there were an automatic shutoff feature
Revlon One-Step Hair Dryer and Volumizer
This convenient device can add some fabulous fullness to your locks, whether you opt for straight, curly, or somewhere in between.
No matter what style you choose, if your hair lacks volume, it's likely to fall flat. Rather than relying on hardcore hairspray, check out Revlon's One-Step Hair Dryer and Volumizer for more natural-looking results. This handy device delivers shine, volume, and smoothness, all in one step — plus, it's super-effective at detangling. Unlike many other volumizing tools, you can place this tool closer to your scalp to get extra lift without worrying about getting burned. Plus, the all-in-one brush head is fully detachable, making it easy-as-pie to use. Revlon's volumizer is a secret weapon to keep in your arsenal to enhance any style you go for.
Pros:
An excellent product for boosting shine and volume
Designed with nylon pin and tufted bristles for detangling purposes
Brush head is detachable
Cons:
Has just two settings for heat and speed
HSI Professional Glider
If you thought a top-notch flat iron was only good for one thing, we've got news for you.
While the flat-iron might be most associated with stick-straight styles, it's far from a one-trick pony. There's no doubt HSI's Professional Glider can smooth and straighten hair like a dream, but the 1″ plate is small enough to allow you to create waves and curls with a twist of your wrist, all while giving your hair that coveted flat-iron shine. This straightener boasts high-quality ceramic plates and specialized micro-sensors that help to evenly distribute heat, so you don't have to keep going over the same sections of hair. We really appreciate the adjustable temperature settings that give you greater control over your hairstyle so you can choose the right heat level for the style you want.
Pros:
Effective on all hair types from super-fine to thick and curly
Includes a carrying pouch, heat-resistant glove, style guide, and sample of argan oil
Adjustable heat settings range from 140°F – 450°F
Cons:
No automatic shutoff feature
Kiss Instawave Automatic Curling Iron
This innovative styling tool does the hard work for you so you can focus on the big picture.
Hairstyling is an art, but it can also be a chore. If you hate fussing with heat-resistant gloves and having to wrap every section of hair around your tool of choice, Kiss' Instawave Automatic Curling Iron might be just what you need. This ceramic iron features a 1″ barrel that's similar to what you might find on any standard curling wand. What sets it apart is its patented Curl Dial spinner technology that automatically separates sections of your hair and wraps them around the rod for one-handed hairstyling. The curl direction control switch allows you to create both inward- and outward-facing curls while also serving as a convenient "undo" button if any tangles should occur. If you're ready to kiss your manual wands goodbye, the Instawave is an exciting option that just might be the styling solution of tomorrow.
Pros:
Includes high and low heat settings that can reach up to 420°F
Built-in automatic shutoff after 90 minutes of use
Much easier on your arms than traditional curling wands
Cons:
While many find it to be much easier to use than early-model curling irons, it can still take some getting used to if you're not used to the process
Frequently Asked Questions
How often should I heat-style my hair?
Because too much heat-styling can damage your hair, it's generally recommended that you try to limit your flat iron, curling iron, and blow-dryer use to just once or twice per week if possible.
How can I help protect my hair from damage when I'm using styling tools?
If you're the type who likes to blow dry and curl your hair regularly, it's definitely a good idea to take proactive measures to protect your mane. Apply a good deep conditioning mask once per week, use a high-quality strengthening shampoo and conditioner, and never, ever tug at your tangles with a brush — use a wide-tooth comb to gently detangle your hair to help prevent breakage.